I know that for a lot of people Autumn is not a fantasy, it's their reality. But as someone who lives where the only season is fire season and is currently experiencing >85° heat, Fall is a welcome daydream.
To me, Autumn is the best season. It's a time for refocusing. A new school year (with new school supplies!). Going to the library and coffee shops. Sweaters coming out of storage. The best holidays (Halloween and Thanksgiving). The best treats. There's something invigorating about there being a slight chill to the air. My biggest escapist fantasy is going back to college and living in a perpetual shorts-and-sweater-weather day.
Here are homes that embody my fantasies of Fall. Please enjoy them with pumpkin spice latte in hand, plaid/flannel on, and a Halloween movie or autumn-themed playlist on in the background like I am.
---
The Riverside Mansion
Location: 86 Riverside Dr, New York, NY 10024
List Price: $8,000,000
Listing: https://www.zillow.com/homedetails/86-Riverside-Dr-New-York-NY-10024/2097932940_zpid/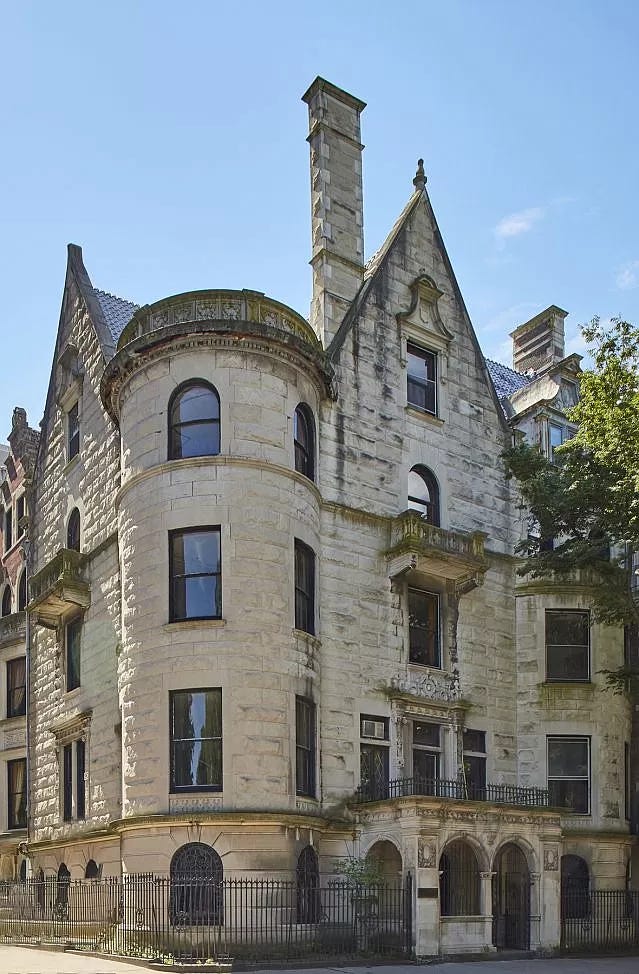 Nothing is more iconic than Fall in New York City. You can almost smell the rain, feel the cool breeze, and hear the crunch of leaves just thinking about it. There's a reason why Billie Holliday sings a song about it. There's something even more romantic about spending the season in an old, stone building.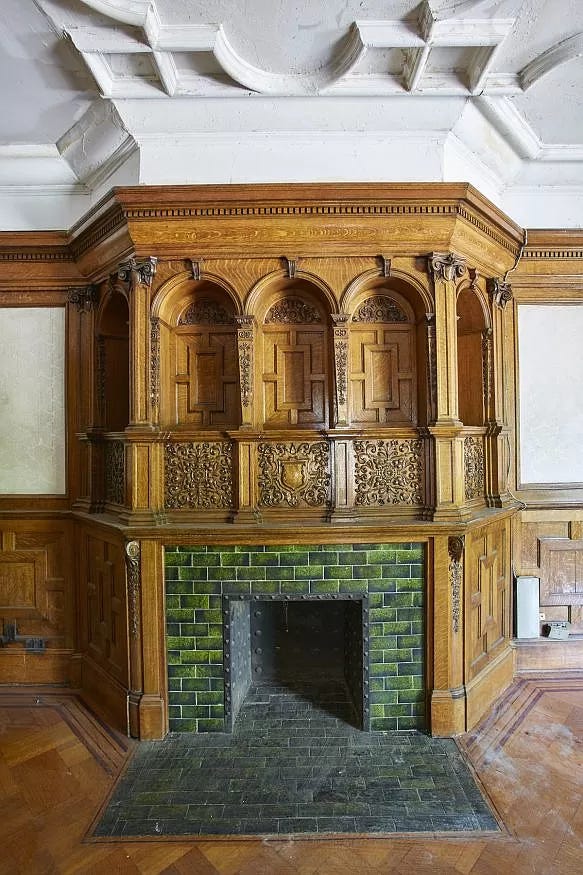 This Elizabethan Renaissance Revival home has everything you would hope for: high ceilings, moldings, carved railings, detailed ceilings, lots of arched windows, and a rotunda. It also has views of Riverside Park.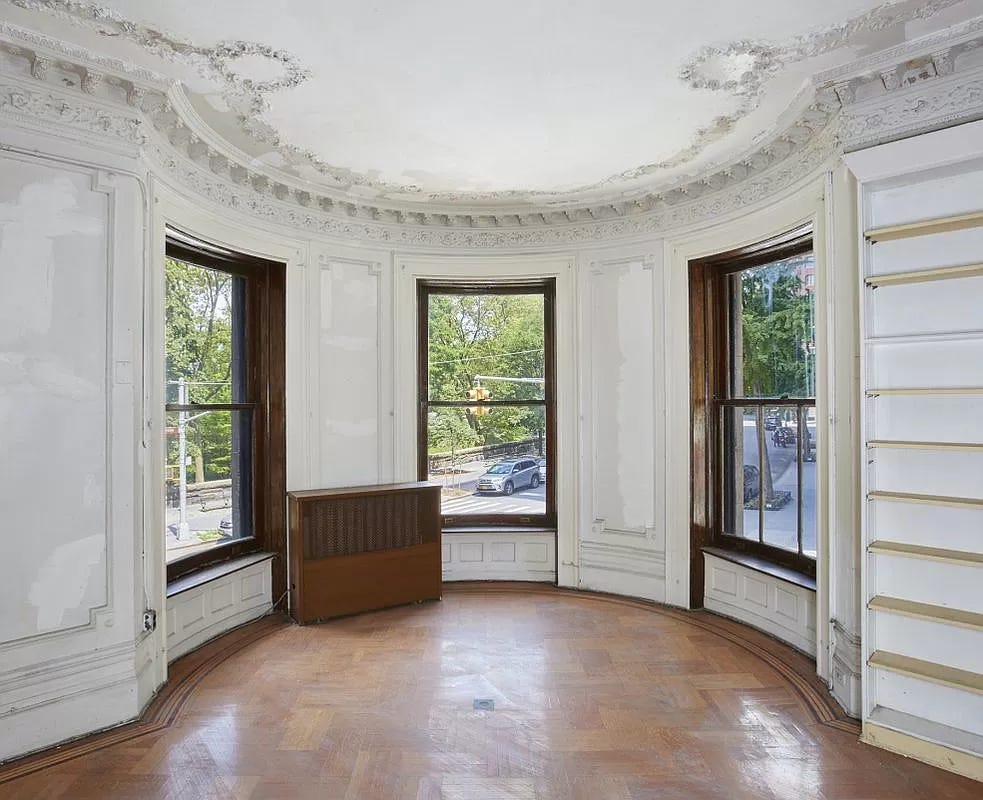 The building also has multiple terraces that you could sit on and enjoy the crisp breeze, and a carved portico to stand under if you get caught in the rain. But more than anything I want to build a window seat and sit by this window with a book and a cup of tea watching the leaves change color at the park.
---
The Modern Cabin
Location: 206 North St, Roxbury, CT 06783
List Price: $1,295,000
Listing: https://www.redfin.com/CT/Roxbury/206-North-St-06783/home/107686086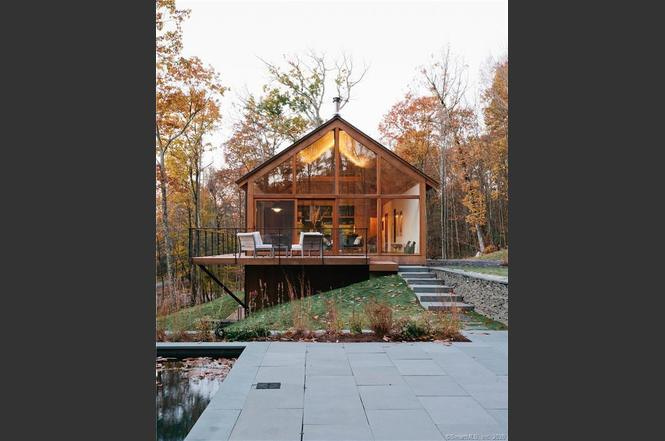 This house was practically made for the Fall. Just look at the framing of the fireplace. I think there's something charming about a modern house that is house-shaped. Plus the pitch of the roof means there's even more space for floor-to-ceiling windows to look out onto the trees.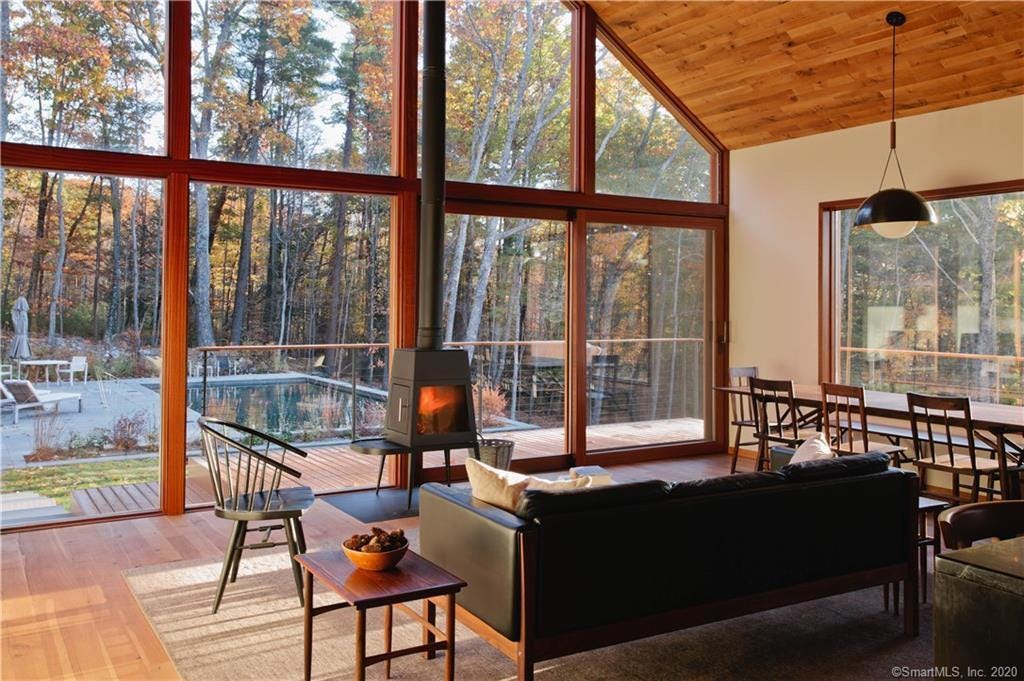 This home has so much wood throughout, it feels warm and intimate even though the ceilings are soaring. It also keeps the house from feeling too stark and new. The materials of this house keep it connected to the outside in every room and give it an almost rustic feel.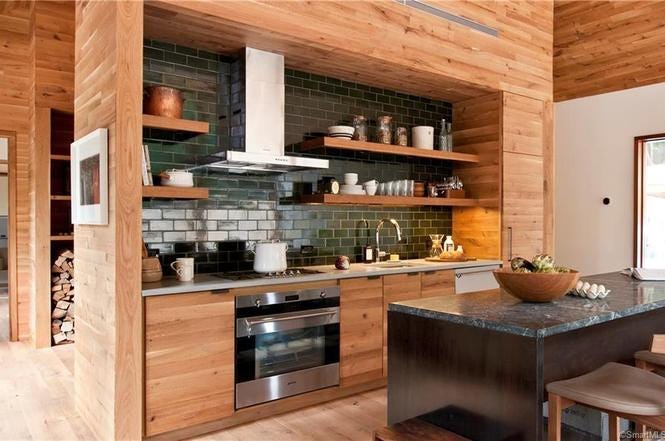 To me, the only thing missing in this house is a hot tub to enjoy the nip in the air outside. Oh and some robes and a cup of hot coffee.
---
The Second Empire Fixer
Location: 772 S Main St, Geneva, NY 14456
List Price: $350,000
Listing: https://www.zillow.com/homes/772-S-Main-St-Geneva,-NY,-14456_rb/31878849_zpid/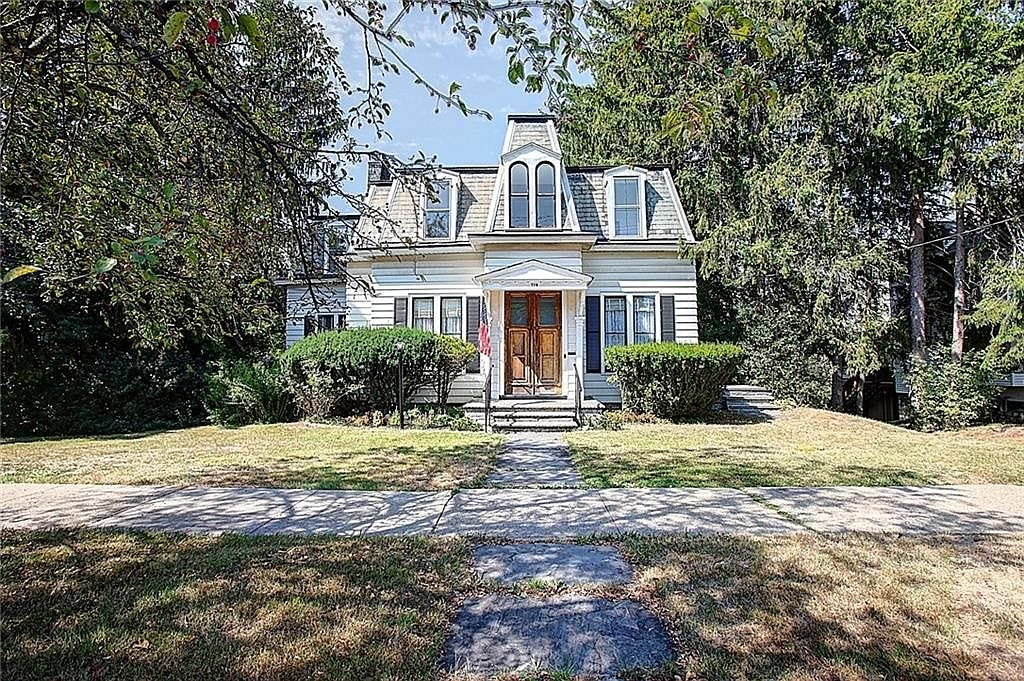 If you relate to Wednesday Addams on a spiritual level, do I have the place for you. This Second Empire style fixer may not be everyone's cup of tea, but that's what I think makes a house appealing. I might be biased to like it because it reminds me of the central building at my alma mater: Syracuse University.
The location of this house is perfect for Fall. It's across the street from Seneca Lake and close to many apple orchards and vineyards.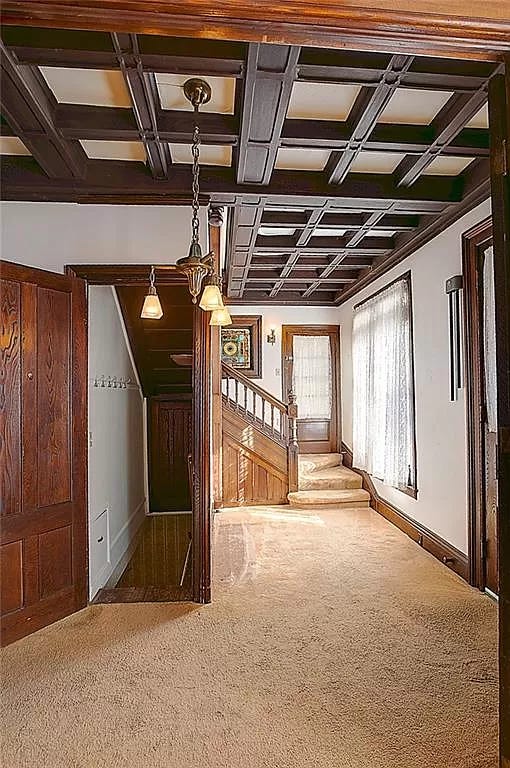 The house has tons of great features including coffered ceilings, stained glass windows, multiple fireplaces, detailed built-ins, a clawfoot tub, and a window seat.
It's easy to imagine putting a little Leanne Ford DIY magic into this place and ending up with a modern, charming place that would be so nice to come home to after a day of apple picking.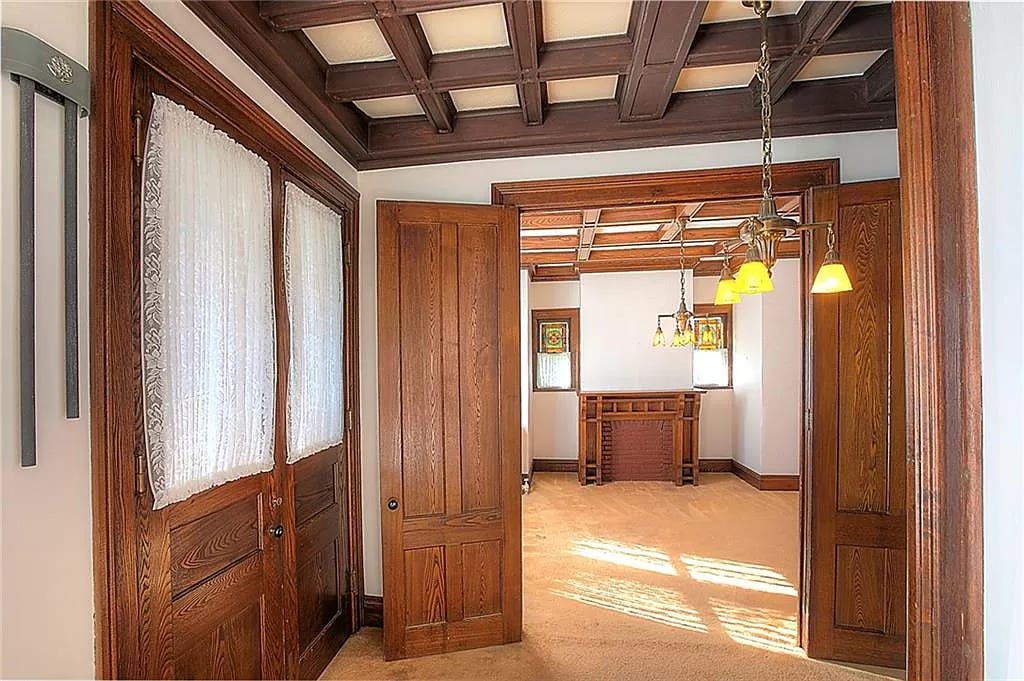 Plus, Halloween-themed fun fact: if you're worried about this house being haunted (like my partner was) rest assured that the owners would likely have to disclose it to you. Here's a list of the state laws regarding disclosing paranormal activity.
---
The Luxe Church
Location: 23 Fitch St, Kingston, NY 12401
List Price: $1,380,000
Location: https://www.zillow.com/homedetails/23-Fitch-St-Kingston-NY-12401/2078366224_zpid/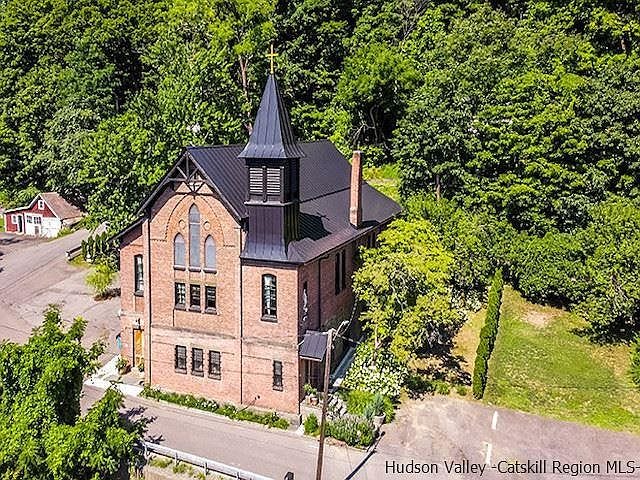 This listing might be sacrilegious, but this renovated Gothic church building from 1884 might be one of the most dramatic residential listings I've ever seen. If the idea of living in the house of God doesn't bother you and you've got $276,000 to drop on a down payment, you'd have one of the most unique properties out there.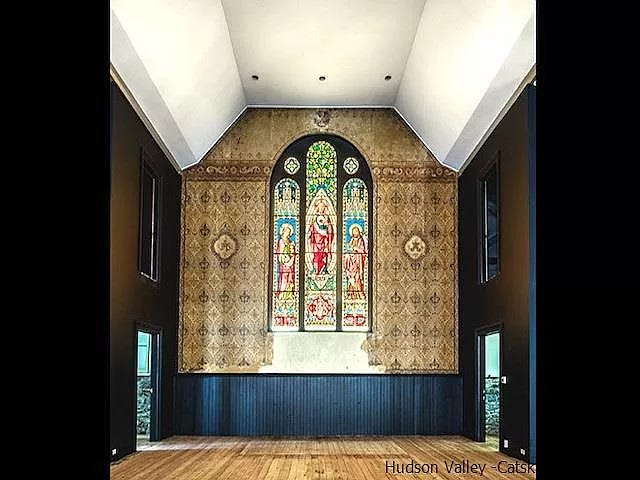 As one might expect, there are plenty of soaring ceilings and stained glass windows. There are also beautiful beams and stone walls throughout. But his home also has spaces that are quite intimate and human-scale. Overall this property has a surprisingly modern and often industrial feel to it while still being quite homey.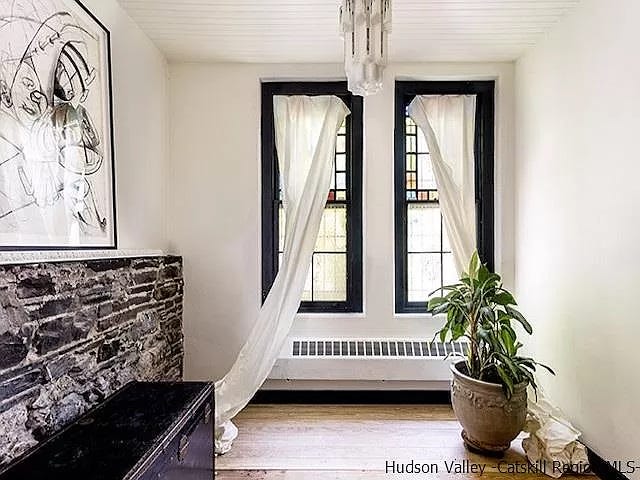 ---
The LA Chateau
Location: 2812 Wellington Rd, Los Angeles, CA 90016
List Price: $1,199,000
Listing: https://www.zillow.com/homedetails/2812-Wellington-Rd-Los-Angeles-CA-90016/20589627_zpid/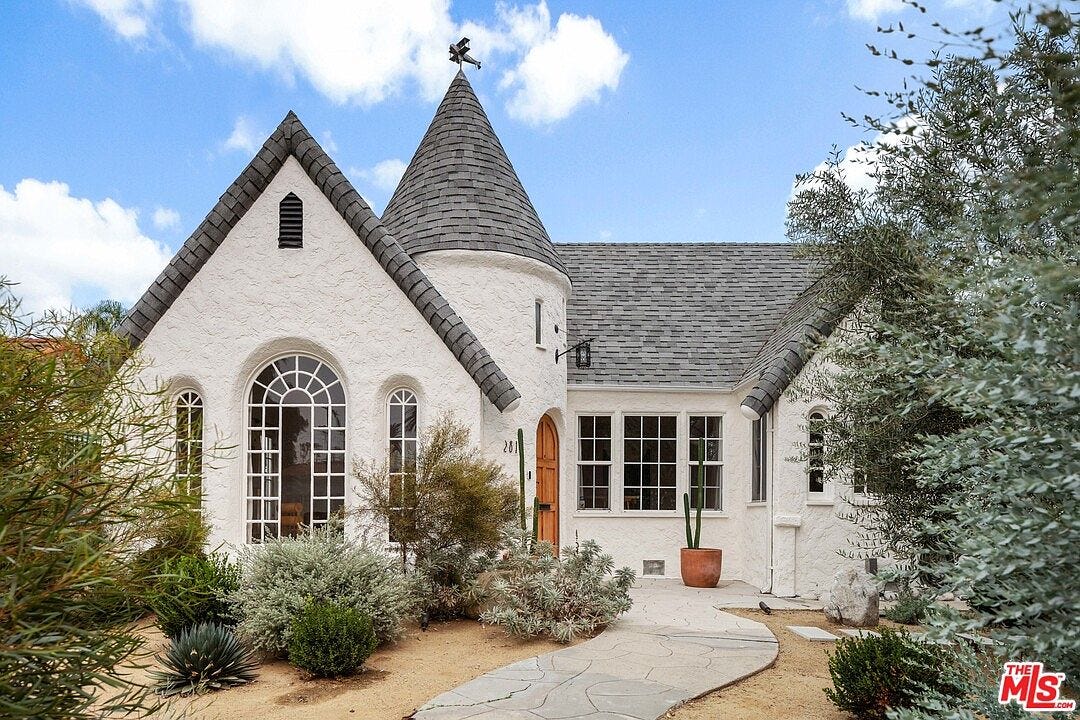 This is the essence of pumpkin spice latte distilled into house form and I love it.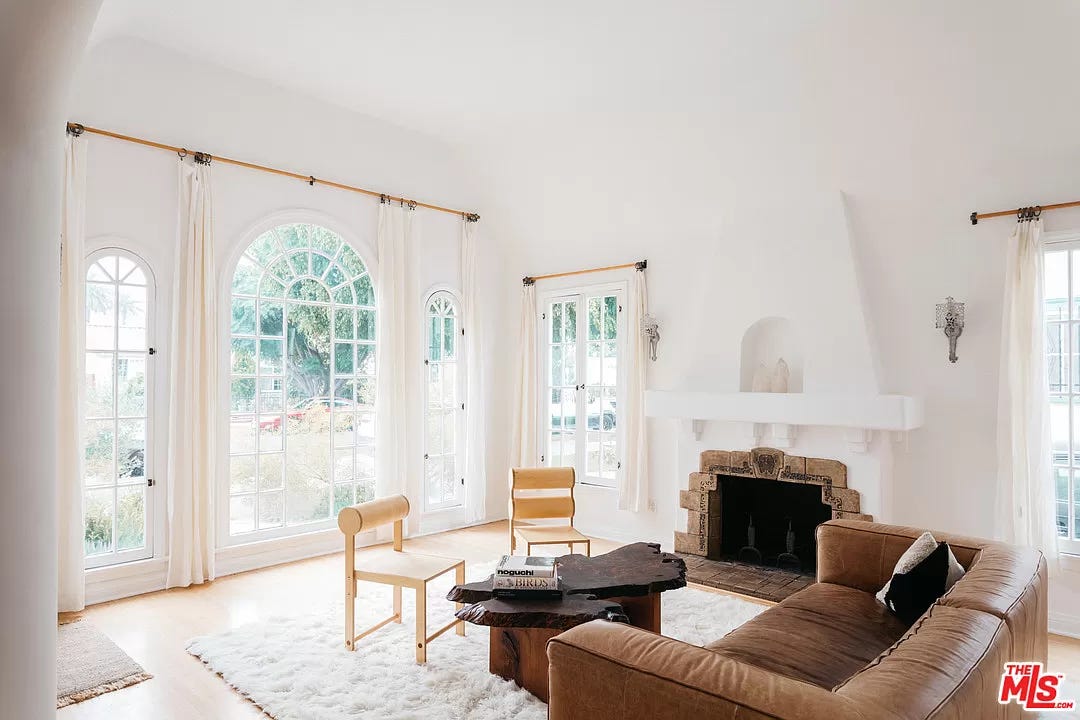 This gothic revival house is surprisingly bright and airy thanks to lots of arched windows. The house is fairly minimal, but still has interesting details on features like the fireplace and little nooks.
The property also has a gorgeous outdoor space with outdoor dining and a fire pit, so you can enjoy the cooler (but not frigid) LA Autumn evenings outdoors.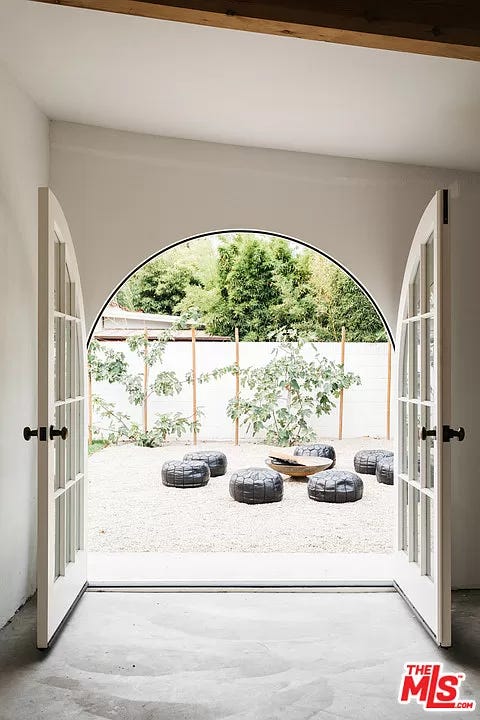 ---
Bonus:
This house I wanted to feature in the newsletter, but it ~*mysteriously*~ disappeared today: 34 Road to Misery.

This home designed by Bernard Maybeck (who also designed Ursula LeGuin's house): https://www.redfin.com/CA/Berkeley/2357-Le-Conte-Ave-94709/home/1098865
This mixed-use townhouse that feels straight out of Gilmore Girls: https://www.redfin.com/NY/Skaneateles/38-E-Genesee-St-13152/home/113137183
Stay cozy friends.