💆🏻‍♀️⚪️ Let Me Unwind
Houses designed to give your brain a break
I don't know about you, but I've been finding it more difficult to unwind these days. I've been constantly searching for new ways to relax: drinking CBD tea, wearing slippers and robes, buying the comfiest looking loungewear, using a weighted blanket. Don't get me wrong, each of these has helped, but nothing has helped quite like pairing down my living space or looking at these homes.
To me, a minimalist house is like a glass of cold water for my spirit. Just looking at them gives me a moment of smooth brain.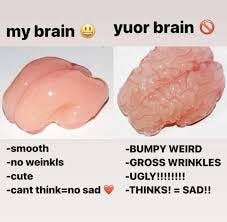 Each of these homes has brought me a moment of Zen and inspired me to think about the ways I can make the space I spend virtually 24/7 in more relaxing. I hope they do the same for you too.
---
The Minimalist Shed Style
Location: 21144 Hillside Dr, Topanga, CA 90290
List Price: $2,730,000
Listing: https://www.zillow.com/homedetails/21144-Hillside-Dr-Topanga-CA-90290/111918578_zpid/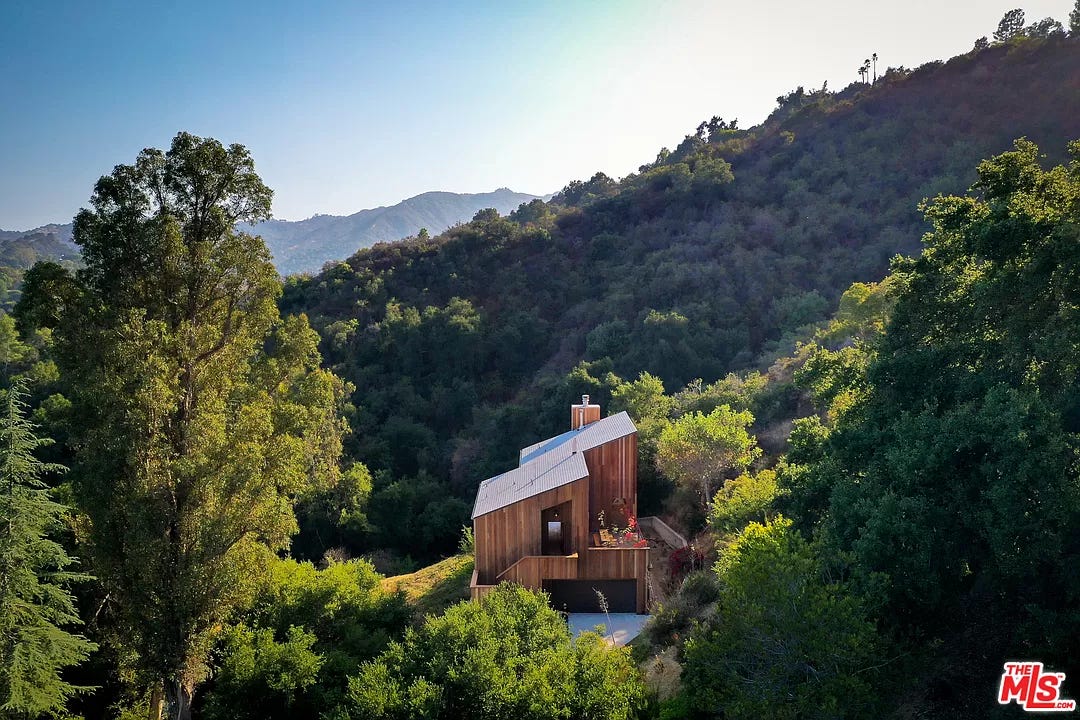 I think my heart stopped when I first saw this house. For starters, I have a soft spot for Shed style houses. I love the dramatic lines of the sloped roof and the wood siding. Plus, they remind me of the suburban house from the 70s I grew up in, but so much cooler. This minimalist house looks straight out of Dwell.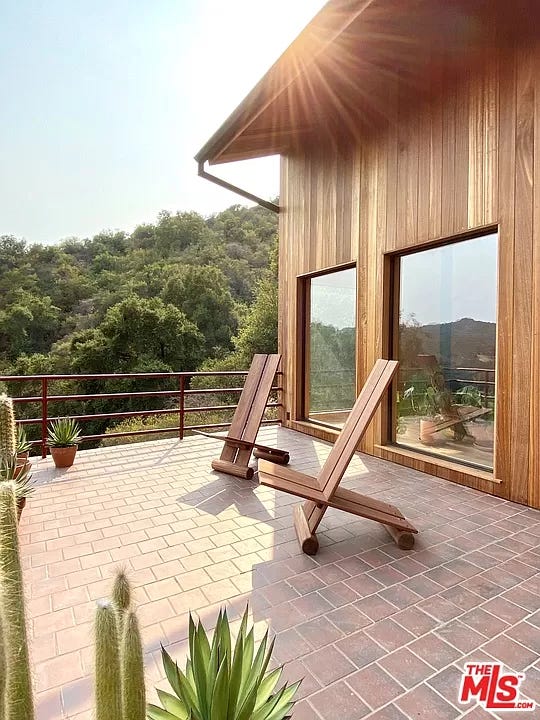 Even though this house has amazing views of the canyon below, this house is not an all-glass shell. The super minimalist interior is almost entirely clad in wood with almost no distinction between the interior and the exterior of the house. It creates an instantly cozy, relaxing vibe that makes you instantly feel at home.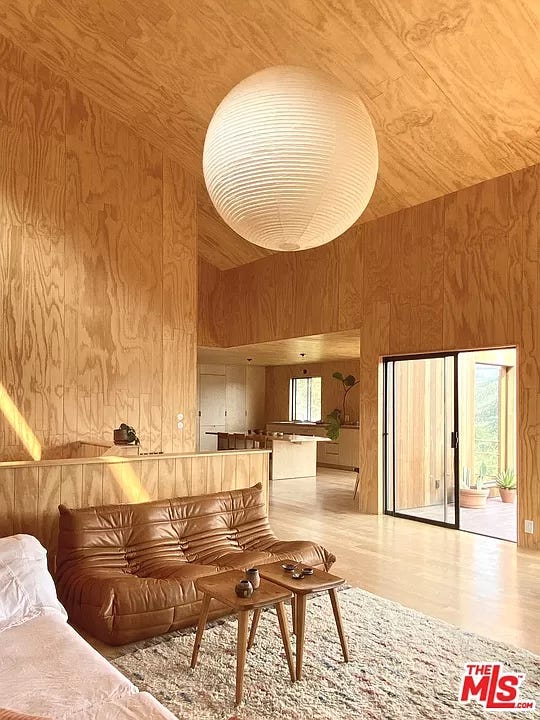 The interior manages to both fade into the landscape and still be a dramatic backdrop of its own. What you can't tell from the few snapshots in the newsletter is just how many beautiful angles there are in this house and how dynamic the interior feels despite being made of only a couple of materials. I highly suggest looking at the listing to get the full effect.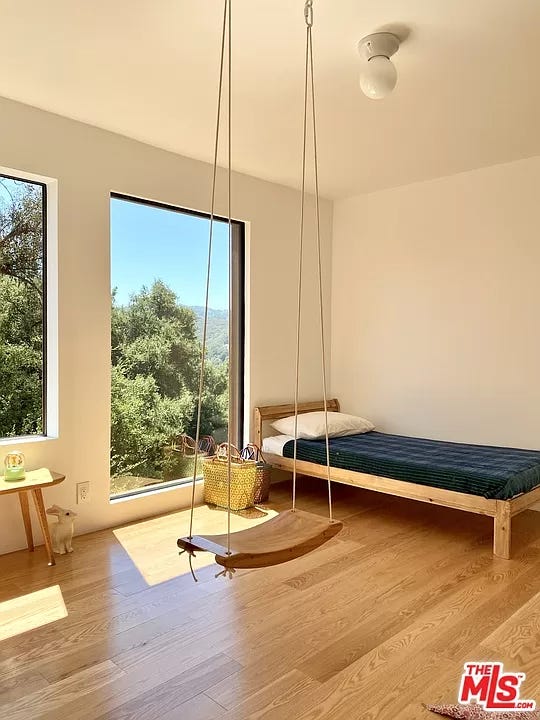 I love that this home features such simple materials. It's a great reminder that less can be more. Of course, not every lot is going to be as spectacular, but you could build a version of this house that would be significantly less expensive but just as stylish, relaxing, and homey.
---
The Hillside Treehouse
Location: 3541 Dwight Way, Berkeley, CA 94704
List Price: $969,000
Listing: https://www.zillow.com/homedetails/3541-Dwight-Way-Berkeley-CA-94704/24821201_zpid/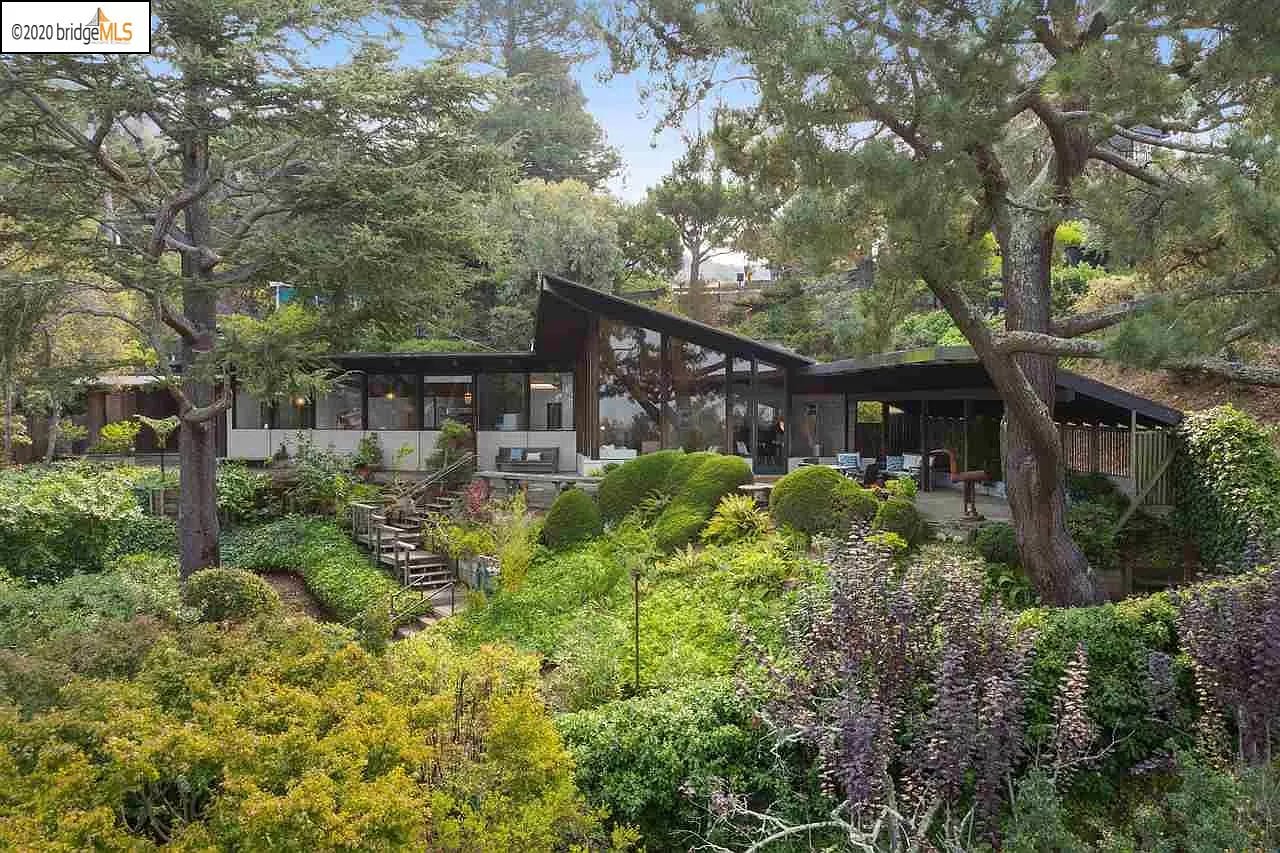 Perched up in the hills directly above UC Berkeley sits this rustic mid-century masterpiece. The location itself is tranquil and lush, and this house plays into the setting perfectly. You can see straight out to the bay and the Golden Gate Bridge.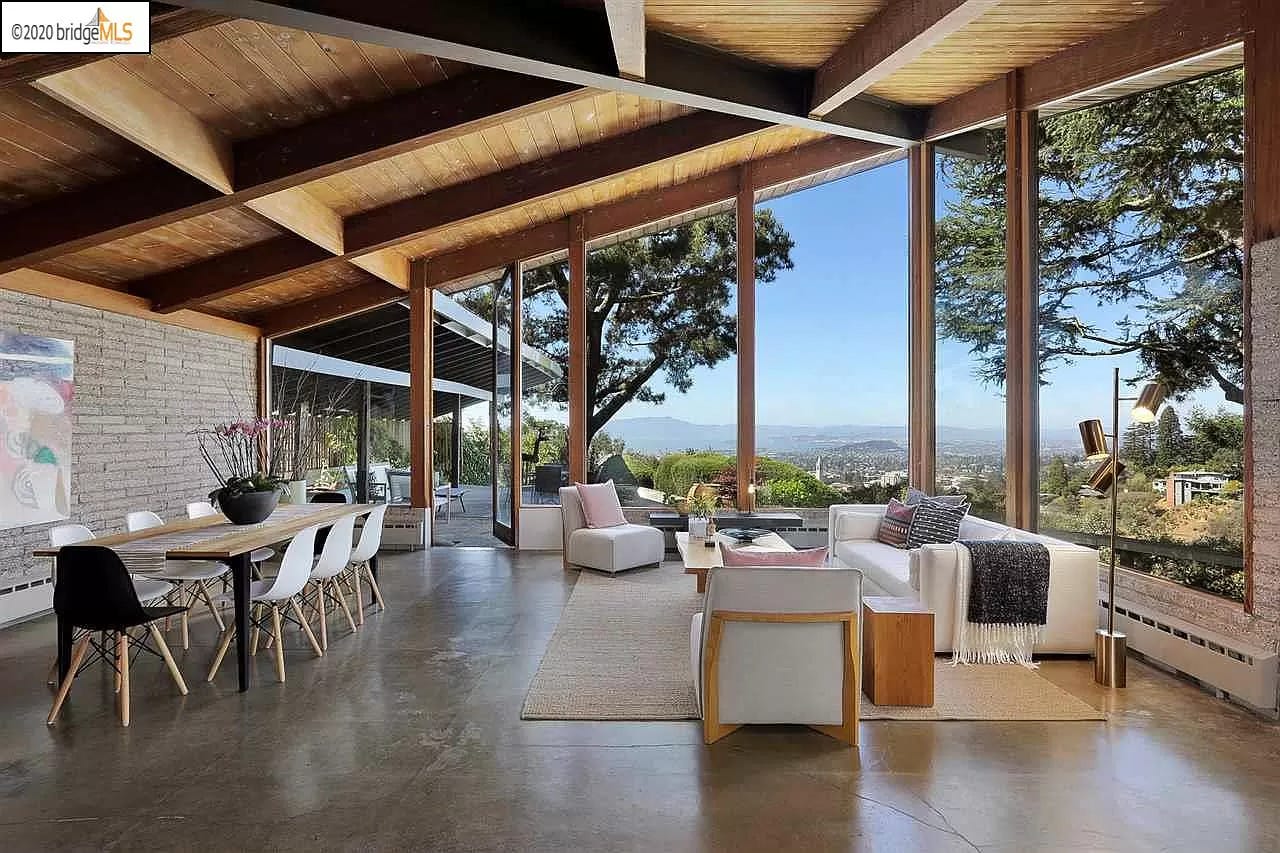 Each room is connected to the sweeping views in some way, giving the house a feeling of being a secluded treehouse and making it easy to just be absorbed by the surroundings.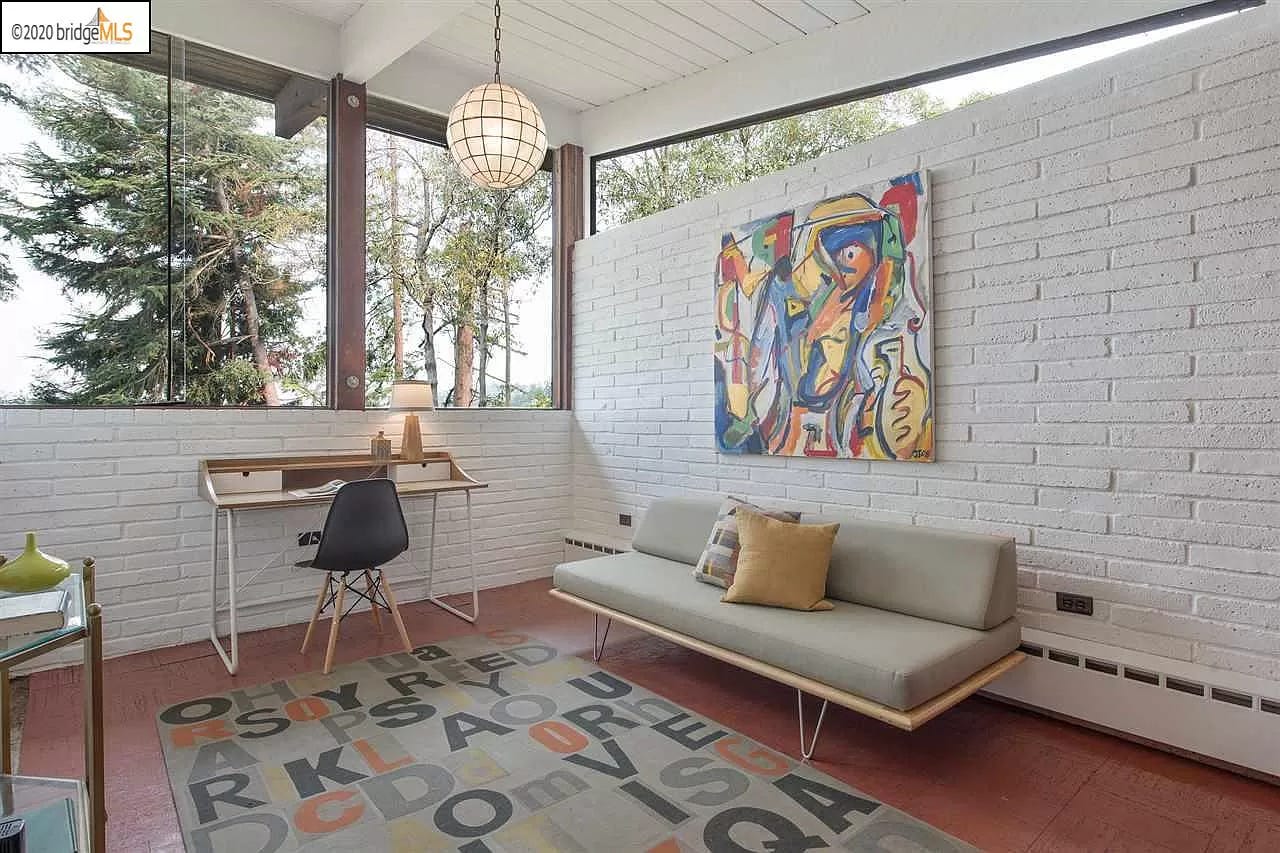 There's even a little cottage that has been used as a writer's retreat or a guest area. Frankly, I'd be fine living here among all the books and cozy wood paneling.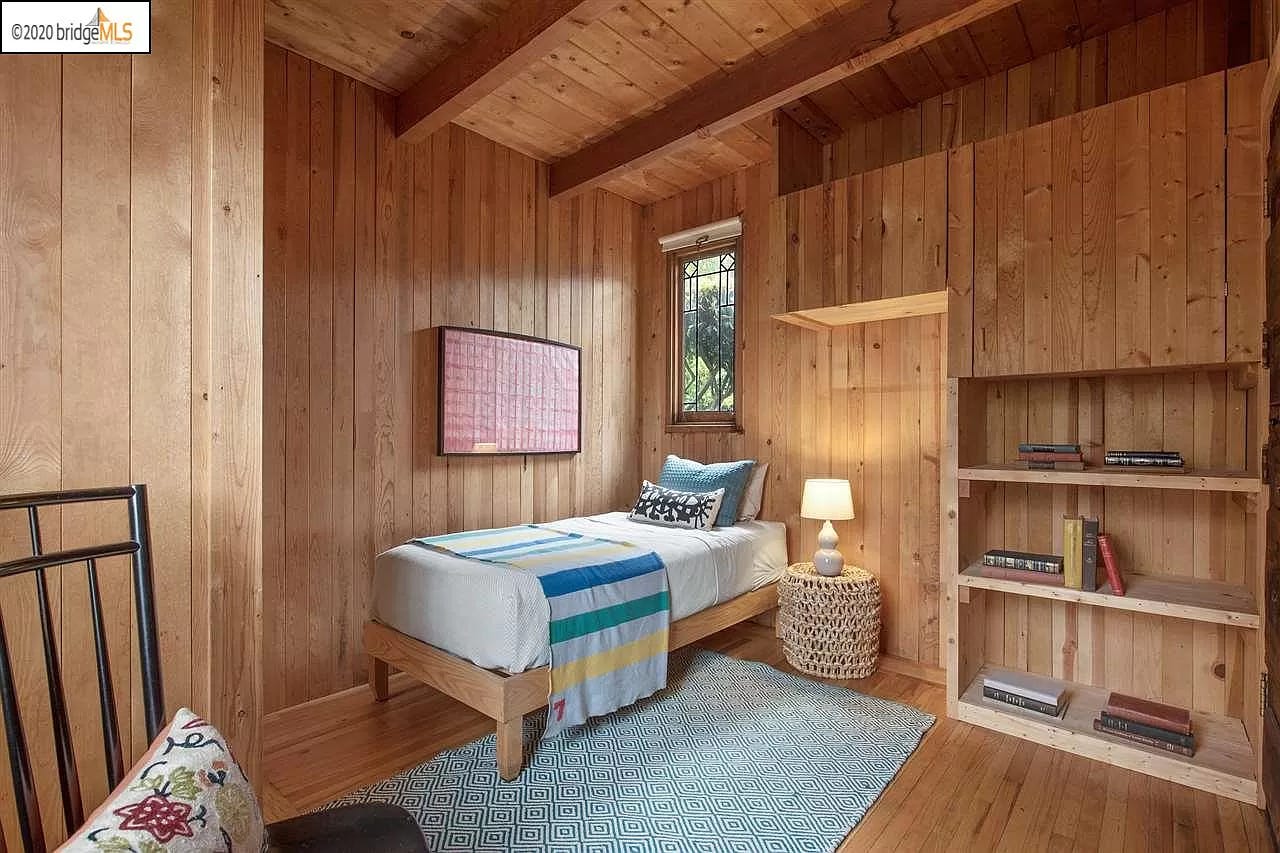 ---
The Houseboat
Location: 10 E Roanoke St SLIP 3, Seattle, WA 98102
List Price: $3,650,000
Listing: https://www.zillow.com/homedetails/10-E-Roanoke-St-SLIP-3-Seattle-WA-98102/49034509_zpid/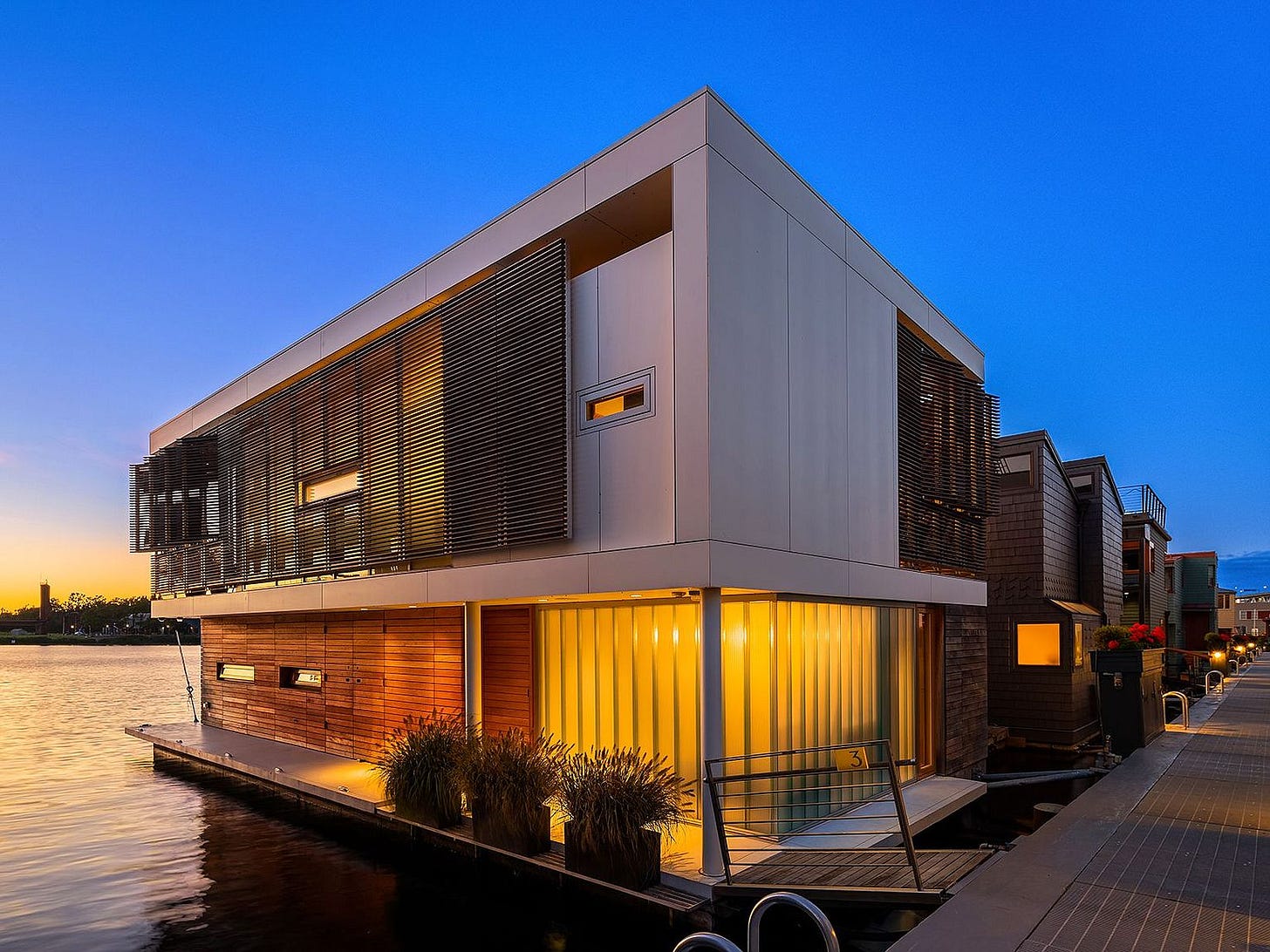 Just thinking about living on a houseboat in Seattle is a dream, but this houseboat is above and beyond the Sleepless in Seattle fantasy. Nothing about this houseboat feels cramped. The house has two outdoor spaces including an internal courtyard and uses smart placement of windows throughout to give the house as much light and feeling of space as possible.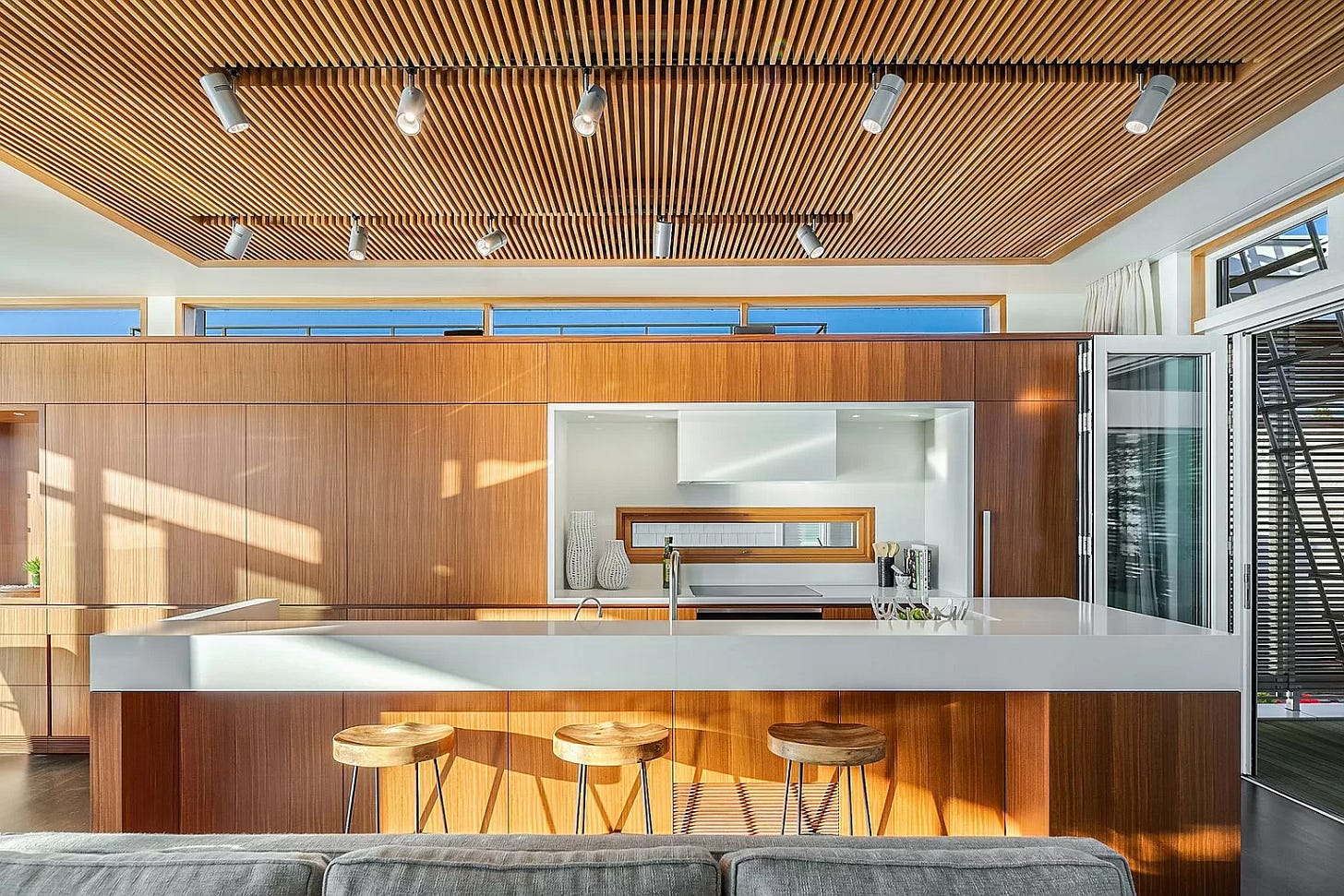 The minimal finishes throughout make the space feel warm and calming and keep the focus on the tranquil views of Lake Union and Gasworks Park.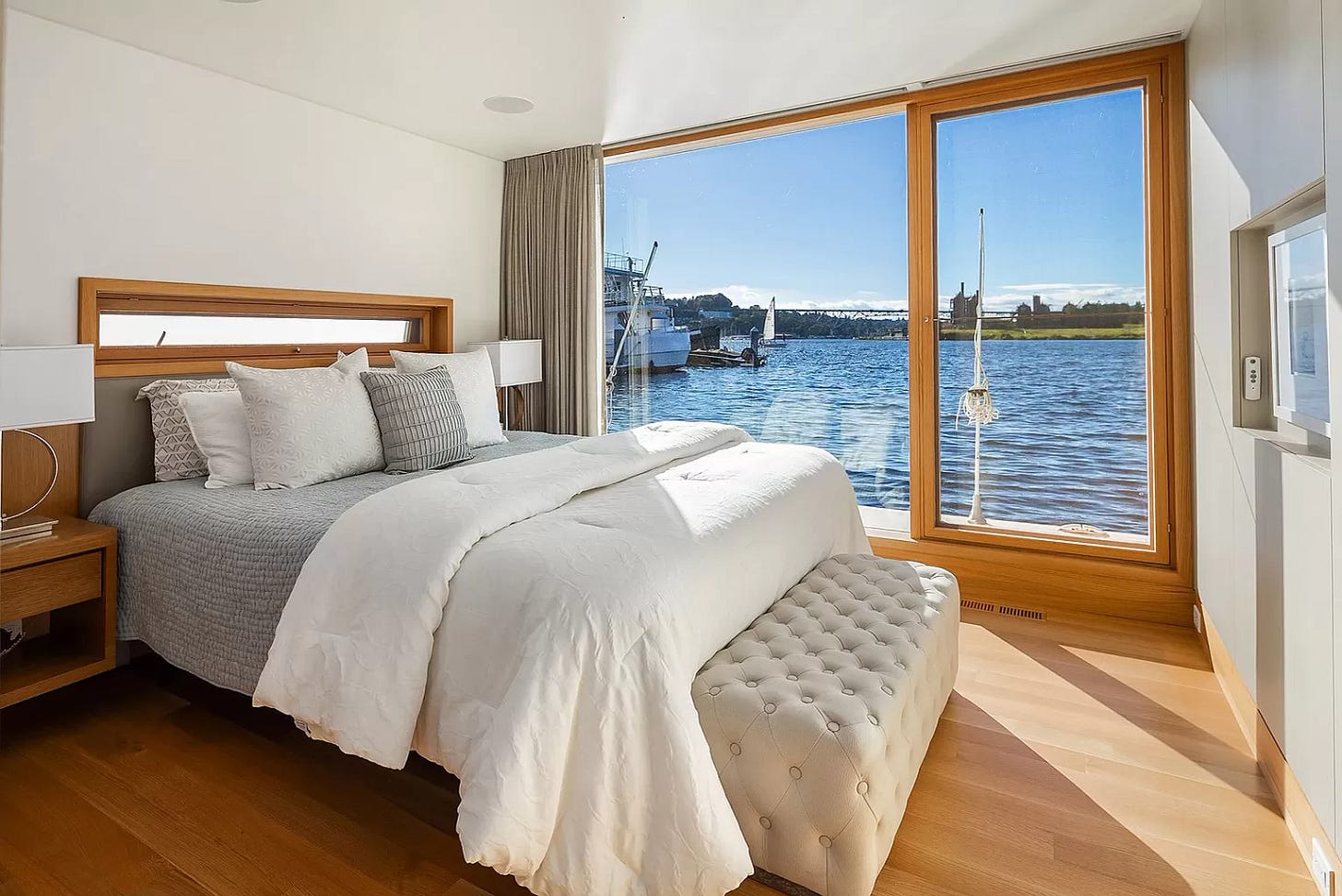 I can't imagine anything more relaxing than sitting on this patio with a cup of coffee in the morning.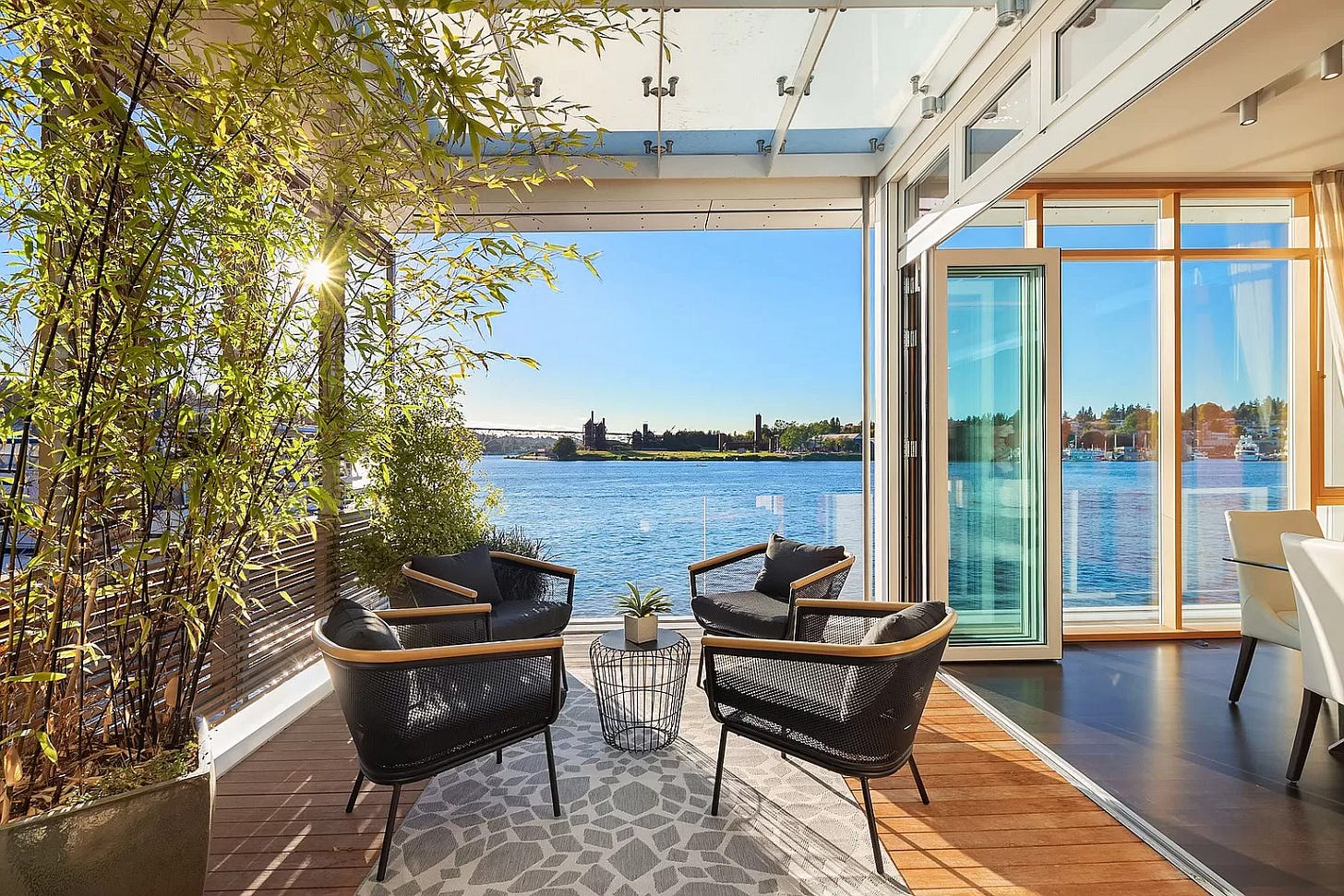 ---
The Modern Retreat
Location: 4500 Moose Rd, Ukiah, CA 95482
List Price: $779,000
Listing: https://www.zillow.com/homes/4500-Moose-Rd-Ukiah,-CA,-95482_rb/2092496817_zpid/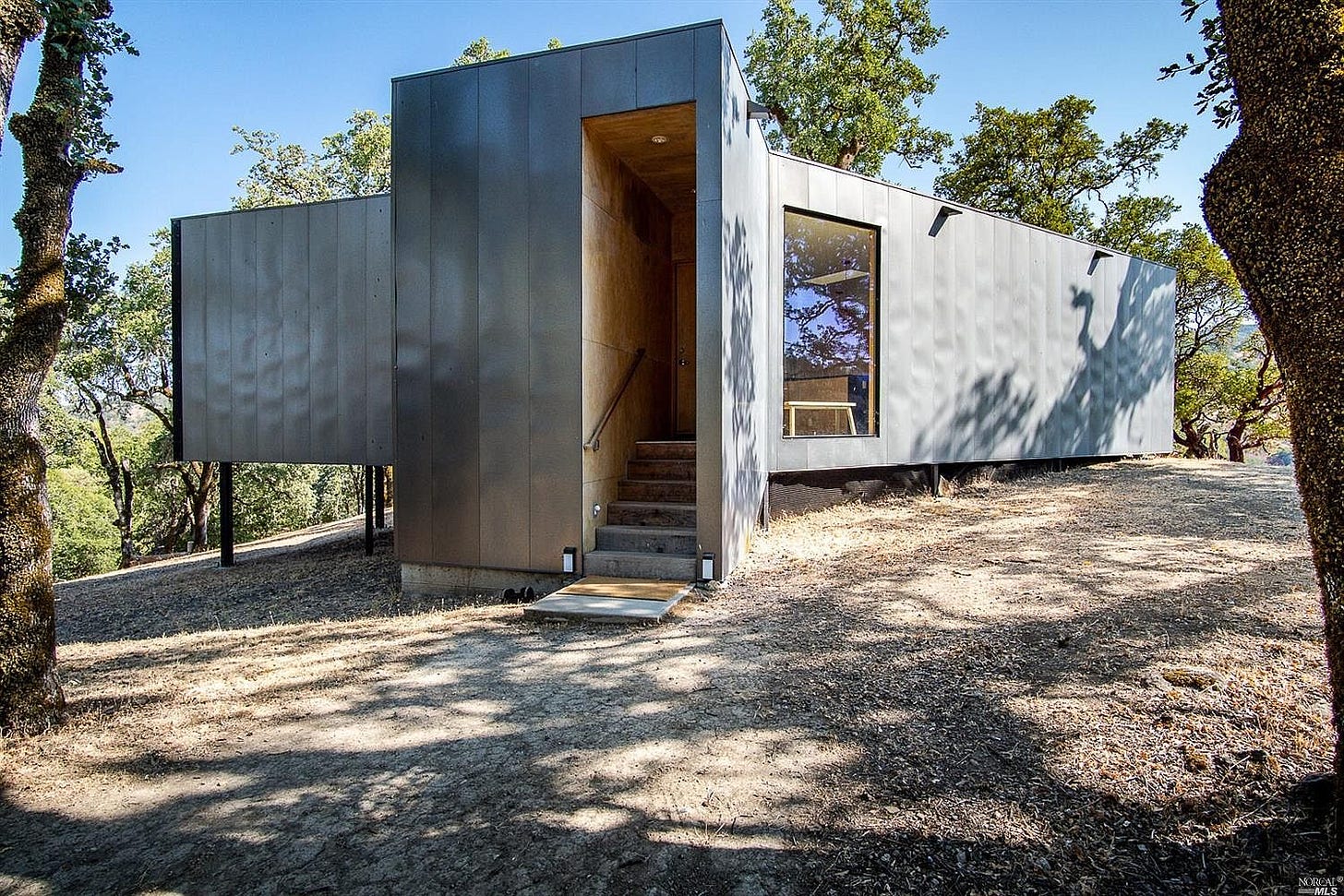 Nestled perfectly into the trees, this sleek, modern Y-shaped building is the perfect retreat. It sits on more than 16 acres and has views of the rolling hills from every room.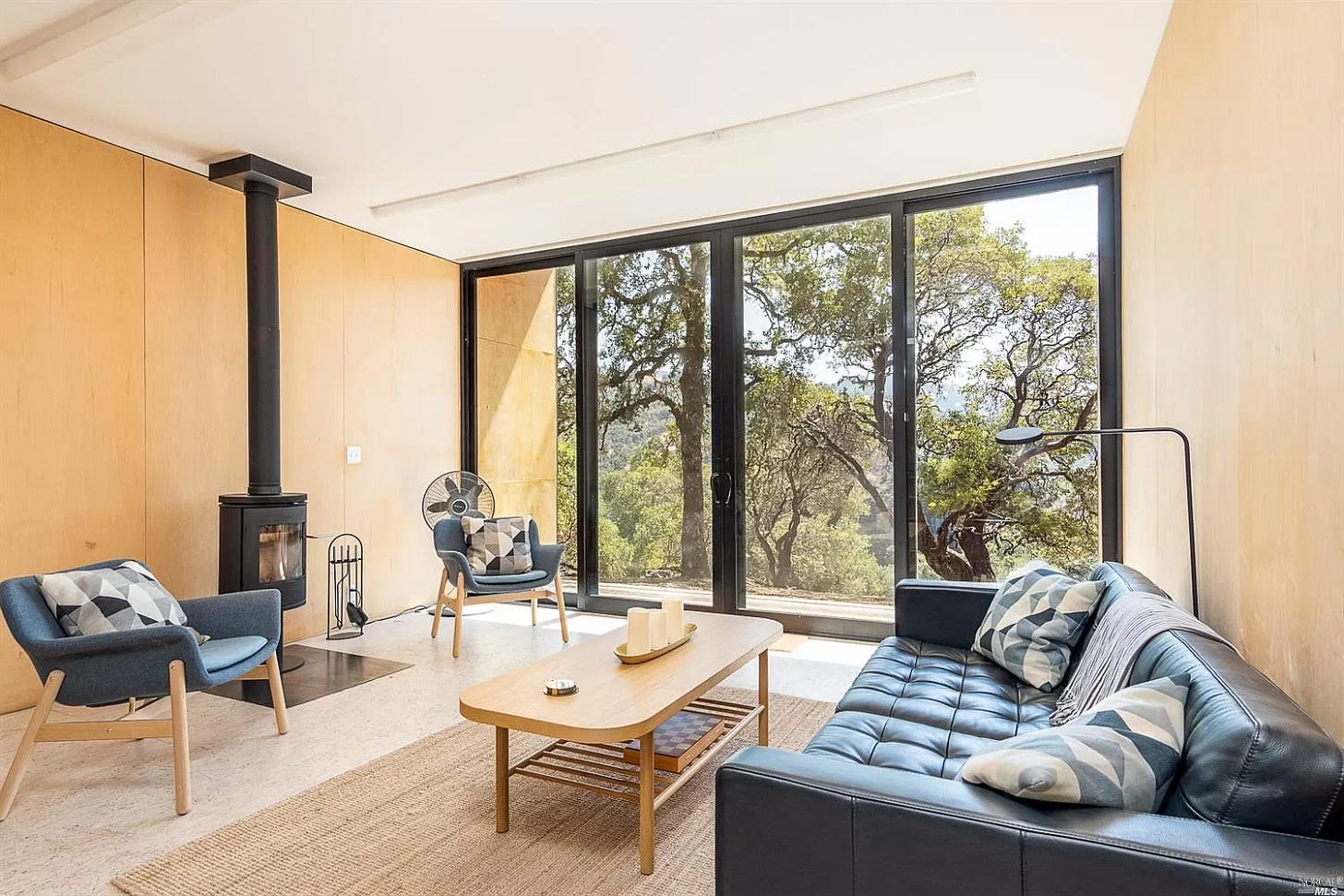 With all of the doors open you have a perfect line of sight from one end to the other, and it makes the home feel significantly more spacious. Everything has been tucked away to keep a smooth flow. Even the kitchen at the heart of the house has been stripped back to just two islands so that the sightlines stay intact and everything stays minimal.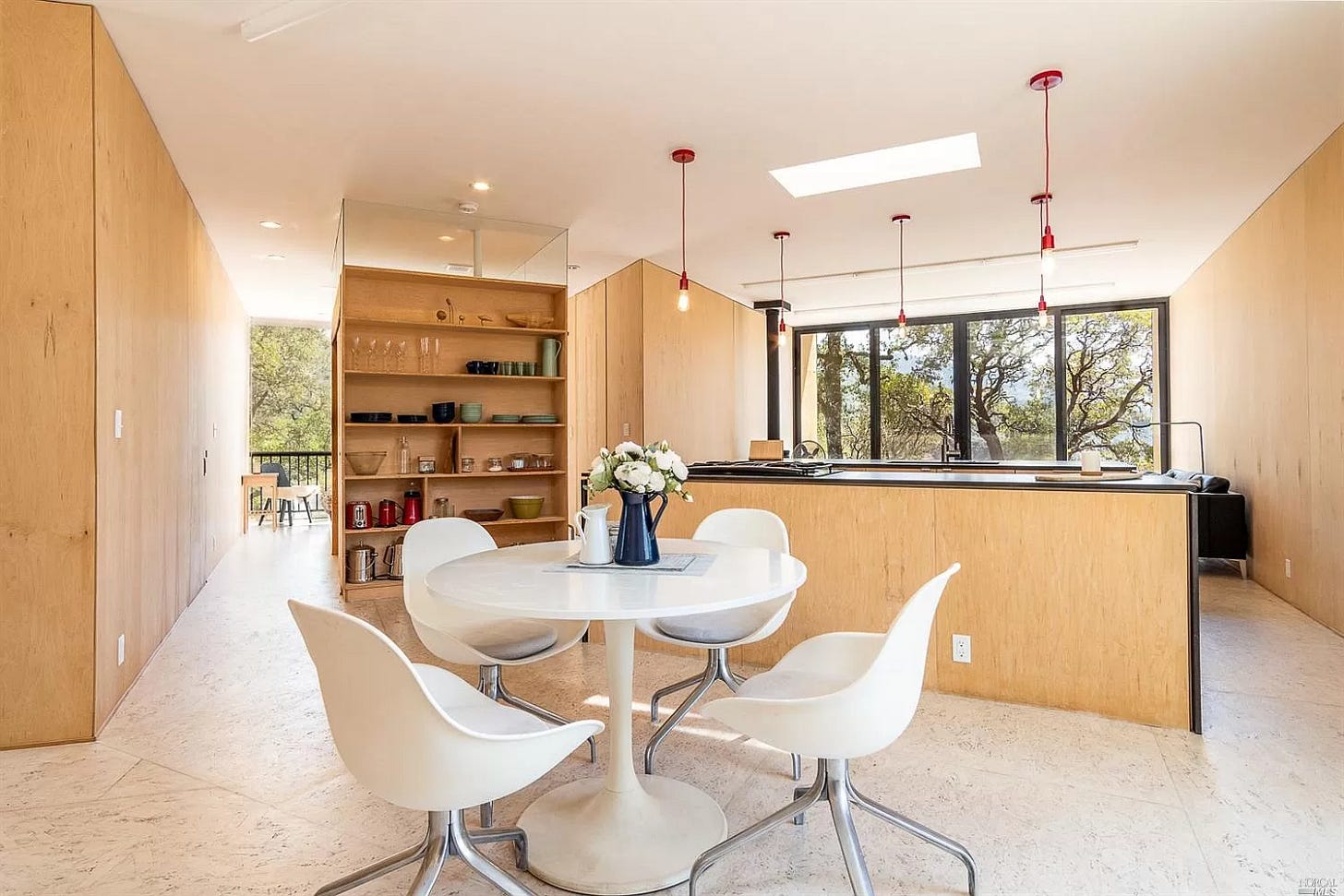 The bare finishes keep the attention right where it should be: on the surrounding nature. I can think of few things more relaxing than taking a shower in this bathroom with the floor-to-ceiling window.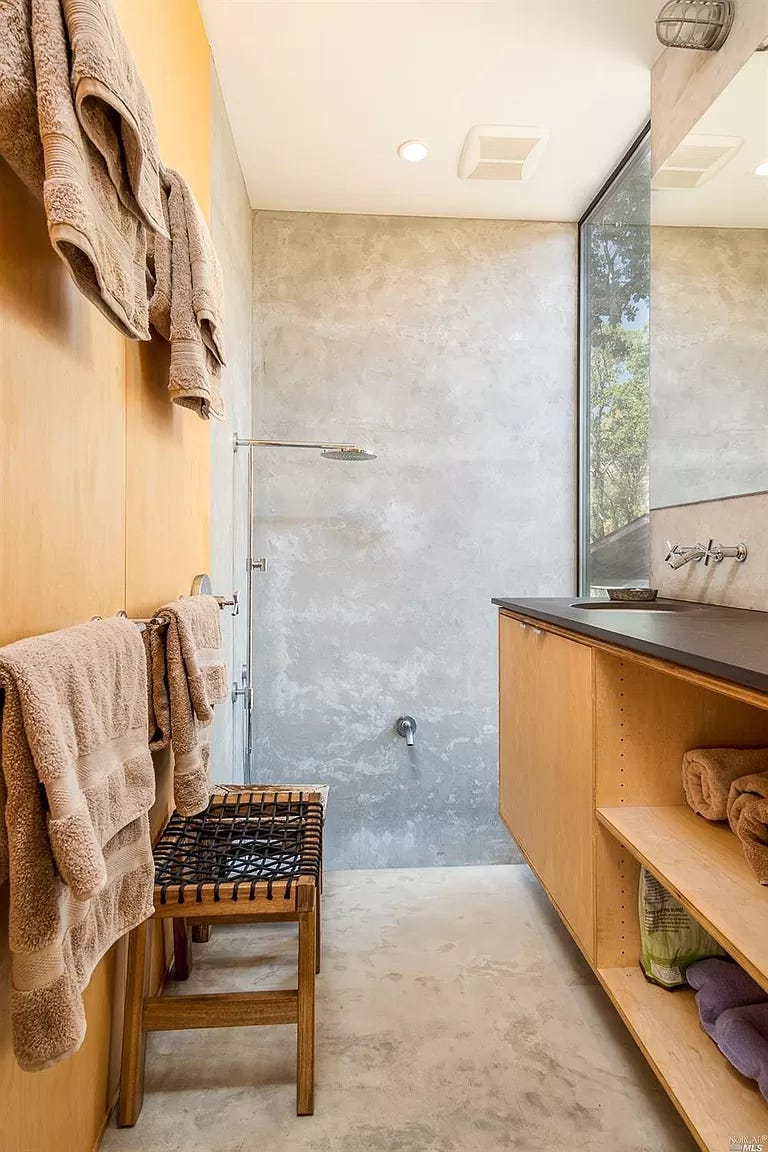 This property also has a guest house and a pavilion with an outdoor kitchen. To me, the only thing that's missing is a pool and a hot tub, but there's plenty of space to put them.
---
Bonus
This Nashville home that brings the outdoors in: https://www.zillow.com/homedetails/1909-Sevier-St-Nashville-TN-37206/41118433_zpid/
The perfect loungewear: https://offhours.co/collections/shop-all
The perfect chair to huddle up in: https://us.hem.com/products/puffy-lounge-chair