🌞⬜️ Let the Sunshine In
Skylights and windows
Since quarantine started, I've become acutely aware of how much my mood is impacted by the availability of natural light. Despite having an office space with comfortable seating, I often find myself working on the patio and dreading going indoors. I don't know how I'm going to fare during winter. This week is the last week San Francisco is going to have sunset after 8pm and I'm already missing the extra sunshine. I guess the houseplant joke is true.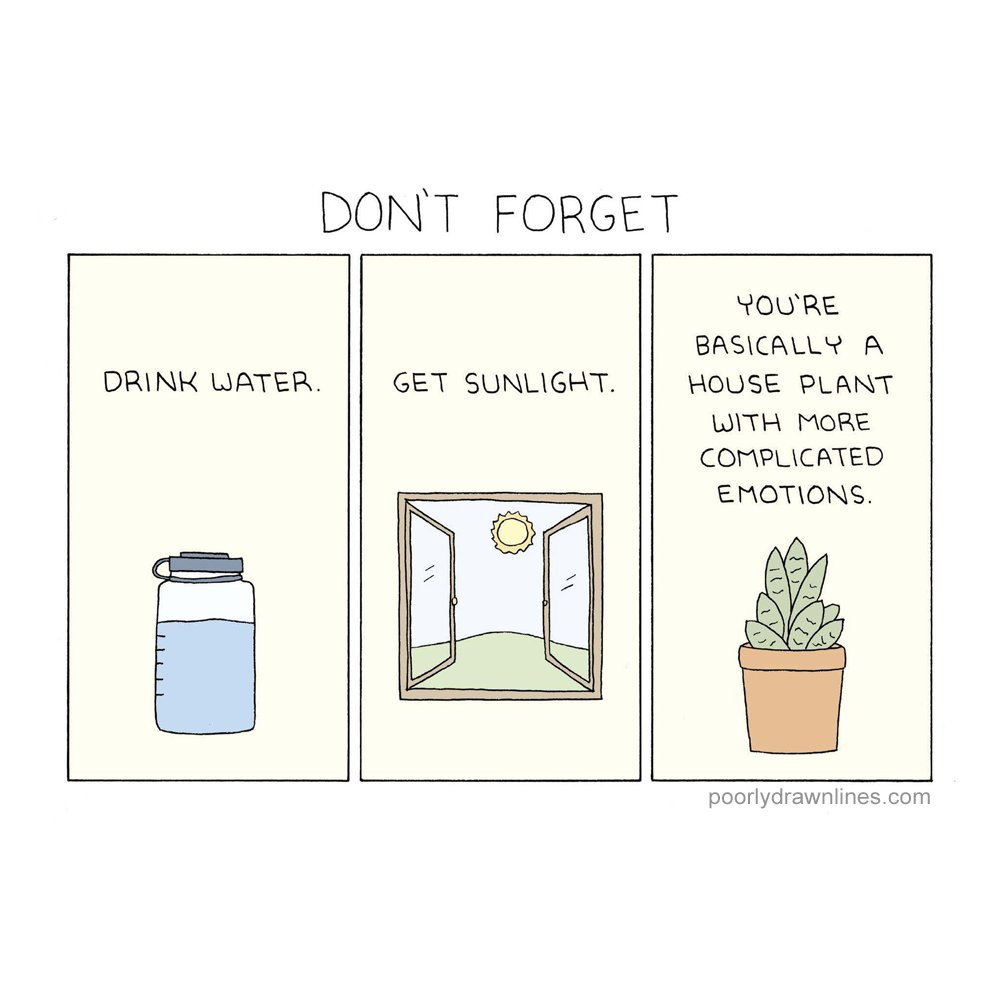 Source: Poorly Drawn Lines
This week I'm featuring houses that are transformed by their use of skylights and windows.
---
The Hillside Home
Location: 117 Hillside Ave, Kentfield, CA 94904
List Price: $2,195,000
Listing: https://www.redfin.com/CA/Kentfield/117-Hillside-Ave-94904/home/636888
This house has everything I love about Bay Area living in one package. It's tucked away on a hillside and shrouded by fruit trees. It feels secluded but it's walking distance to the local shops, and you can still catch a glimpse of the Marin landscape in the distance. The house has quintessential indoor/outdoor living and even has a pool. From the outside, it looks like any other California Contemporary house, but the inside reveals so much more.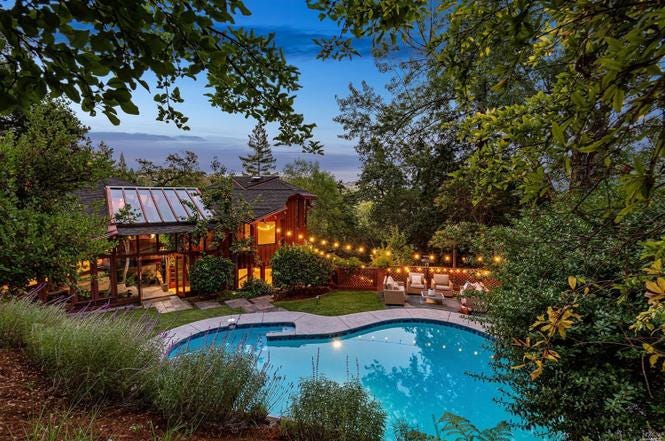 The back of the house is an atrium with skylights and patio doors that open to the backyard. It really pushes the concept of indoor/outdoor living.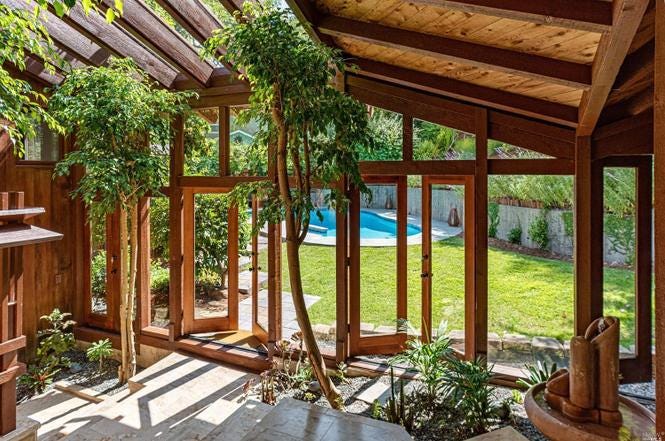 The rest of the living space plays with light, angles, and volume and makes otherwise normal spaces dramatic. I'm particularly fond of this bench that creates a hallway to the bedrooms; it feels like you're sitting outside.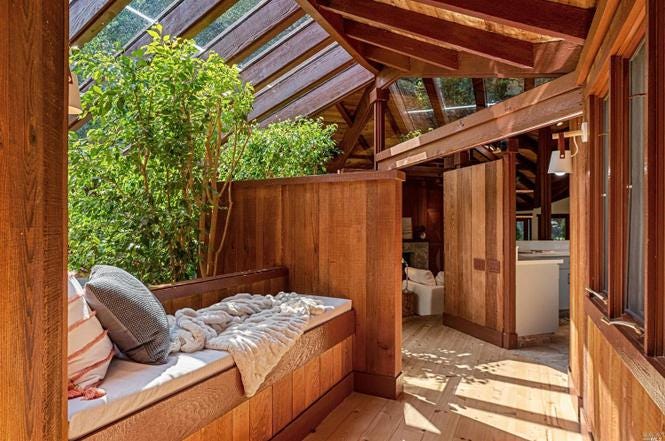 I also love the windows in the breakfast nook that wrap up to the ceiling.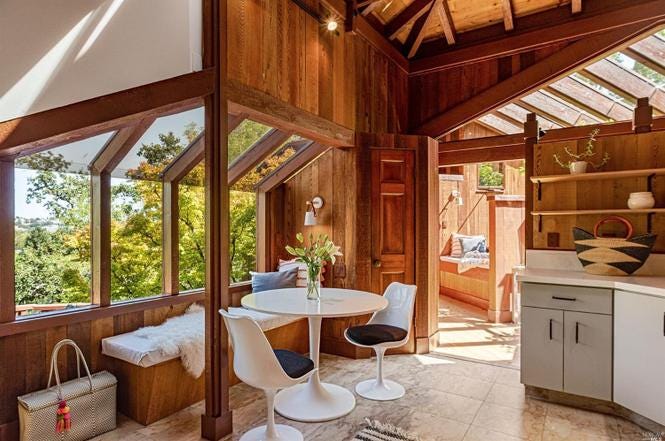 ---
The Modern Carmel Cabin
Location: 59431 Garrapatos Rd, Carmel, CA 93923
List Price: $1,999,000
Listing: https://www.redfin.com/CA/Carmel-By-The-Sea/59431-Garrapatos-Rd-93923/home/14880577
I gasped when I saw this listing. The drama of this lighting and the siting of this house are everything.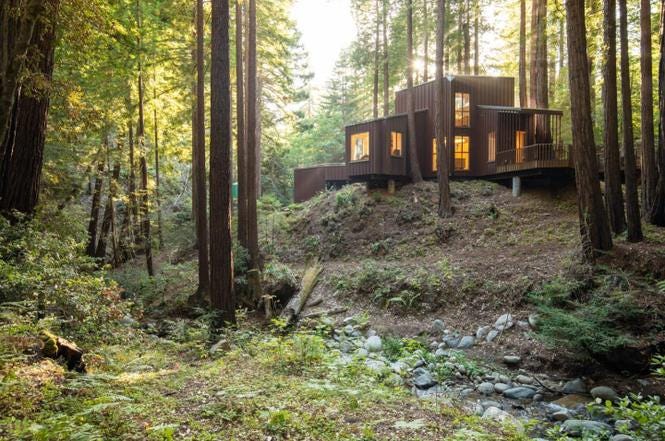 The geometry of this house is so delightful. You should really check out the 3D tour. A lot of the rooms are spokes off of the main living space and they use contraction and expansion of space paired with windows and skylights to dramatic effect.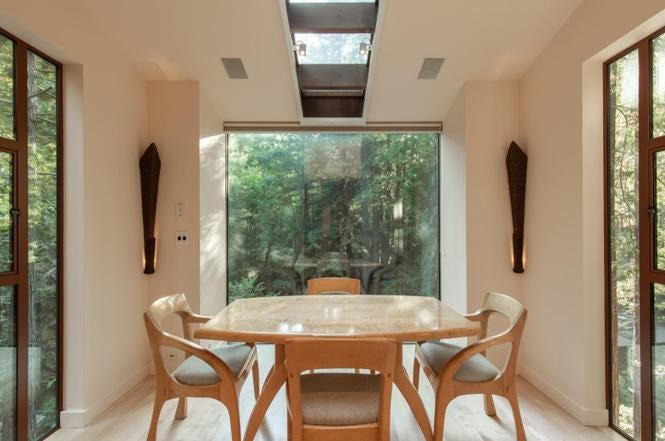 But the thing that really blew me away was this bedroom and the giant skylight over the built-in bad. Can you imagine sleeping under the stars in the woods like this?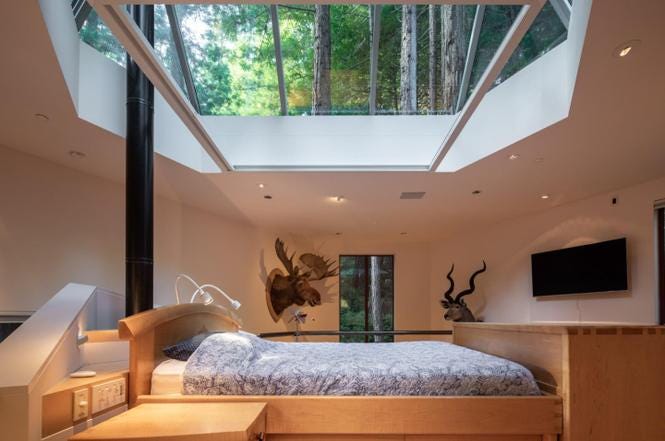 Plus, it has a hot tub.
---
The Reimagined Fallingwater
Location: 14 Skylark Terrace, Barre Town, VT 05641
List Price: $349,500
Listing: https://www.redfin.com/VT/Barre/14-Skylark-Ter-05641/home/91399779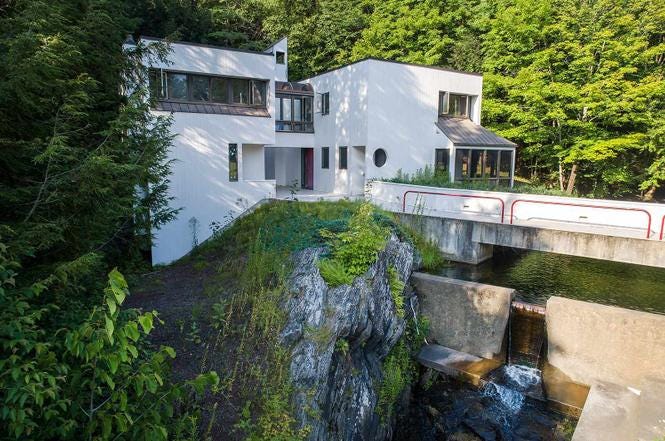 When I saw this house for the first time, I was mesmerized by the location. How lovely it would be to be surrounded by trees and so close to a brook like this. And then it hit me: this is a contemporary Fallingwater.

The house borrows a lot of Frank Lloyd Wright go-to's such as built-in seating, playing with volume, and spreading out spaces over more than one building. But it feels light, bright, and airy with a contemporary choice of materials.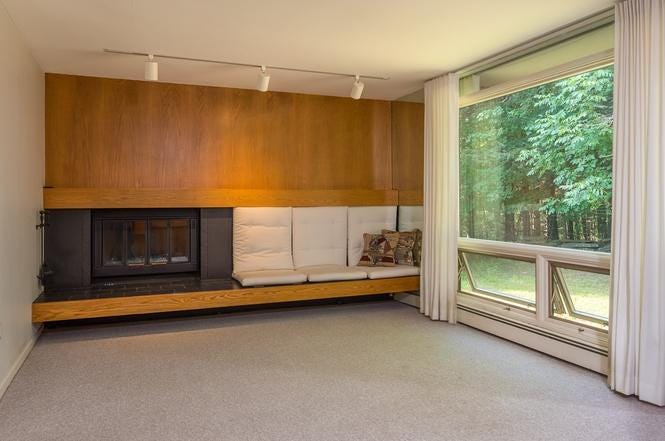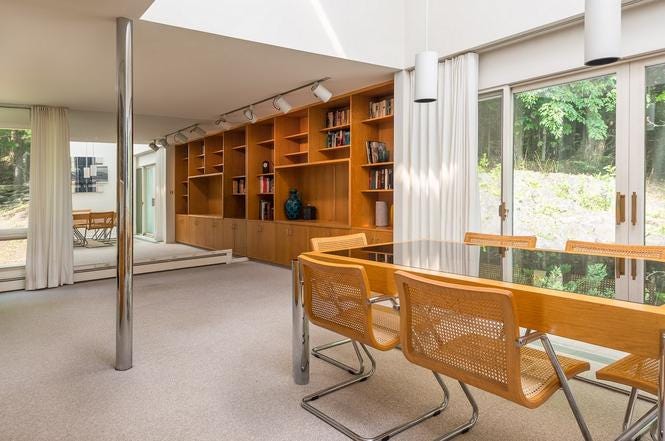 There's even a glass-domed walkway that spans the two buildings.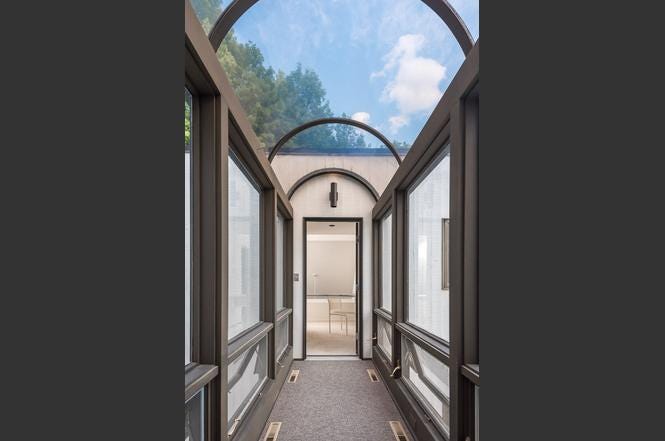 Overall, I just find this house to be so charming. It's refreshing to see something inspired by the work of someone else without it being a literal copy.
---
The Curvaceous Contemporary
Location: 853 Buttonwood Dr, Winston Salem, NC 27104
List Price: $789,000
Listing: https://www.redfin.com/NC/Winston-Salem/853-Buttonwood-Dr-27104/home/94902061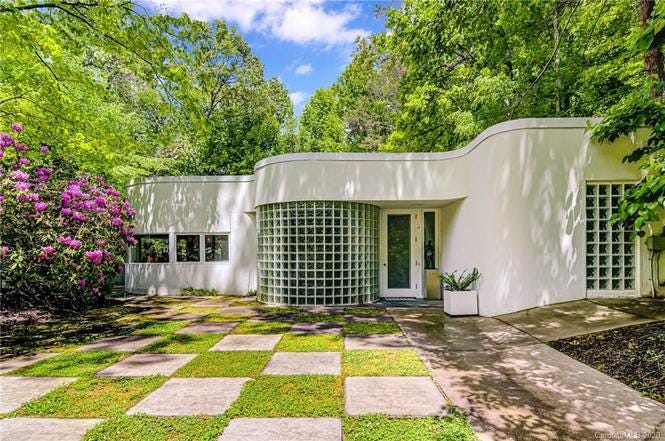 From the moment I saw the exterior, I knew this house was going to wild. I love the curvaceous exterior and glass blocks. But what's interesting about the inside is how much the interior and exterior feel connected. The glass brick continues its curved path inside of the house to create space that's carved out of the main living volume.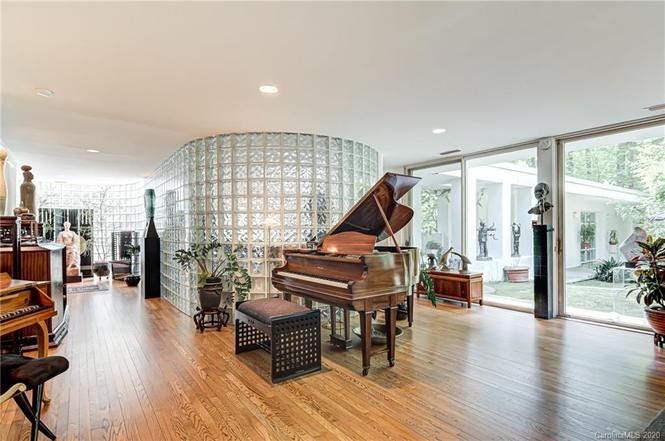 I especially love how the round skylight in the office accentuates the roundness of the space.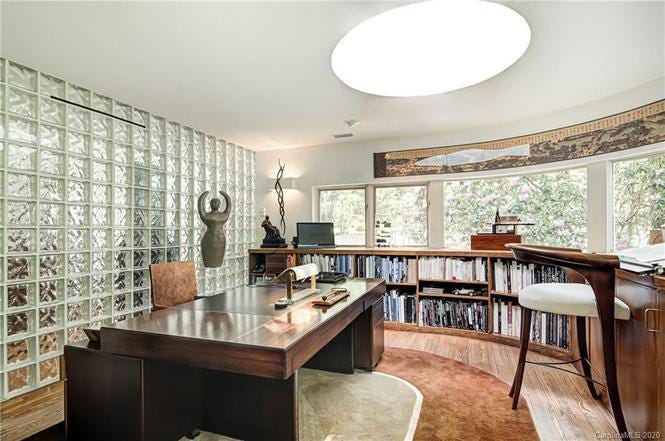 Almost every room has tall windows and an indoor/outdoor feel. The master suite is particularly lovely with a curved bedroom that leads to a sunroom, and a curved glass brick shower.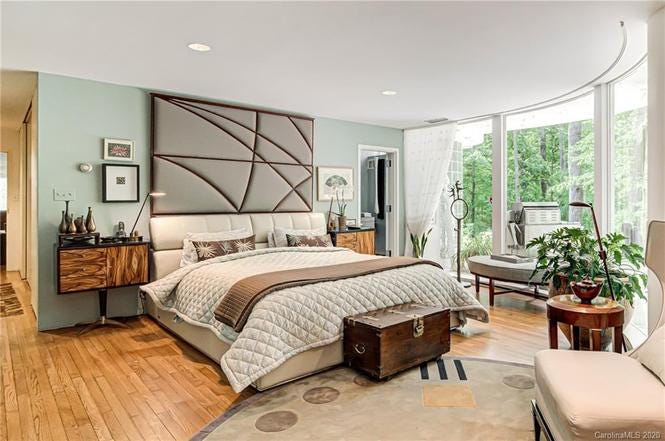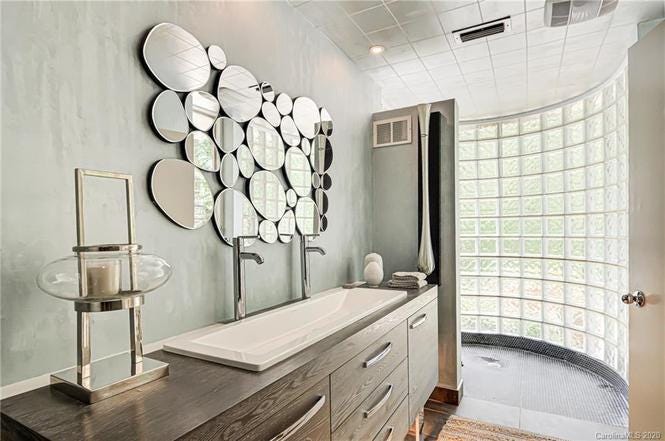 ---
Bonus:
This house with 81 skylights: https://www.redfin.com/AZ/Tucson/6321-N-Canon-Del-Pajaro-85750/home/50407487
Take care of yourself.
See you next week.