💻🏠 Living in a Material World
Tech keynotes and mid-century modern houses
It's the most wonderful time of the year: tech company keynote season.

Just kidding, I really don't care about the releases. I watch out of curiosity, but I'm seldom whipping out my checkbook for anything. And if I'm being honest, I don't know what people are talking about at least half the time. I have however really enjoyed and paid close attention to the houses that these keynotes are taking place in.
Apple caught my eye in the September Apple Event, where they showcased Family Setup for the Apple Watch in what appears to be an Eichler with an interior atrium.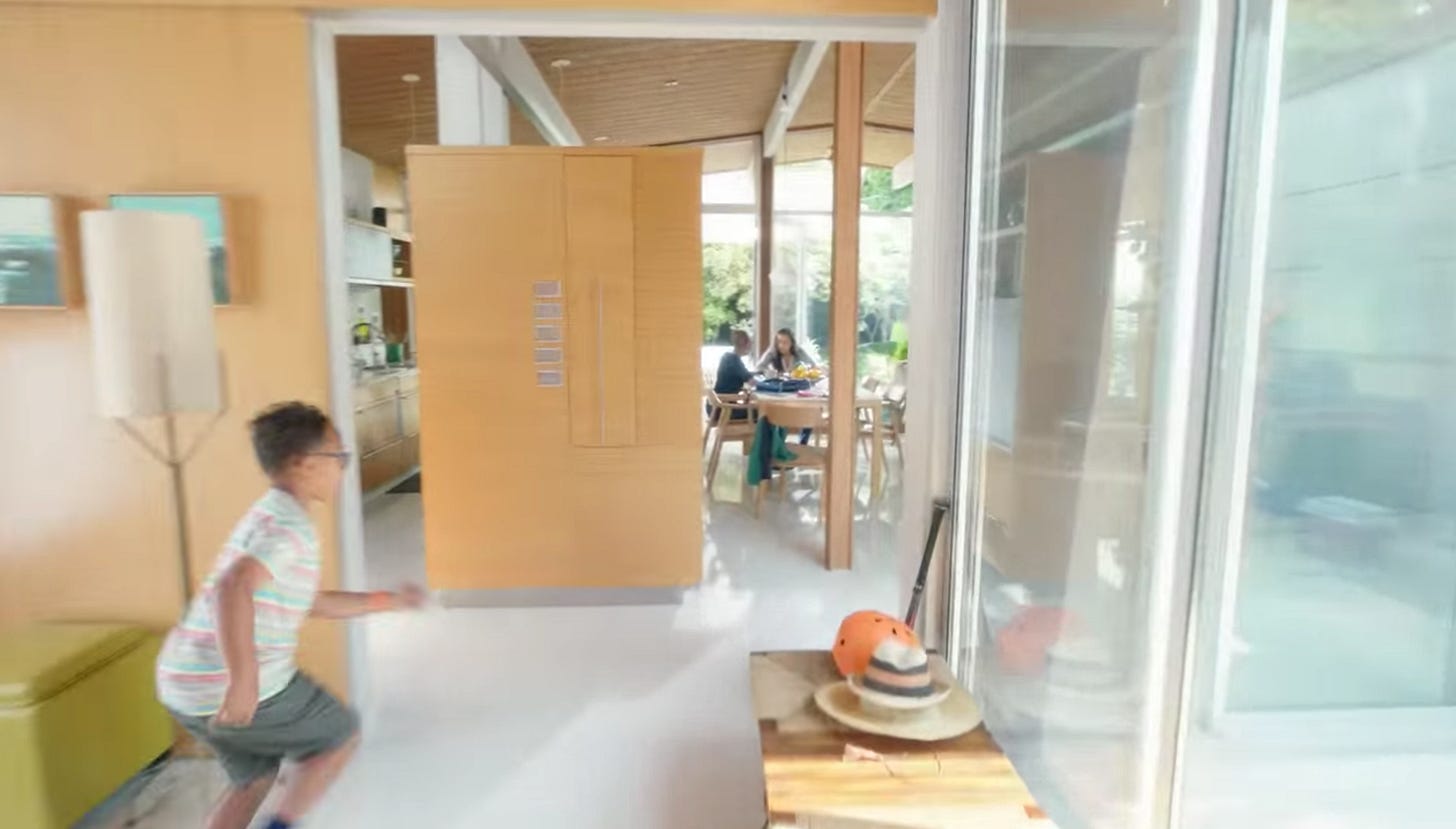 Who among us wasn't blown away by the model house Apple had in the October Apple Event for discussing the Apple Homepod? I haven't been able to get it out of my mind and apparently neither have many people.
I also noticed several comments about the house backdrops for Adobe MAX, and noticed how mid-century modern homes appear in Google's advertising too.
It made me wonder what it is about mid-century modern houses and why they are the backdrop to so many tech videos. Is it that they're just "good design"? Have nice natural light? Are illustrative of a time where people were future-focused and optimistic and excited about technology with less concern that it was ruining our minds and the planet?
Here is a round-up of houses that are right at home in our techno future/techno past.
---
The Kaufmann Desert House
Location: 470 W Vista Chino, Palm Springs, CA 92262
List Price: $25,000,000
Listing: https://www.zillow.com/homedetails/470-W-Vista-Chino-Palm-Springs-CA-92262/2077469488_zpid/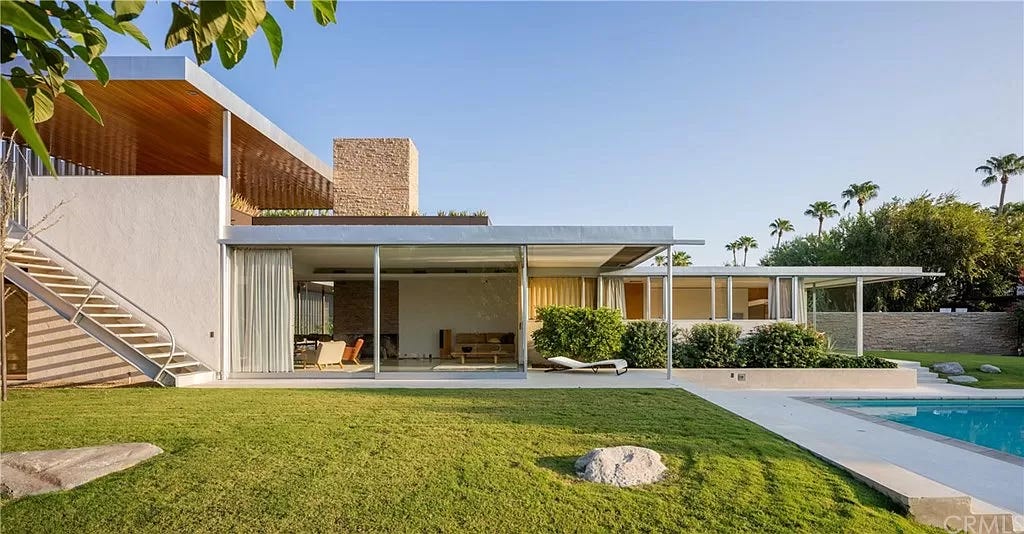 When most people hear mid-century modern house, they probably envision either the Stahl House in LA (as captured by Julius Shulman) or this house in Palm Springs (as captured by Slim Aarons).
What's most impressive to me about Richard Neutra's work in general (but especially this house) is how timeless it is. The Kaufmann Desert House looked totally of its era in the photographs by Julius Shulman and Slim Aarons, and it looks just as of the era now.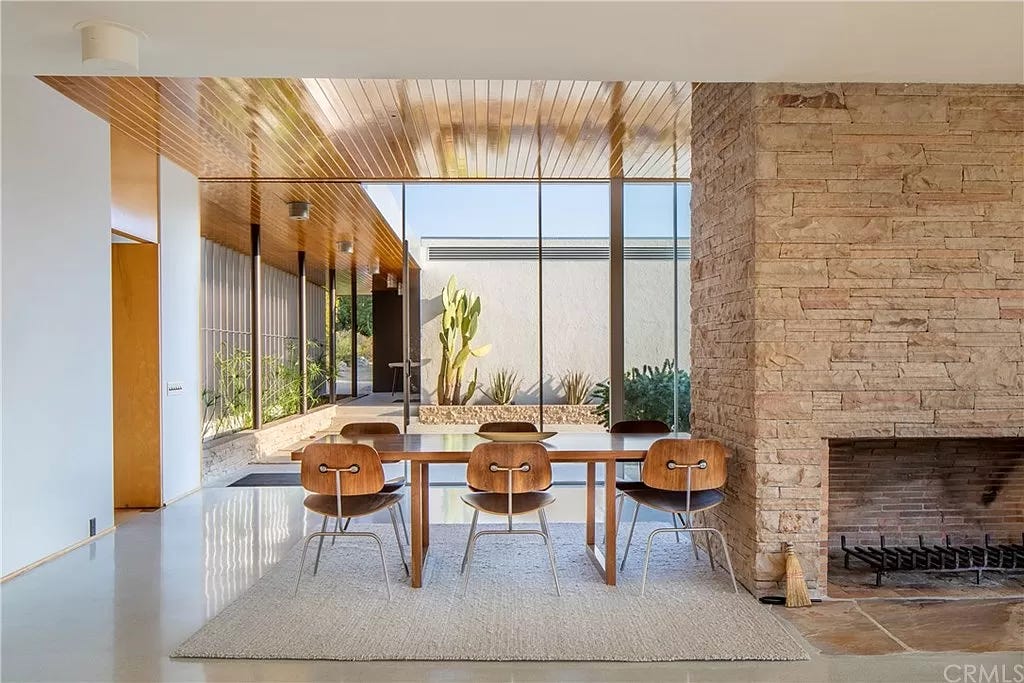 Even though the house is pretty minimalist, it plays with depth, texture, and light which gives it a lot more visual interest and that overall Apple video/campus vibe. Throughout the times, it has held onto its quintessentially Californian effortless chic and cool edge.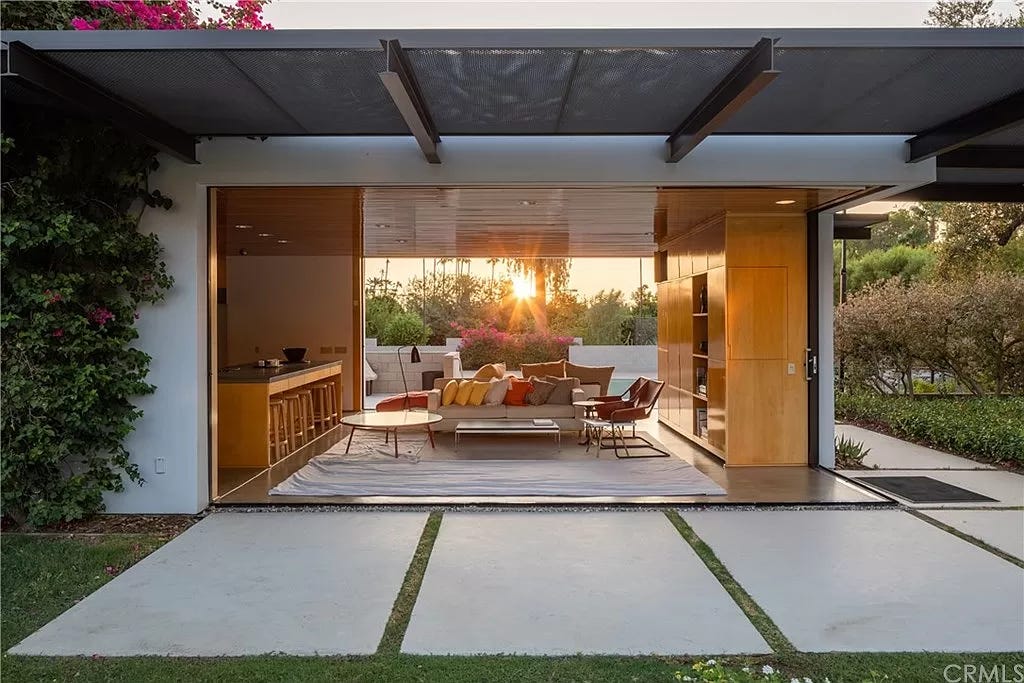 ---
The Johnson Residence
Location: 1515 N Tigertail Rd, Los Angeles, CA 90049
List Price: $3,750,000
Listing: https://www.zillow.com/homedetails/1515-N-Tigertail-Rd-Los-Angeles-CA-90049/20559692_zpid/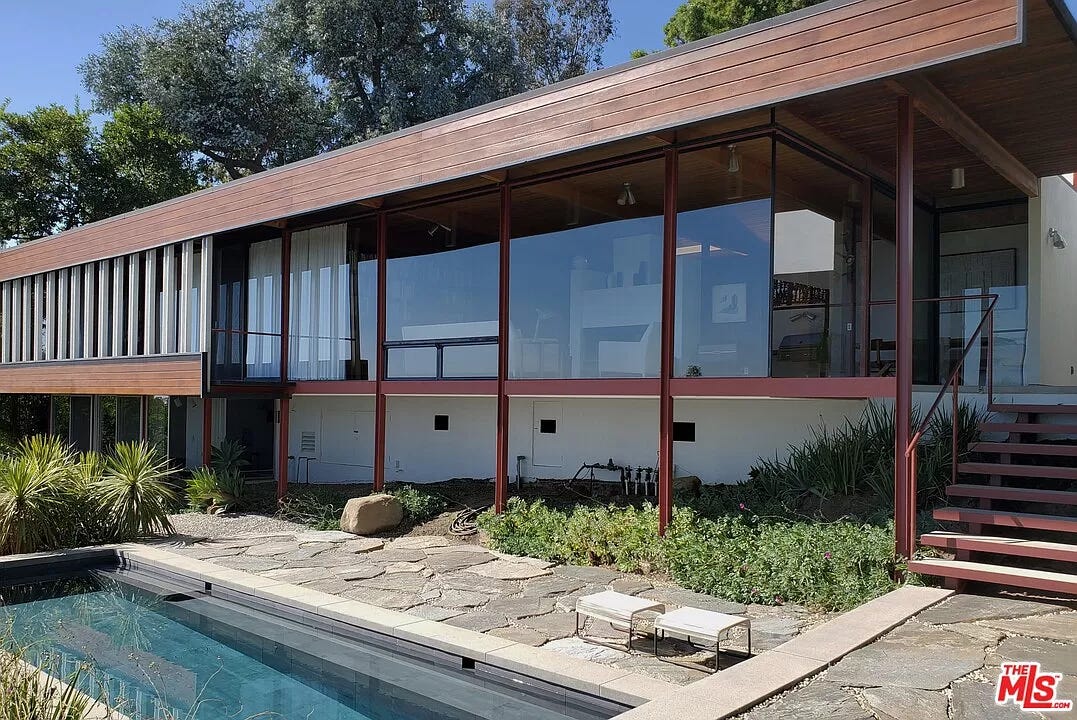 There are lots of plain wood-clad and glass mid-century boxes out there and this isn't one of them. There's something special about this house that gives it that extra edge. Maybe it's the little chotchkies in the staging that give it that extra LA attitude, or the extra flair to the windows to break up the plain glass.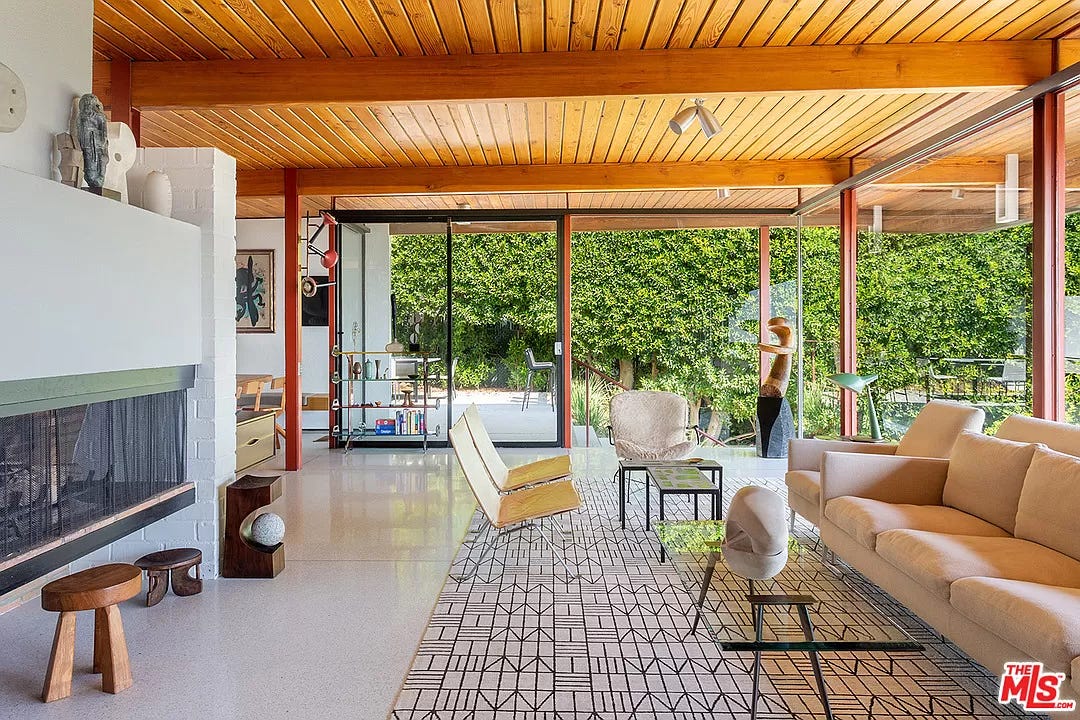 This house has a sophisticated edge to it like a well-traveled and well-read art collector-cum-tech exec decided to take what they've learned and accumulated and integrated it into the essence of this house.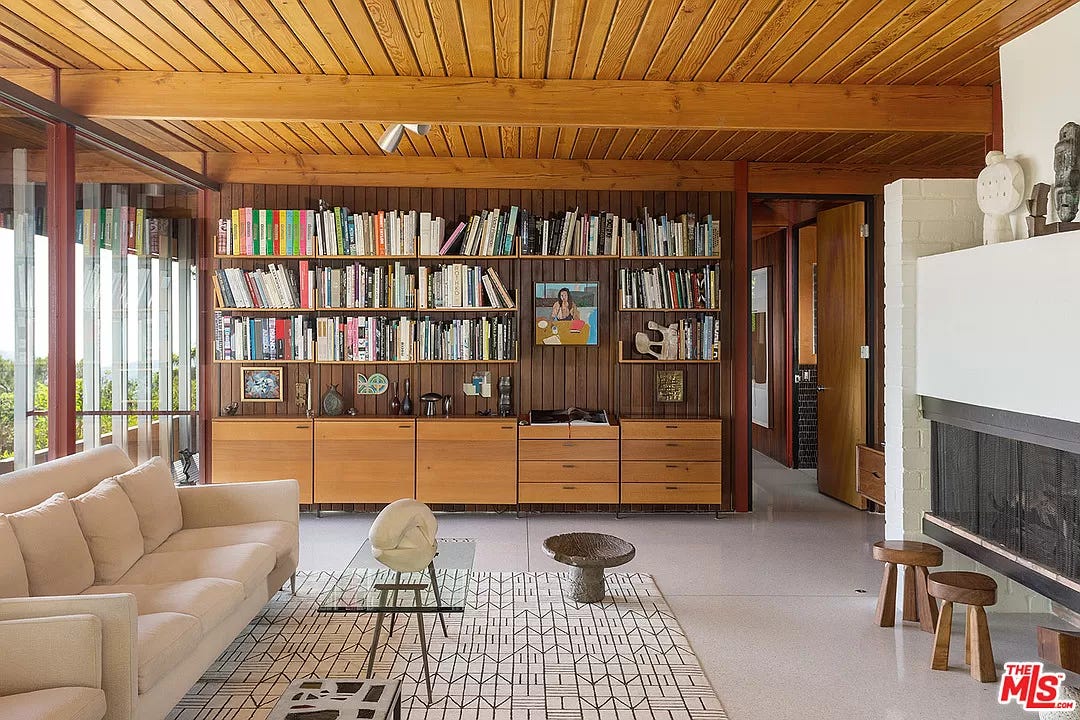 The tech keynote vibes are definitely in the open living area, but there are beautiful and interesting design touches throughout. I'm particularly fond of the kitchen and the bathrooms. The sunken showers/tubs with the skylights and floor-to-ceiling windows are captivating.
---
The Asian Influenced House
Location: 1249 N Tigertail Rd, Los Angeles, CA
List Price: $2,999,000
Listing: https://www.zillow.com/homedetails/1249-N-Tigertail-Rd-Los-Angeles-CA-90049/20559671_zpid/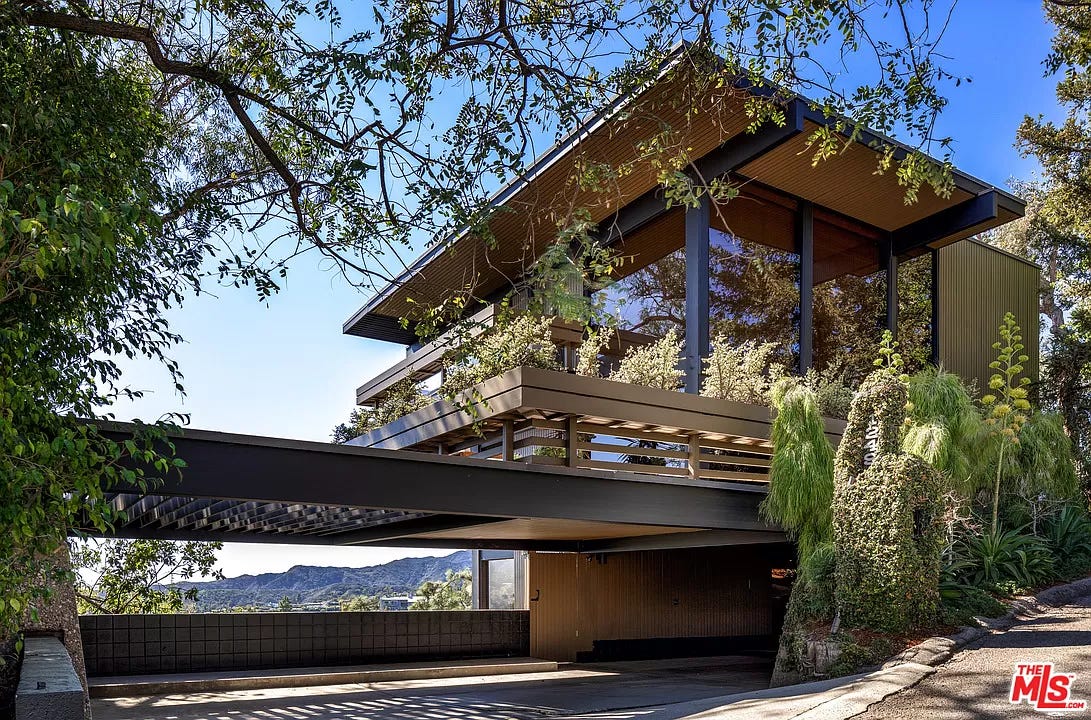 Just down the street from The Johnson Residence is this exciting listing. This house is a virtual maze of cantilevered decks and fireplaces and wood paneling. There's a strong Asian influence throughout with grasscloth wallpaper, bamboo, and rice paper screens as the materials throughout. Not to mention, the koi pond at the entrance which is particularly tech keynote house material.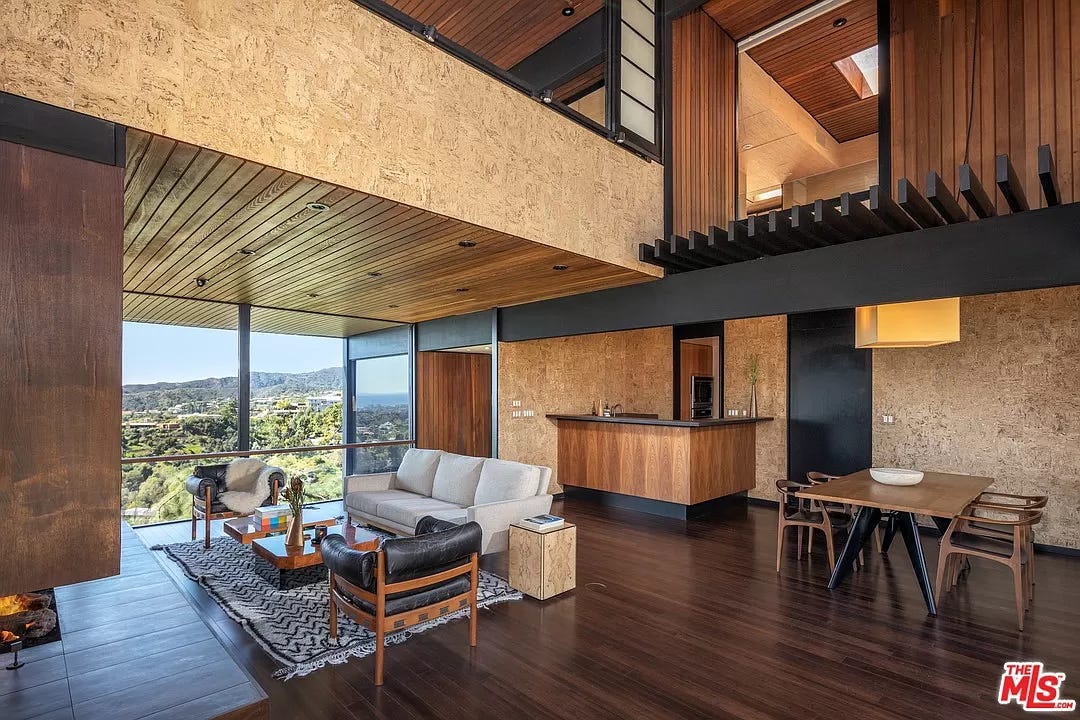 There's so much drama that comes from varying ceiling heights and all of the surfaces being covered in some kind of wood paneling. It's so spectacular you almost miss that there's an incredible view outside.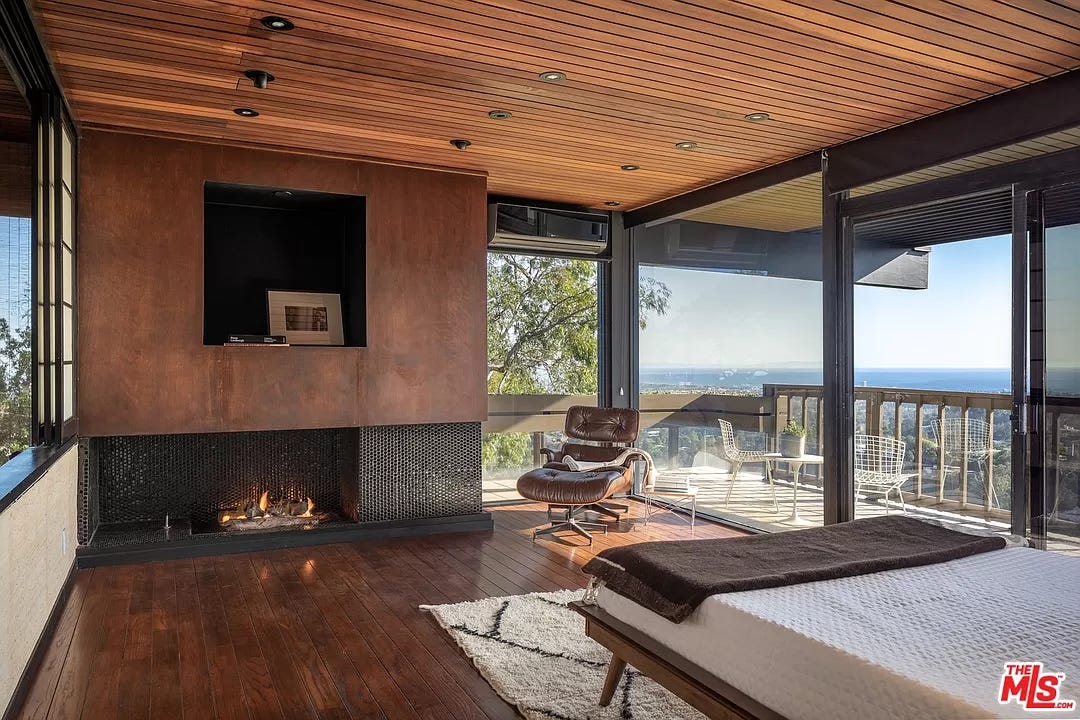 This house definitely has moodier vibes that make it more Ex Machina than Apple Event, but it still has that really chic, high design vibe.
---
The Bailey House
Location: 219 Chautauqua Blvd, Pacific Palisades, CA 90272
List Price: $9,500,000
Listing: https://www.zillow.com/homedetails/219-Chautauqua-Blvd-Pacific-Palisades-CA-90272/135454220_zpid/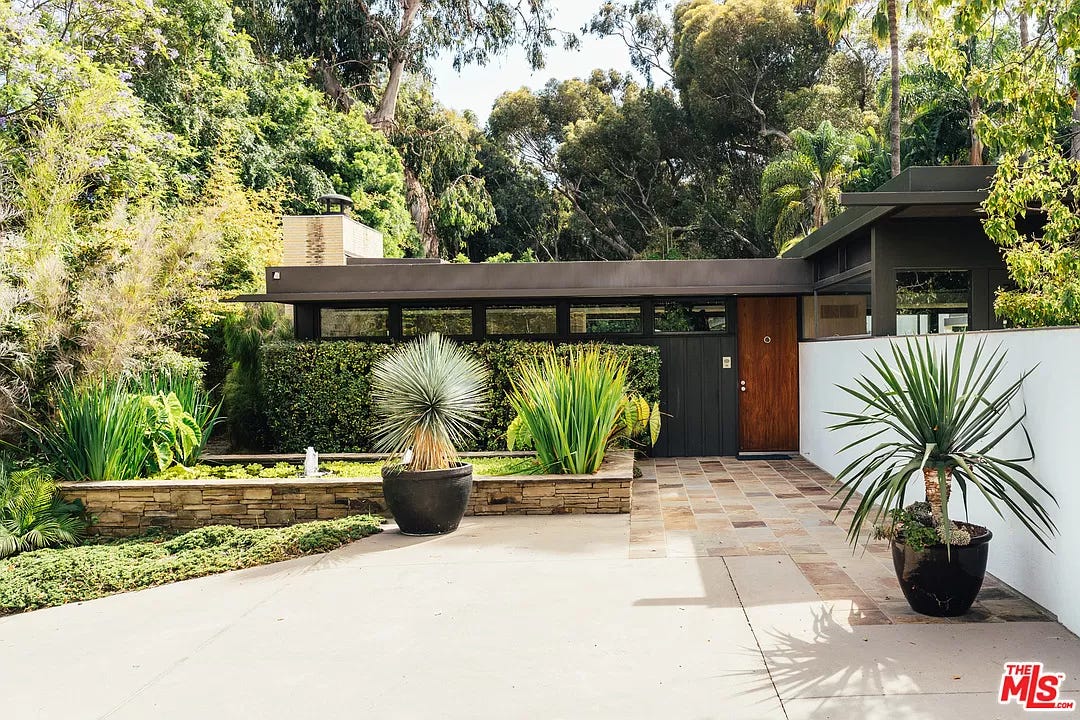 I didn't mean for two Richard Neutra houses to make it on this list, and ordinarily, I wouldn't include them (unless it was a special theme just about him), but both houses are special and surprisingly different from one another. The Bailey House is Neutra's Case Study House #20 and the only one he completed.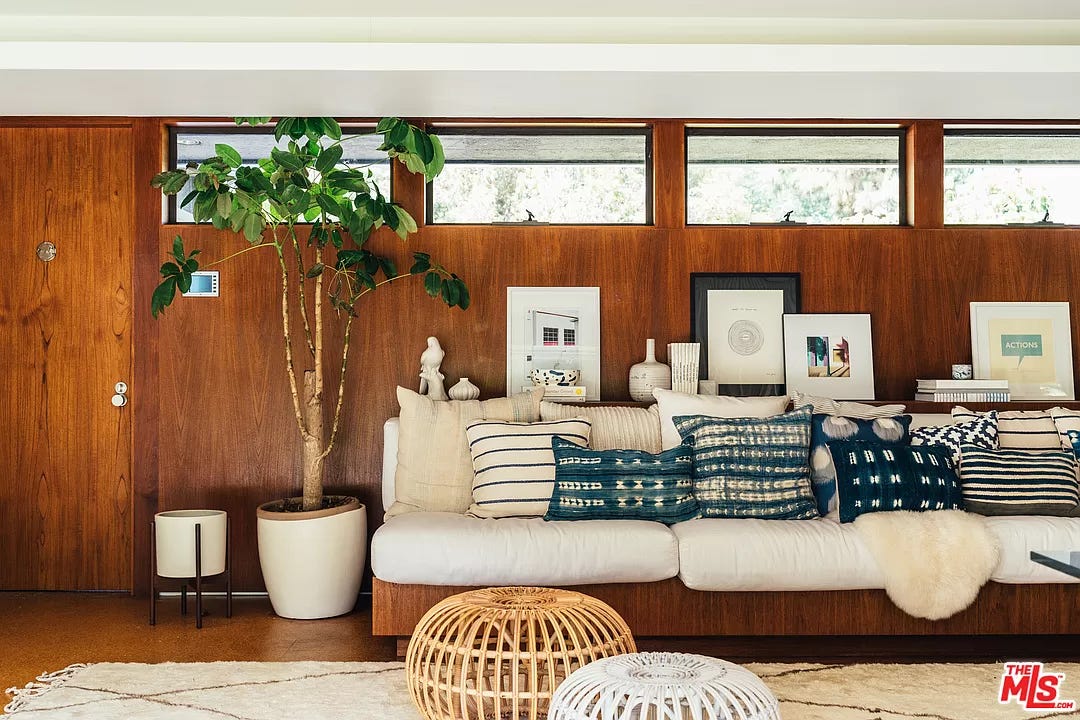 There's a very Southern California vibe to this house that is both laid back and high style. There's also lush, almost tropical landscaping surrounding it. While this house does have the typical floor-to-ceiling window back of the house, the rest of it feels quite private in comparison with only clerestory windows throughout most of the house. To me, this is what makes this house feel particularly homey compared to the others on this list. You just know a "let my people go surfing" executive lives here.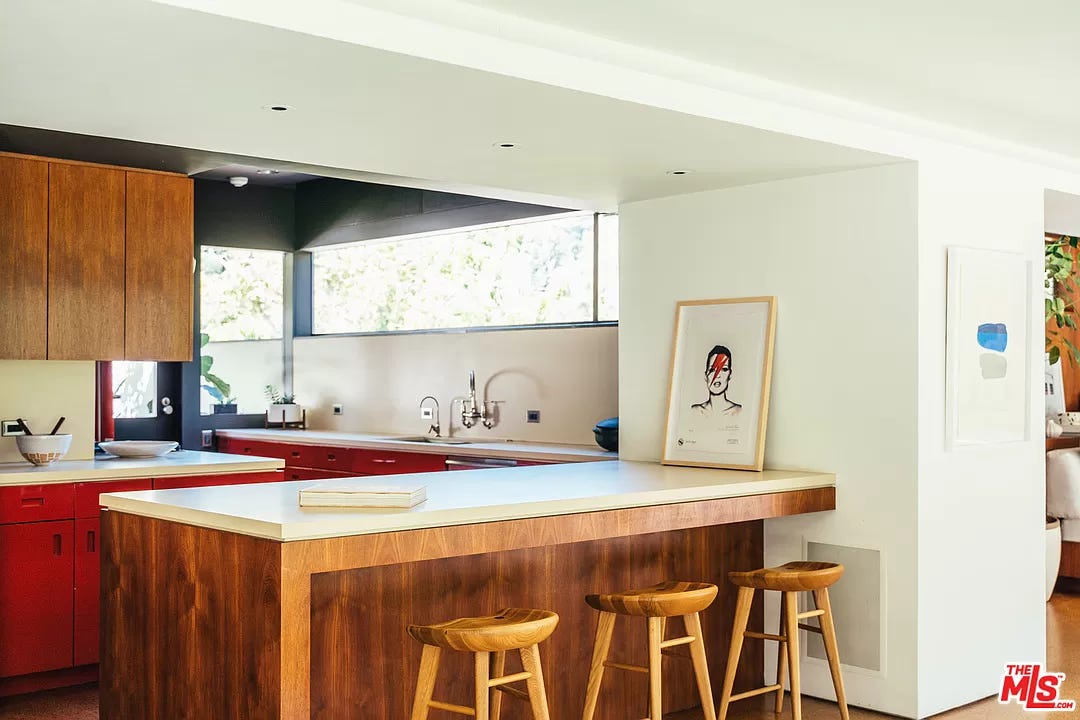 ---
The Texas Modern
Location: 1904 Paramount Ave, Austin, TX 78704
List Price: $2,995,000
Listing: https://www.zillow.com/homedetails/1904-Paramount-Ave-Austin-TX-78704/29322500_zpid/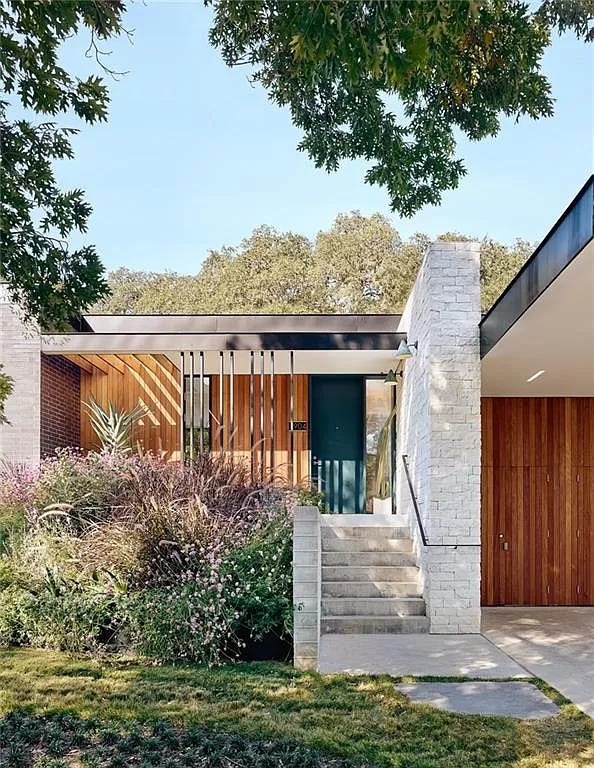 This is the only house on this list that was built in this century, and it does a surprisingly good job of having that mid-century flair without compromising on modern space ideals. The house has beautiful built-ins throughout that help define the space without being too dark and bulky or closing off too much of the open floor plan. My favorite example of this might be in the living room with the built-in bookcase and sofa.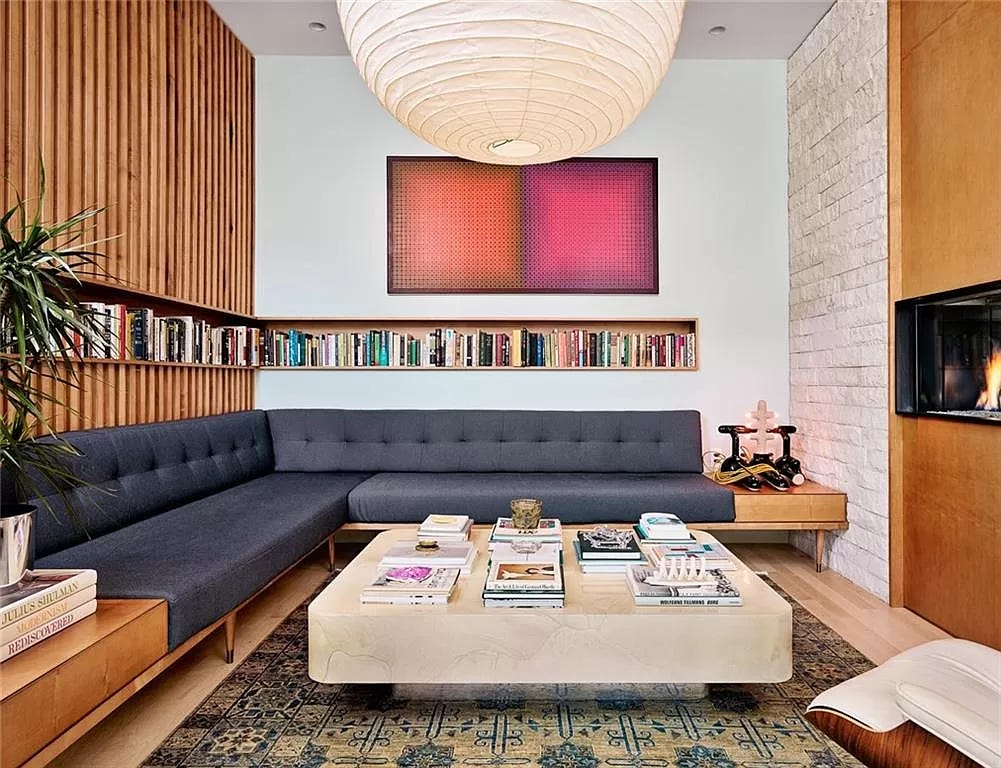 The space where they really put the modern in mid-century modern is the kitchen. They use beautiful materials and apply them in mid-century ways. It's the kind of space that lets you easily imagine kids running in from the outside to the kitchen stools, whether that's your own kids or an Apple Watch commercial.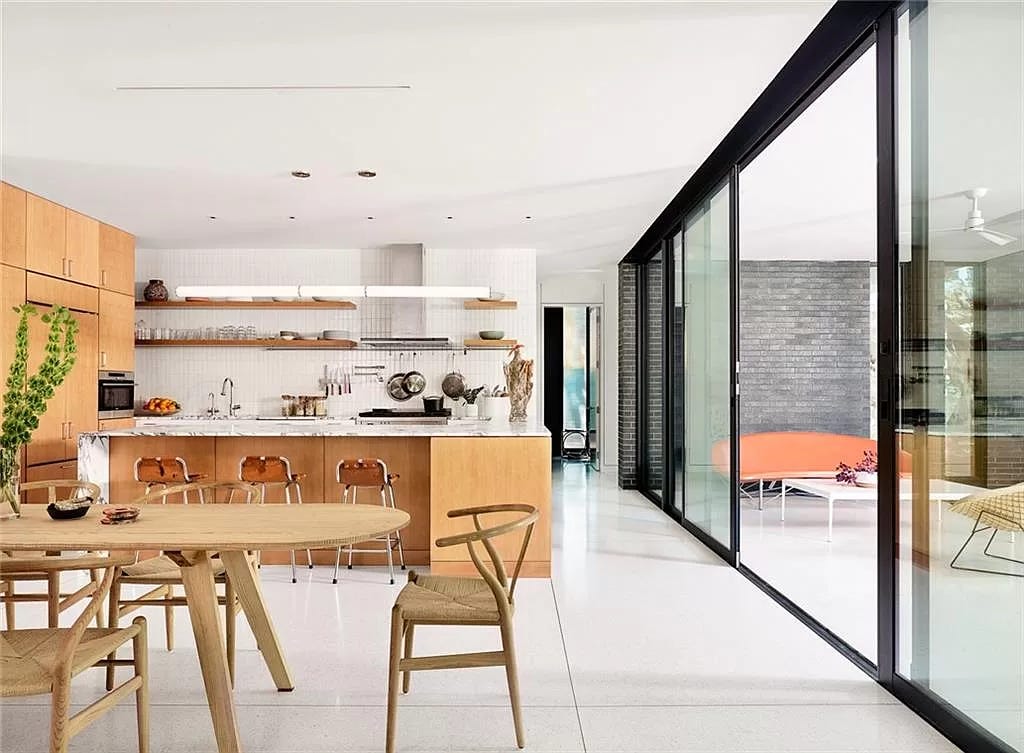 ---
Bonus
The house that put Richard Neutra on the map and essentially led to mid-century modern as we know it: https://www.zillow.com/homes/4616-Dundee-Dr-Los-Angeles,-CA,-90027_rb/20809413_zpid/