✨🌈 Seeing Technicolor
I like stark, minimalist spaces as much as the next person. Probably a lot more, if I'm being honest. But it seems like these days every house is white. After seeing so many all-white-everything houses, it starts to feel cold and antiseptic and frankly– downright boring.

Here are some houses that are anything but boring and have brought me a lot of joy.
I hope they brighten your spirits too.
---
The Colorful Cubist
Location: Waterloosstraat 4, Kapelle op den bos, Belgium
Listing: https://www.architectenwoning.be/projecten/atelierwoning-j
List Price: € 795,000 (~$936,500)
I'm breaking my own made-up rules with this house because it's:
1. in Belgium (I can't spend my whole life scouring the entire planet for house listings… or can I 🤔)
2. a house that I want to keep for myself.

In some way, every house that I show here is a house I love. But this house has my heart in the way that no other house has– not even my own house.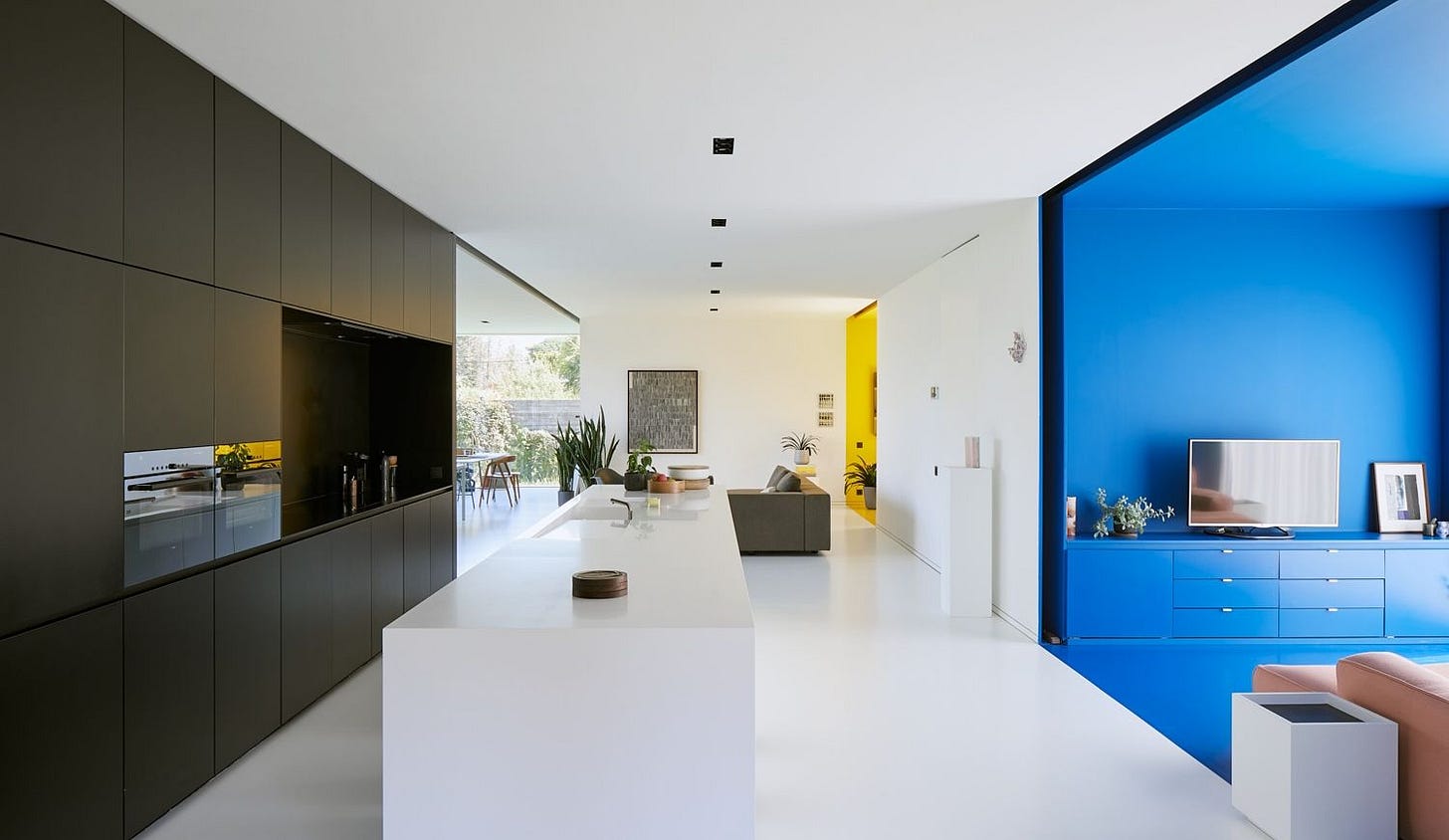 Most of the house is white and black, but it uses color in smart and unexpected ways like giving shape to an otherwise open space and casting gorgeous light.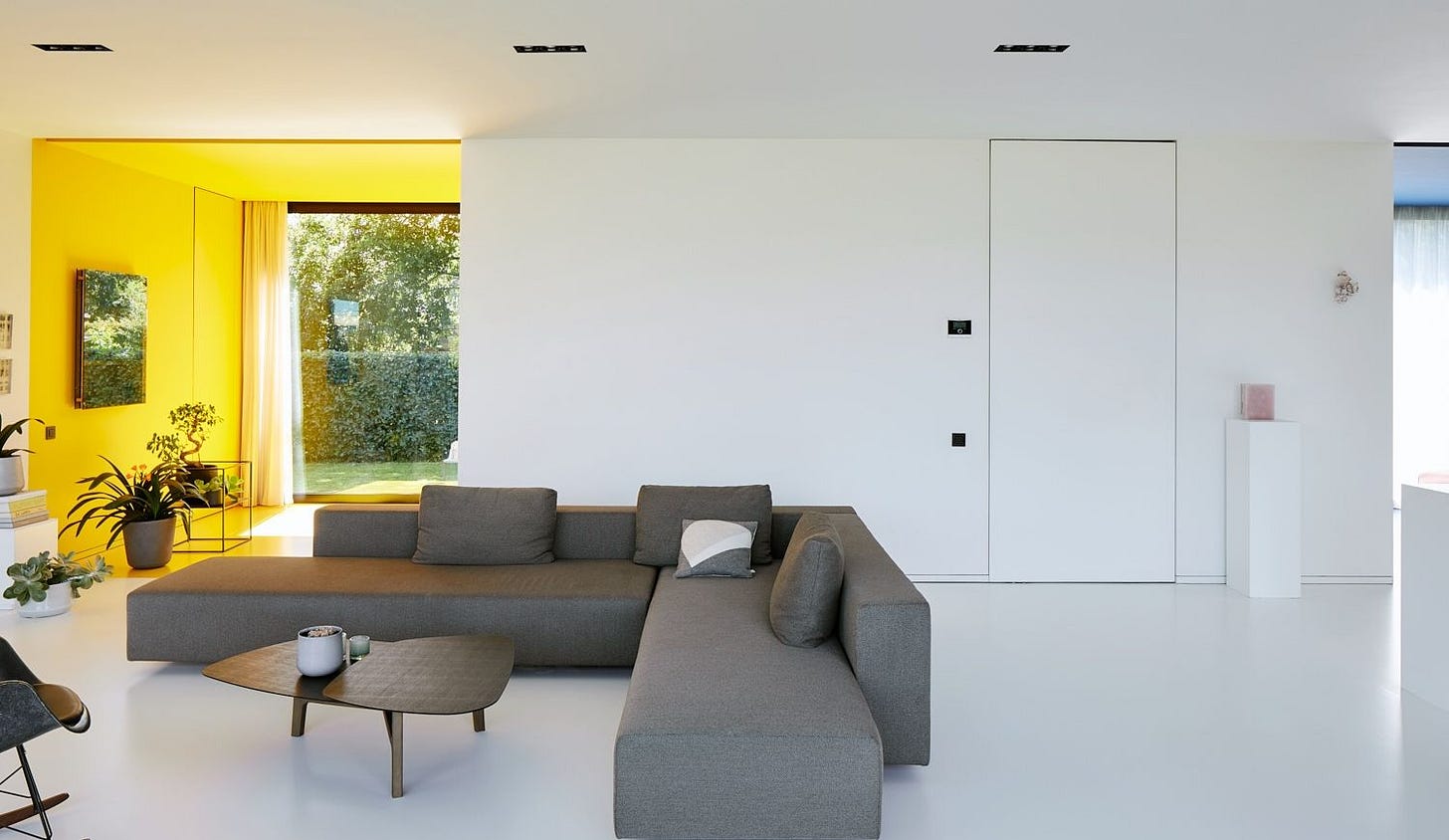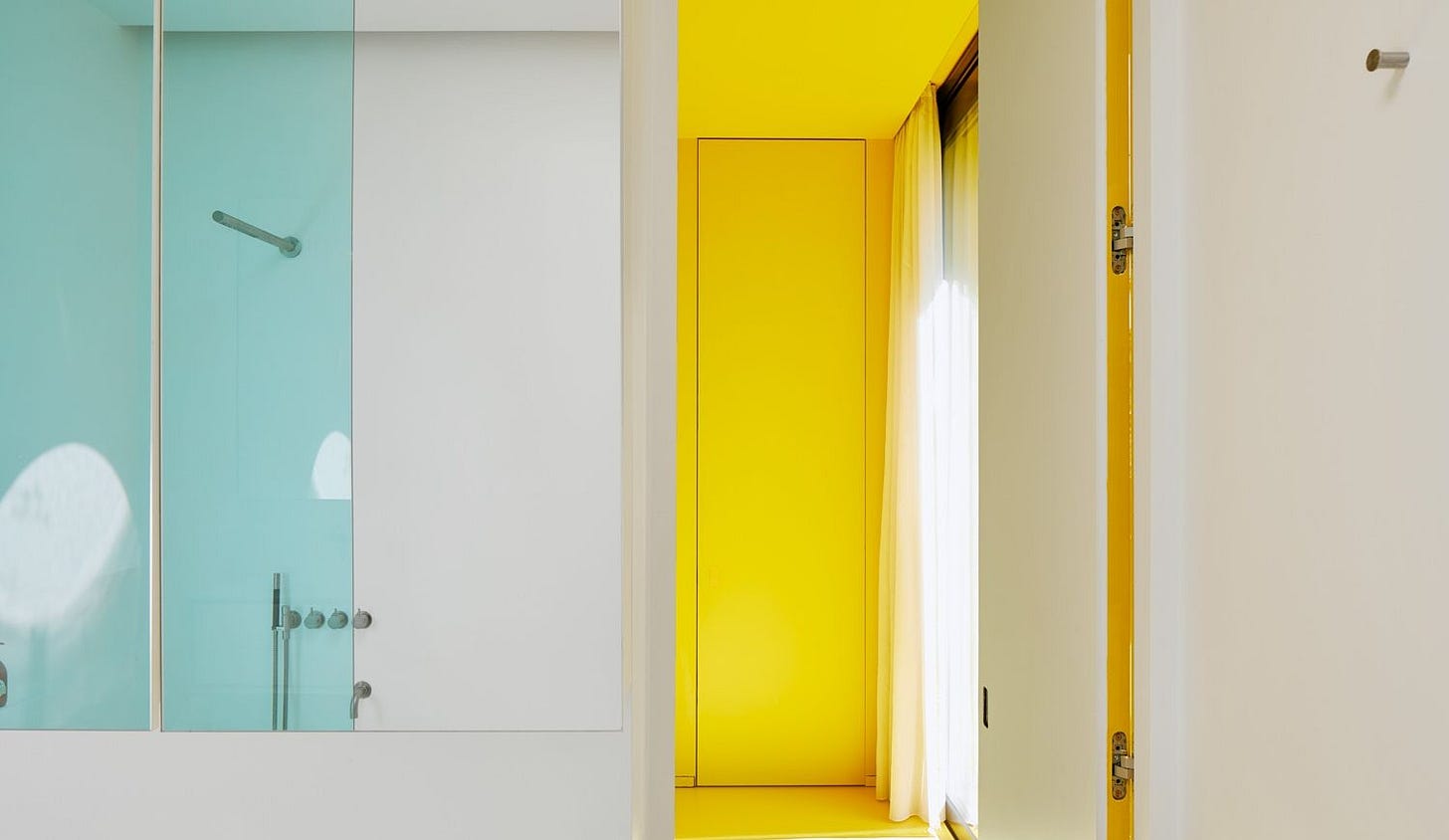 It's clever and joyful, and thanks to the siting - still peaceful.
The house also features a pond, an outdoor kitchen, and a separate studio space and has beautiful views of the yard throughout.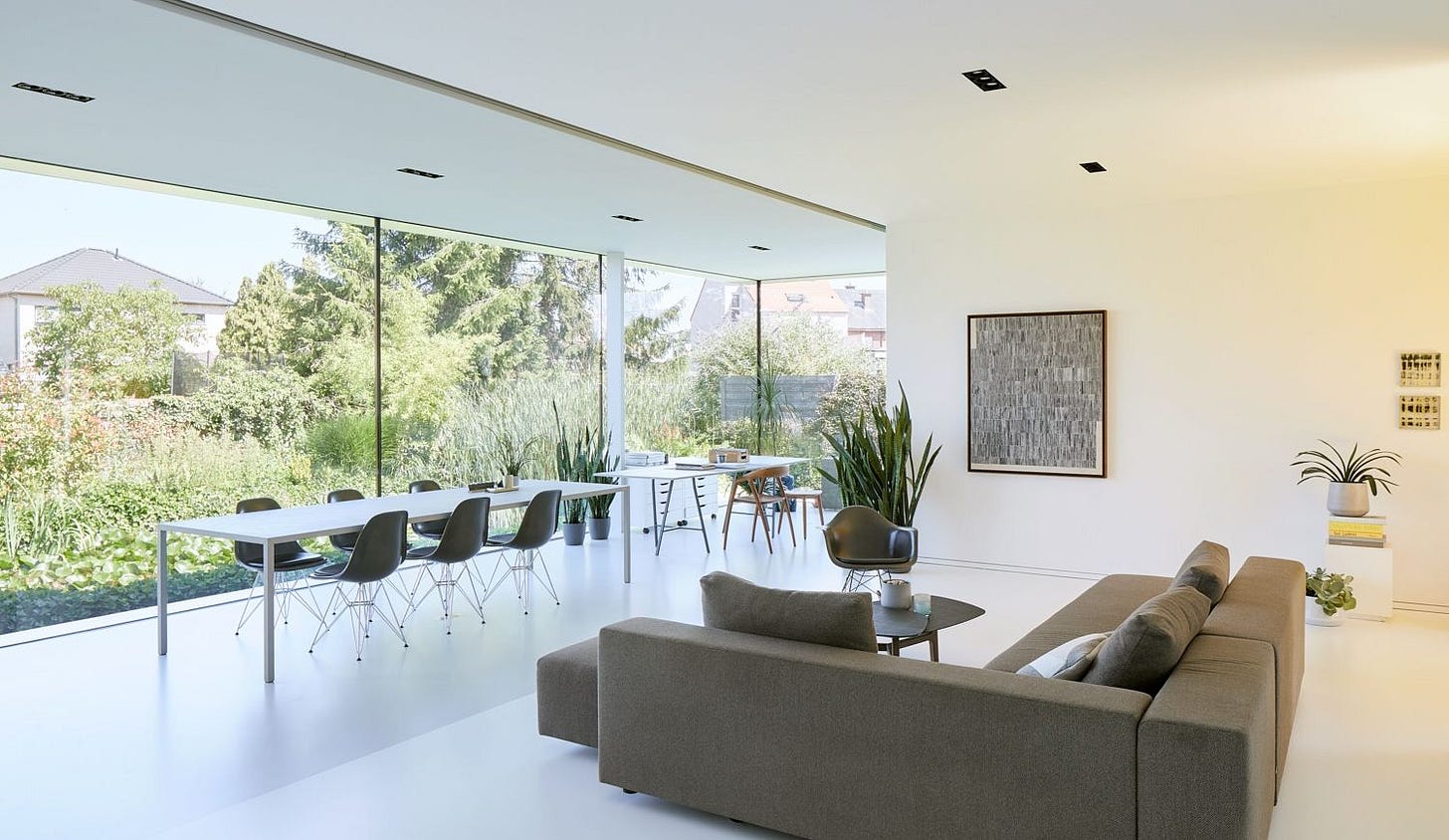 If you buy this house, please invite me over for an extended stay. Thank you.
---
The Graphic Mid-Century
Location: 1745 Malvern Dr, Jackson, MI 49203
Listing: https://www.redfin.com/MI/Jackson/1745-Malvern-Dr-49203/home/111905723
List Price: $325,000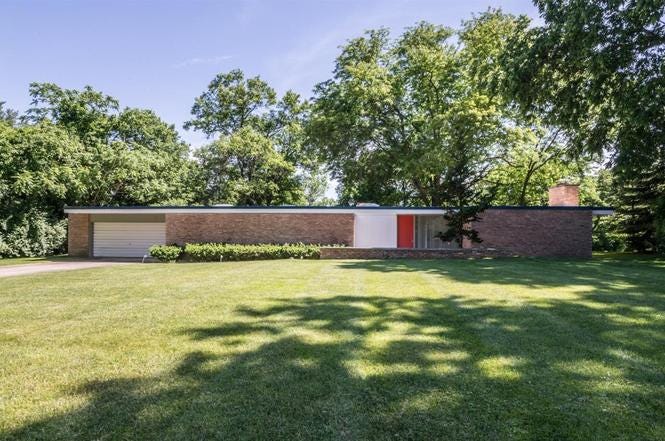 This unassuming mid-century ranch house is situated on almost half an acre with a river running through the backyard.
Most of the house is pretty restrained with a focus on the outdoors.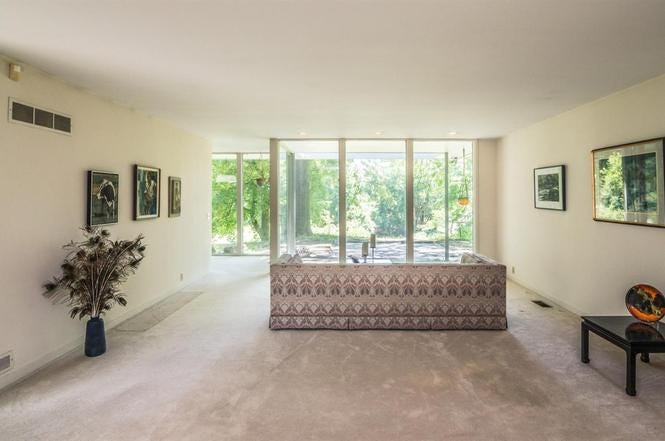 But there are a few bold uses of wallpaper and laminate that make this house fun and charming. The kitchen and the breakfast nook are my favorite spots.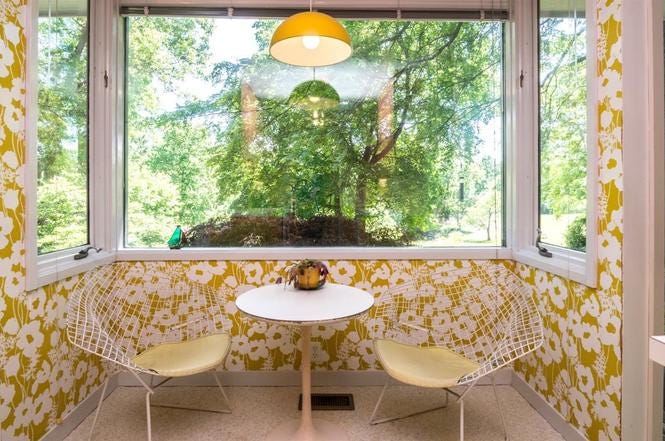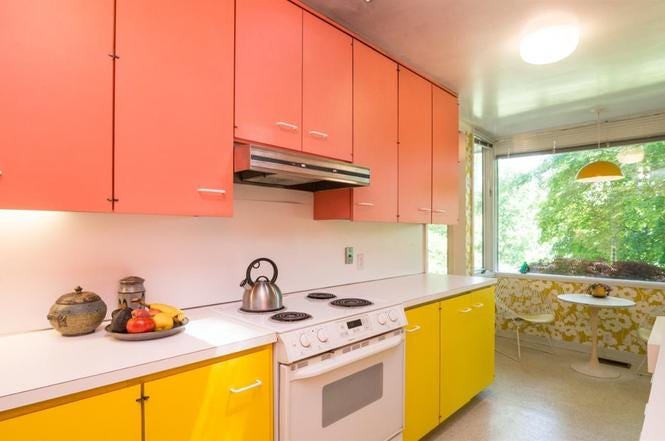 But I'm also quite fond of the laundry room too.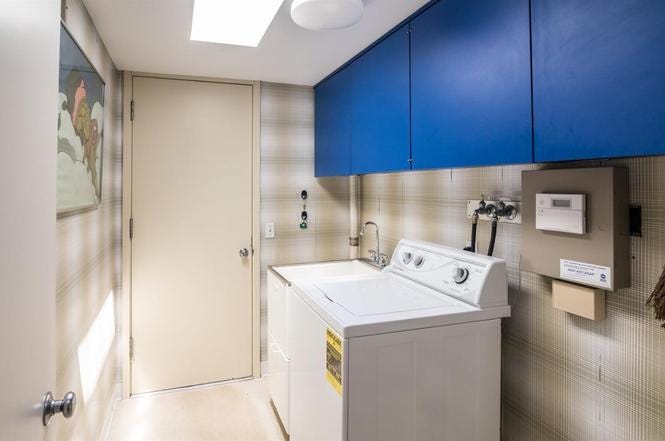 I hope the next owners treasure the color and help the house live up to its full technicolor potential.
---
The Striking Sea Ranch Style
Location: 1642 Las Trampas Rd, Alamo, CA 94507
Listing: https://www.redfin.com/CA/Alamo/1642-Las-Trampas-Rd-94507/home/1443740
List Price: $3,195,000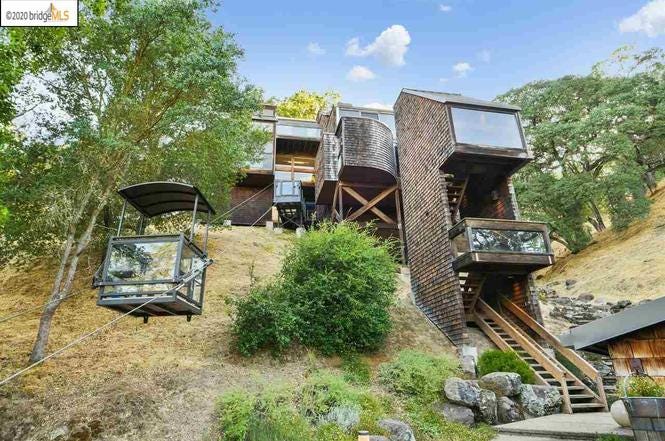 Yes, that's a cable tram.
This house sits on a sloped site on more than two acres. The outside is deceptively calm and wood-clad to look like a house in Sea Ranch, but inside is a 70s modern utopia with colorful ventilation popping up in many rooms.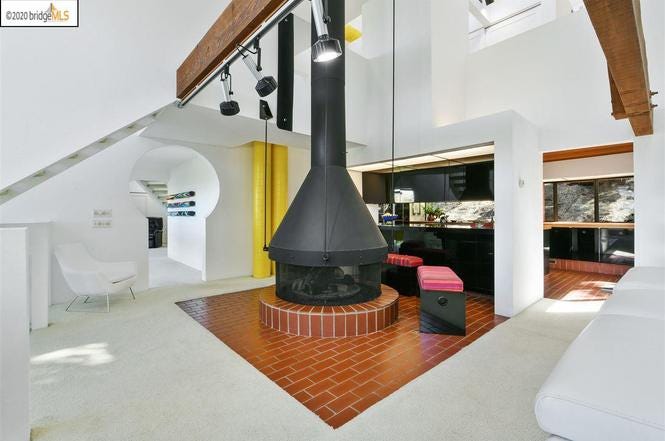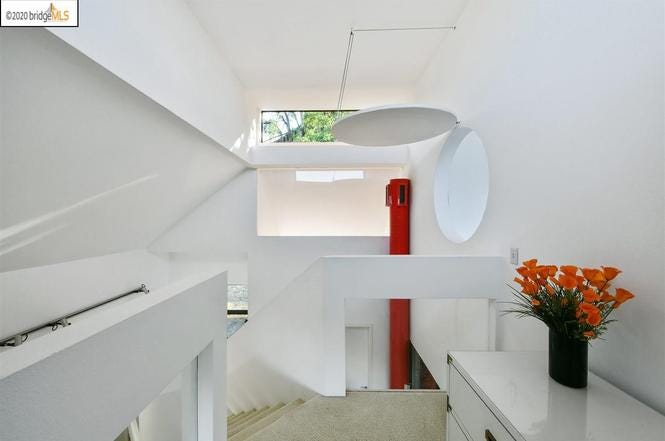 While not colorful, my favorite moments in this house are the built-in beds.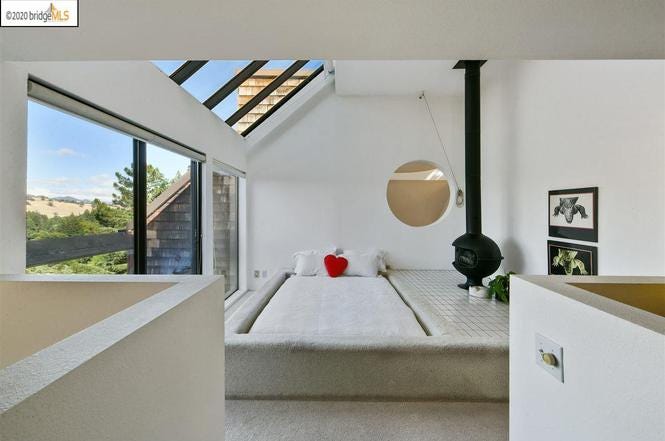 And if you're WFH like me and everyone else, the property includes a small office building. It also has a pool and a tennis court, if relaxing is more your speed.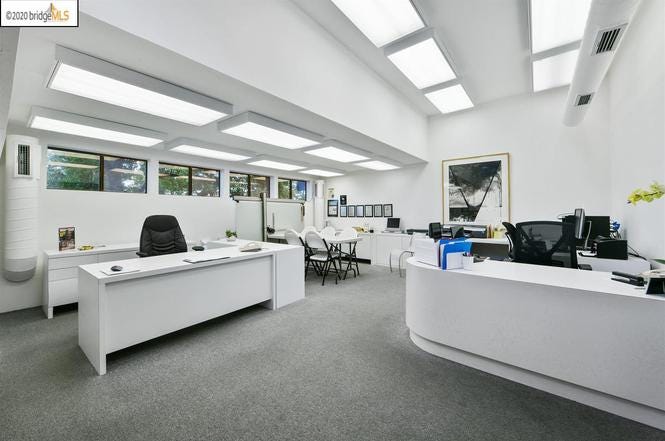 ---
The Case Study House
Location: 143 Calvert Ct, Piedmont, CA 94611
Listing: https://www.redfin.com/CA/Piedmont/143-Calvert-Ct-94611/home/609685
List Price: $2,995,000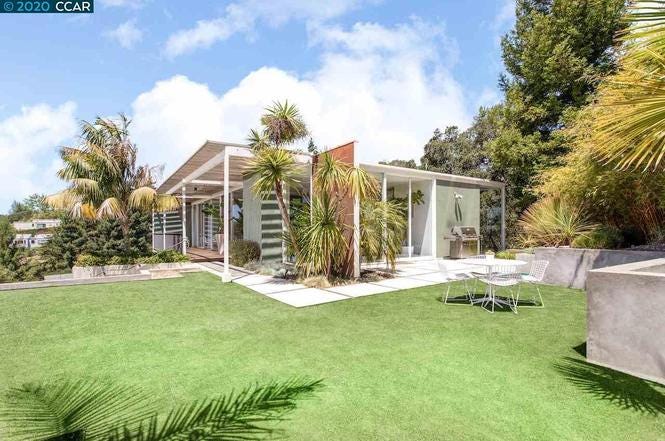 When you think Case Study house, you probably think: glass, white, wood.
But this house manages to squeeze in quite a bit of personality in between all of the expected finishes.
This house showcases how thoughtfully using pops of color can change a space.
It just goes to show that you can get a lot of visual impact and personality without having to spend a lot of money or making more permanent changes.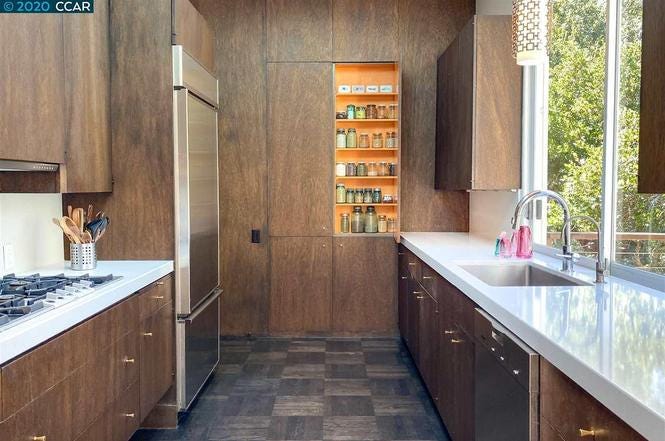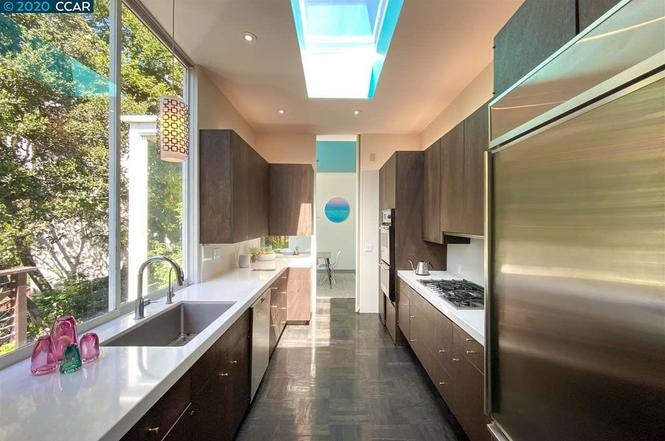 ---
Bonus
If you want to liven up your space with color, I highly recommend checking out these interior designers for inspiration:
Extra bonus: Meg Lewis' Find Your Personal Style class can help you figure out how to apply color to your wardrobe, work, and home.
Until next time.