💵🛍 Selling Sunset
I had never heard of Selling Sunset until my friend (and #1 I Know a Spot supporter) Hareem introduced me to it last week. Since then, I have watched all three seasons and consumed countless memes. While the homes The Oppenheim Group represent aren't exactly my cup of tea, nothing entertains me quite like the combination of reality television drama and luxury real estate. So naturally, I had to do an issue inspired by the homes of Selling Sunset.

Here are the homes I would buy in and around Hollywood if I had no budget. Just pretend I'm wearing strappy heels and a Balenciaga dress while showing you around.
---
The Modern European Mansion
Location: 12012 Crest Ct, Beverly Hills, CA 90210
List Price: $12,400,000
Listing: https://www.redfin.com/CA/Beverly-Hills/12012-Crest-Ct-90210/home/5258294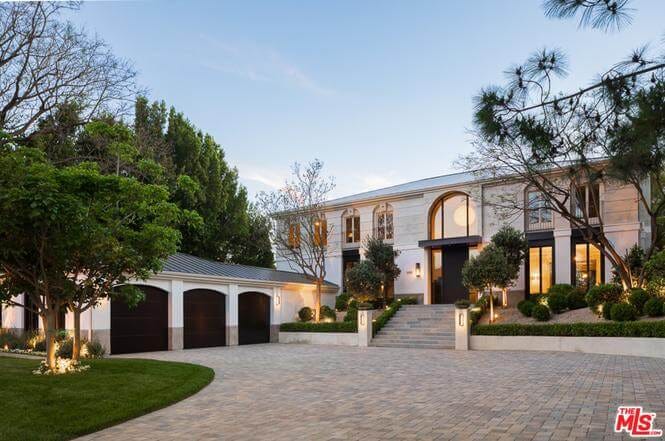 If I could only pick one house on this list to live in, it would be this one. Maybe I'm primed to love a European-influenced mansion in Beverly Hills because Clueless is one of my favorite movies, but there is a drama and an art to this home that I really love.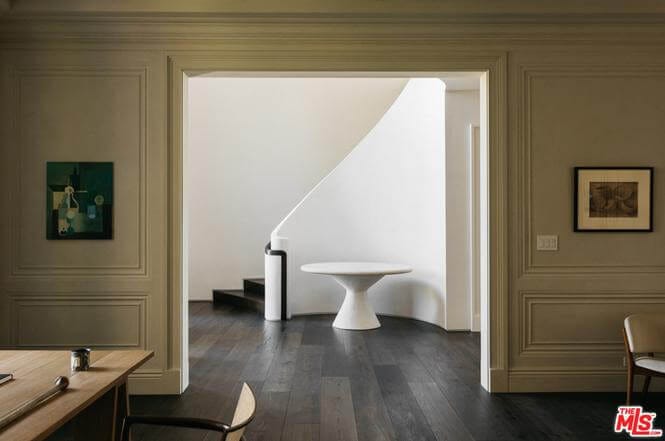 This house mixes minimalism with ornamentalism in a way that is quietly luxurious. It has the indoor-outdoor design of a modern California house with the details and rich materials of a more traditional European home plus a lot of high design fixtures.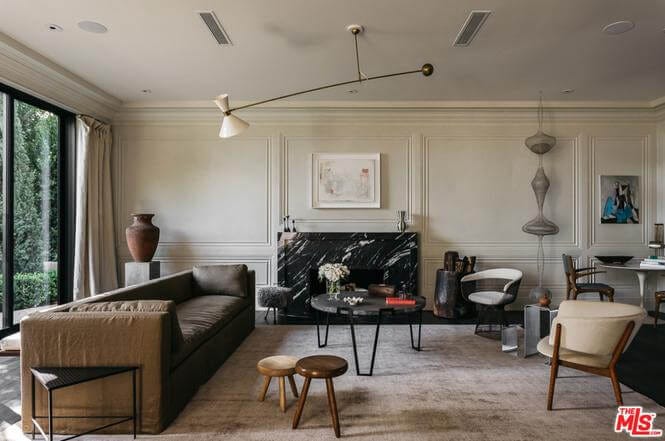 You can just tell that every detail has been considered and designed. To me, that makes a house glamorous in a way that the developer-modern houses slammed onto the hillside are not. Plus you just can't beat the serenity of the backyard and the view.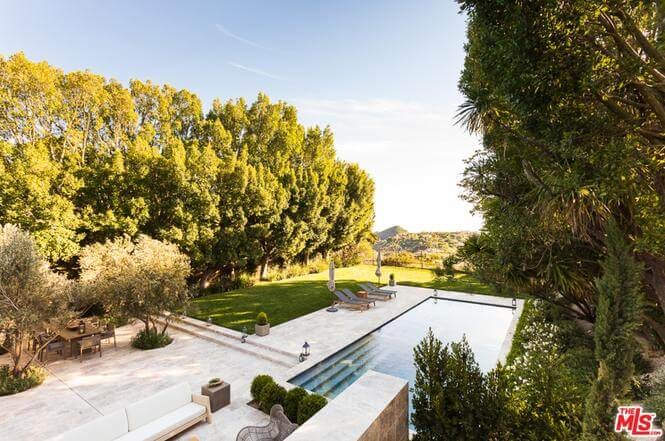 ---
The Sunset Scandinavian
Location: 1549 Rising Glen Rd, Los Angeles, CA 90069
List Price: $6,995,000
Listing: https://www.redfin.com/CA/Los-Angeles/1549-Rising-Glen-Rd-90069/home/7122255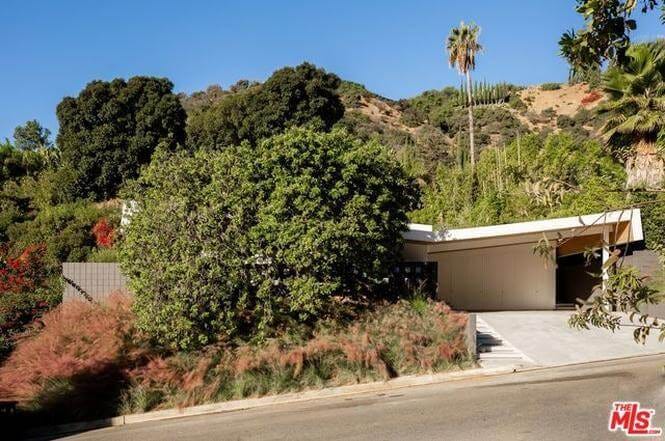 I love seeing an unassuming house in the Hollywood Hills. This house is presently owned by Rosie Huntington-Whiteley's husband. He bought the house as a fixer– you can see the original condition of the house here– and the completed renovation was recently featured in Architectural Digest.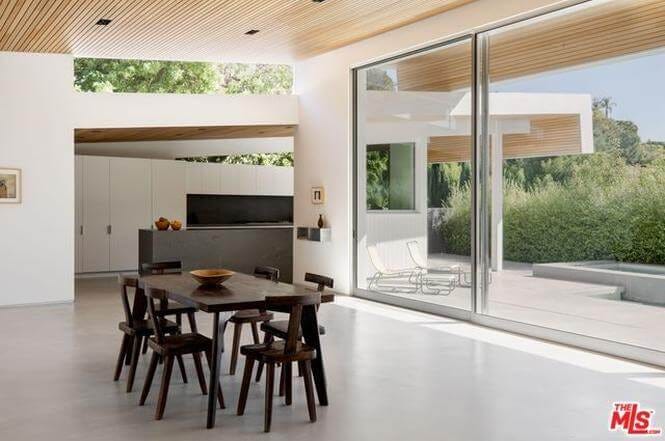 The house is minimalist, but still warm and features a lot of the character of a mid-century modern home without being too precious about keeping all of the details. The end result is a house that feels both mid-century modern and now, and is very LA but also has strong Scandinavian and Meditteranean vibes as well.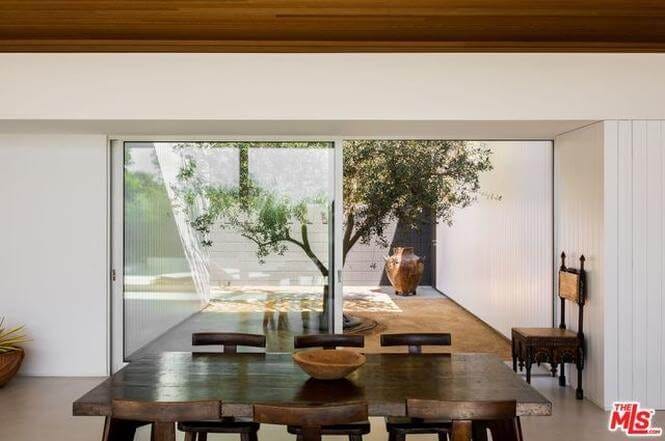 In true California meets Scandinavian fashion, the outdoor space has a pool, hot tub, outdoor shower, sauna, and a stainless steel immersion tub with an ice maker so the owners can do the Wim Hof Method.
---
The Mid-Century Modern Moat
Location: 1120 Maytor Pl, Beverly Hills, CA 90210
List Price: $13,900,000
Listing: https://www.redfin.com/CA/Beverly-Hills/1120-Maytor-Pl-90210/home/6835130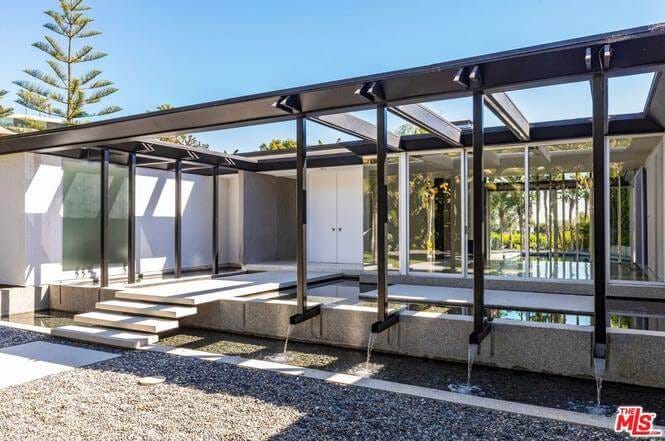 What is Selling Sunset without a statement? Nothing says statement to me quite like a house with a pond spanning the front so that you have to cross over a bridge to get to the front door. As if the house weren't already glamourous enough, it was designed by Rex Lotery who also designed Elvis and Priscilla's marital house.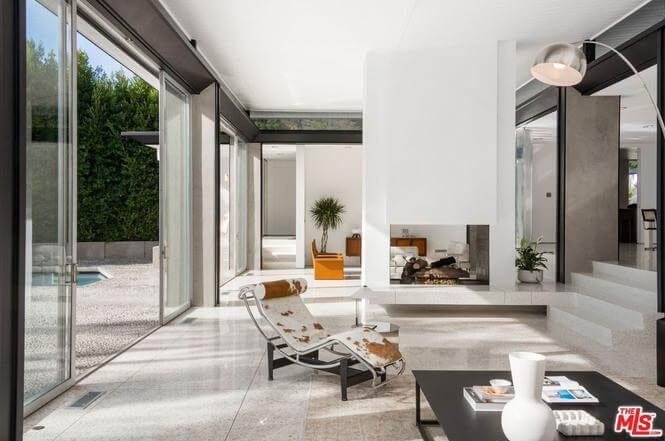 Inside you find a minimalist open layout that is both mid-century and decidedly modern. Seemingly every room has a connection to the outside and the scenery is surprisingly lush.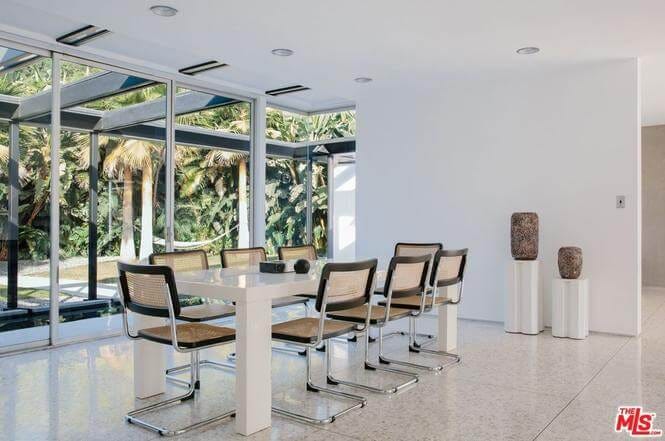 The only downside to this house is just how much of the backyard is taken up by the cement patio. Fortunately, anyone who can buy a nearly $14M house can afford to work with a great landscape architect to bring this house to its full Lana Del Rey music video potential.
---
The Doheny Dwelling
Location: 1814 N Doheny Dr, Los Angeles, CA 90069
List Price: $14,995,000
Listing: https://www.redfin.com/CA/Los-Angeles/1814-N-Doheny-Dr-90069/home/7121914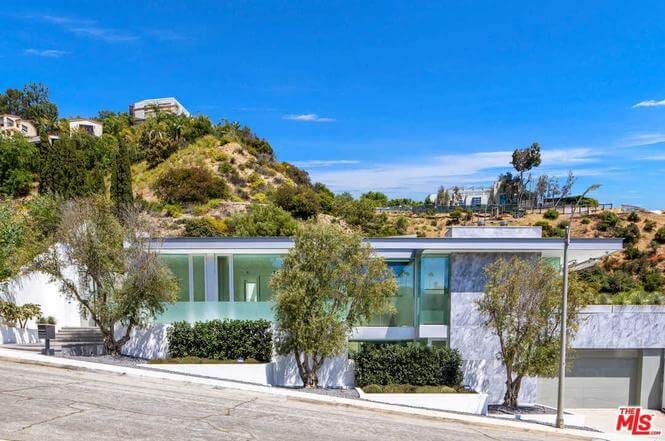 A mile up the hill from Mary's wedding venue, this mansion in The Bird Streets is the most Selling Sunset style house on this list. It's not my usual style, but there's something so over the top and so LA about this house that I love.
The biggest draw for me is how much water plays a part in this architecture. There's a pool that starts at the front door and wraps all the way around the back that you can see from virtually every angle because of the glass walls. There's even another pool on the lower level of the house that you can cross via a hallway with a glass walkway.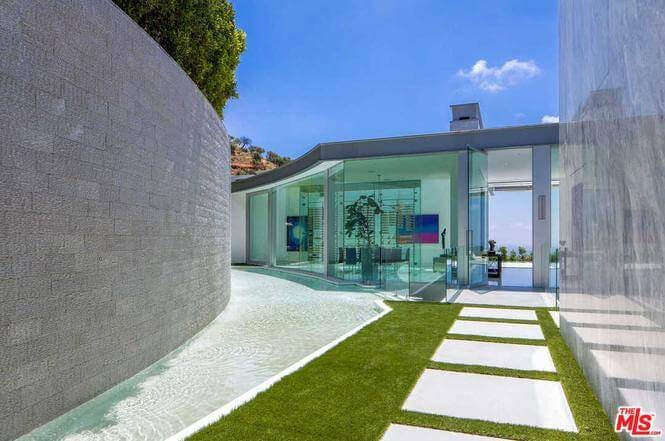 But the thing that truly takes this house over the top is of course the retractable glass doors. The entire back of the house opens up so that you could step right out of your bed and take a refreshing dip in the pool, or bathe in front of a gorgeous view with the fresh breeze coming in.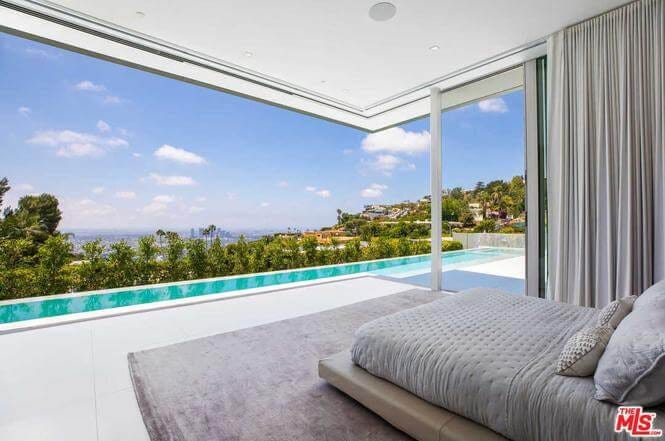 Some douchey things are pretty alright.
---
The Forest Knoll Farmhouse
Location: 1471 Forest Knoll Dr, Los Angeles, CA 90069
List Price: $32,000,000
Listing: https://www.redfin.com/CA/Los-Angeles/1471-Forest-Knoll-Dr-90069/home/7120900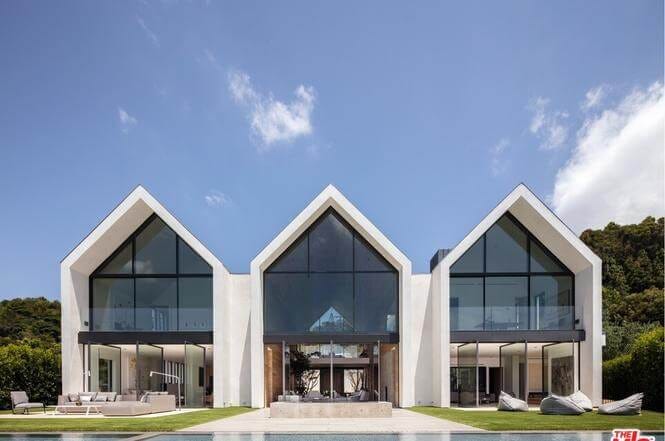 This house is unlike just about any other that I've ever seen, which is what you hope for when you spend $32M. This is the second house designed by Standard Architecture on the list, and yet another home that was featured in Architectural Digest.

It feels a bit like if Magnolia Market was brought to you by Apple (or rather Foster + Partners). The living room even has a tree inside of it much like many Apple stores.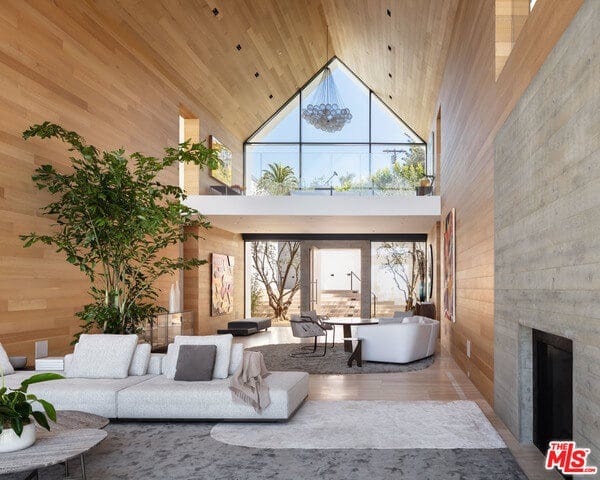 I love that this house isn't just another modern box, and it's also not a shiplap covered suburban house either. It somehow manages to strike the right balance. It's cheery, warm, and playful while still being refined.

More than anything, I love the light and volume of this house. It thoughtfully takes advantage of the Southern California sunshine and views. The whole house just has a warm and relaxing vibe which we all could use right now.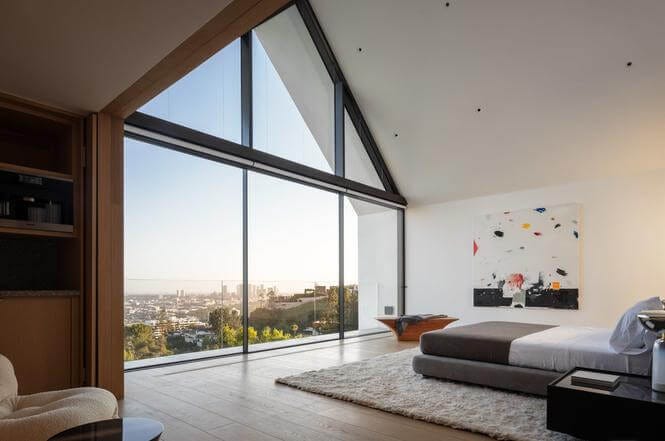 ---
Bonus:
This house that's actually on Selling Sunset that I love: https://www.redfin.com/CA/Beverly-Hills/1106-N-Hillcrest-Rd-90210/home/6835121
Brett's apartment: https://www.redfin.com/CA/West-Hollywood/818-N-Doheny-Dr-90069/unit-1203/home/6818502
This $6.4M mid-century fixer: https://www.redfin.com/CA/Beverly-Hills/1700-Carla-Rdg-90210/home/6834891
This $13.5M fixer: https://www.redfin.com/CA/Beverly-Hills/2859-Coldwater-Canyon-Dr-90210/home/6834186