🏙🏘 The Best of Both Worlds
Convenient modernist retreats
There's been a lot of talk lately about the exodus out of cities, and I'm here to tell you don't do it… or maybe do it? I'm not the boss of you, regardless. But I made the move from San Francisco to the Oakland hills a couple years ago and it's been a mixed bag.
In normal times, I would commute 90-minutes each way by bus and would have to squeeze in social time on the days I went into the city. It was exhausting, and it put me in a really awkward position of saying "yes, I love my house and I feel incredibly fortunate and I'm privileged to have this problem, but this isn't what I hoped it would be. I'm tired and I miss living in the city."
Now, I feel blessed to live where we do. It's probably the most relaxing place to be right now. I'm able to easily go on long scenic walks or hang out on our patio and enjoy the fresh air (when there aren't wildfires 😬), have space for my partner and I to both have an office, and feel somewhat isolated from the garbage fire that is the world right now. It's one of the few silver linings.
But things aren't going to stay this way forever. There will be a new normal. You might soon find you feel cramped in your suburban/rural house too. You might start missing walking places. You might have to *shudder*… commute. So when people ask me about whether they should leave the city too? *Insert me making the kombucha girl faces here*
This week is all about houses that feel like modernist retreats, but are also still close enough to civilization that you won't be miserable.
---
The Cube Cabin
Location: 1668 John Tyler Hwy, Williamsburg, VA 23185
List Price: $1,700,000
Listing: https://www.zillow.com/homedetails/1668-John-Tyler-Hwy-Williamsburg-VA-23185/213772784_zpid/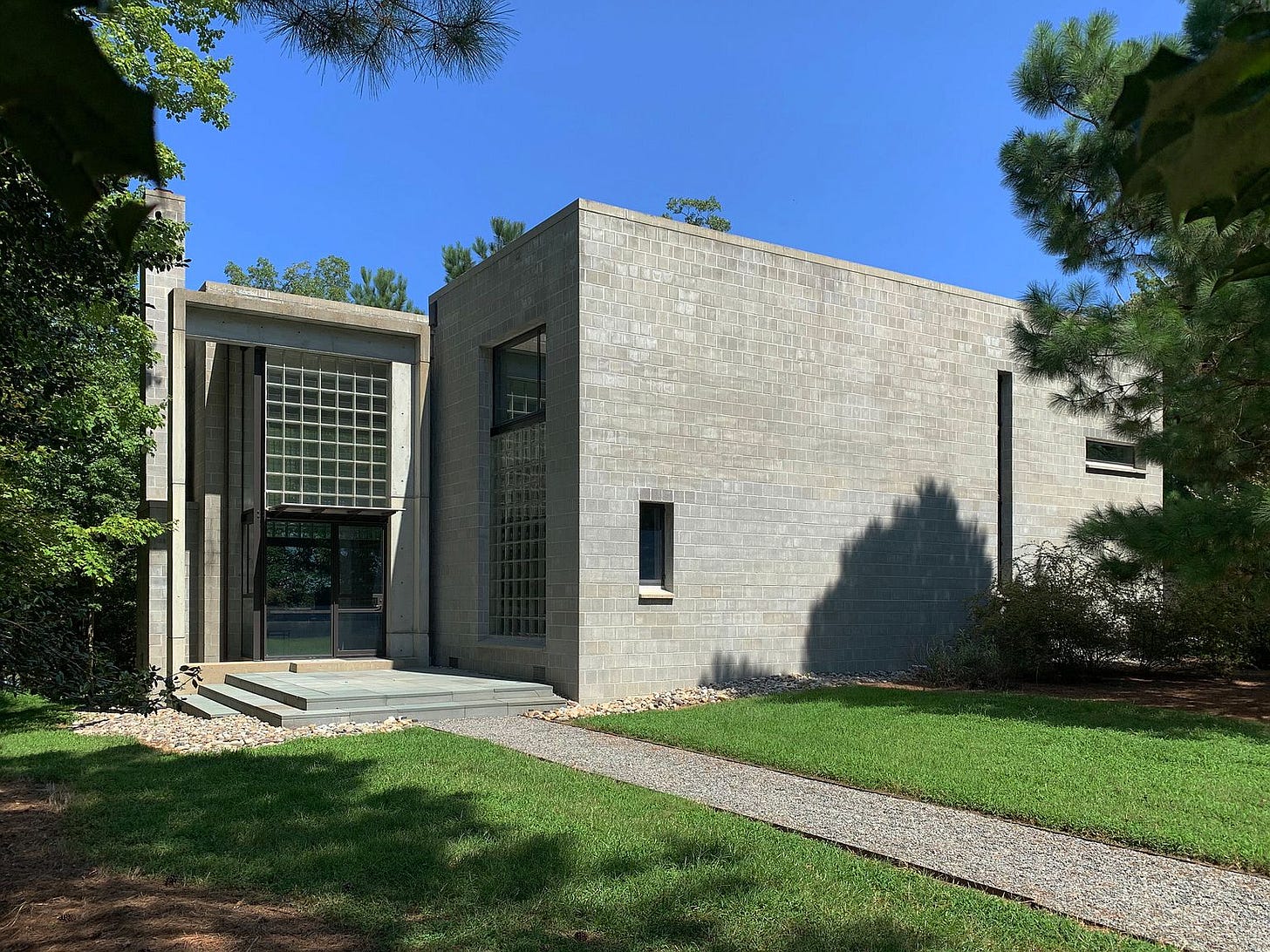 This might be a little brutalist for some people's tastes, but not this person. This house took my breath away. For starters, this house is on 10 verdant acres and it is waterfront. It's about a 15-minute drive from downtown Williamsburg.
From the outside it looks like it's a concrete block plopped down, but from the inside it takes advantage of its siting in beautiful, unexpected ways.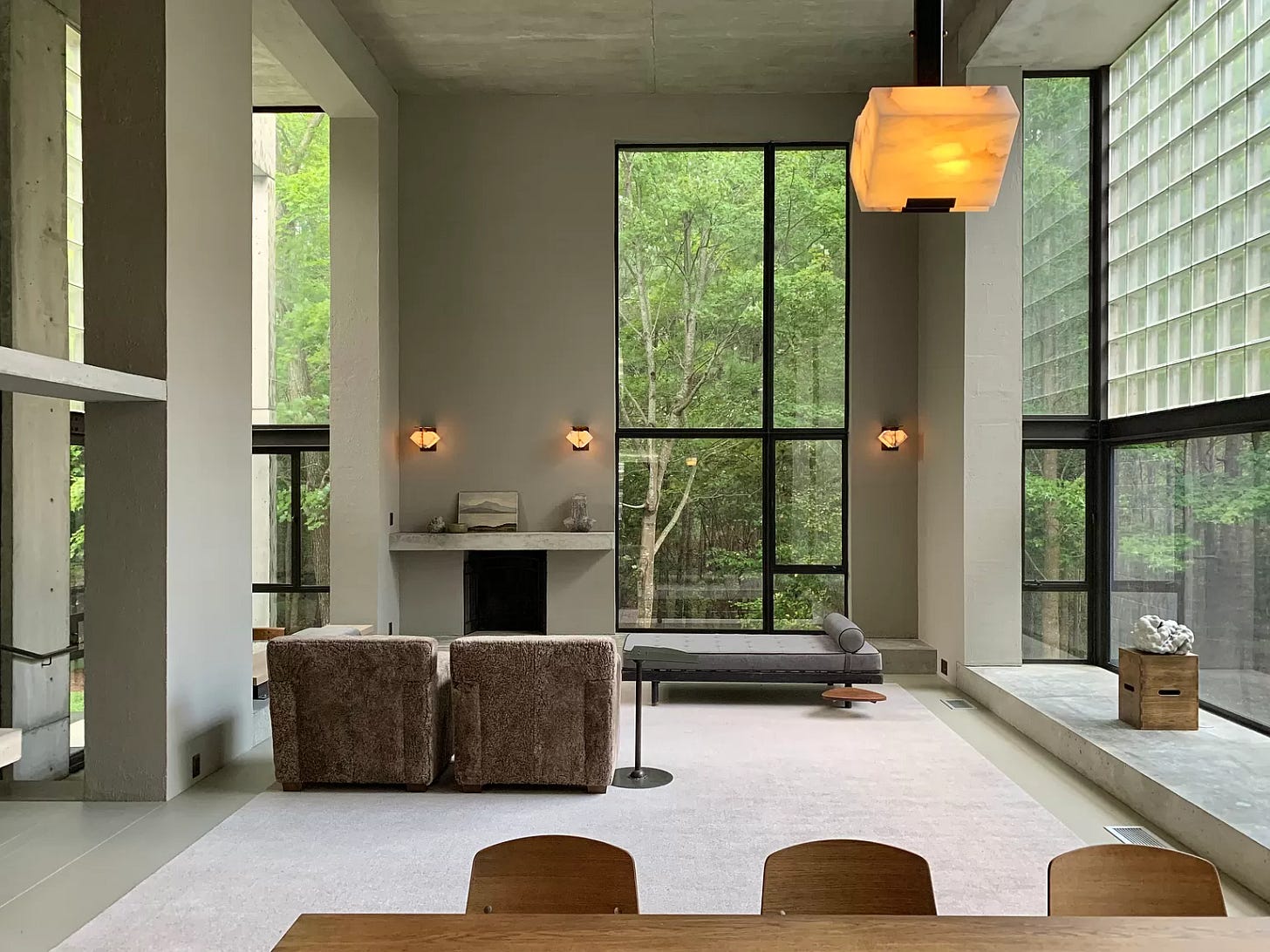 The interior feels like the opposite of the exterior. It's airy and the concrete texture feels surprisingly earthy and warm. It also feels very intimate with the surrounding nature.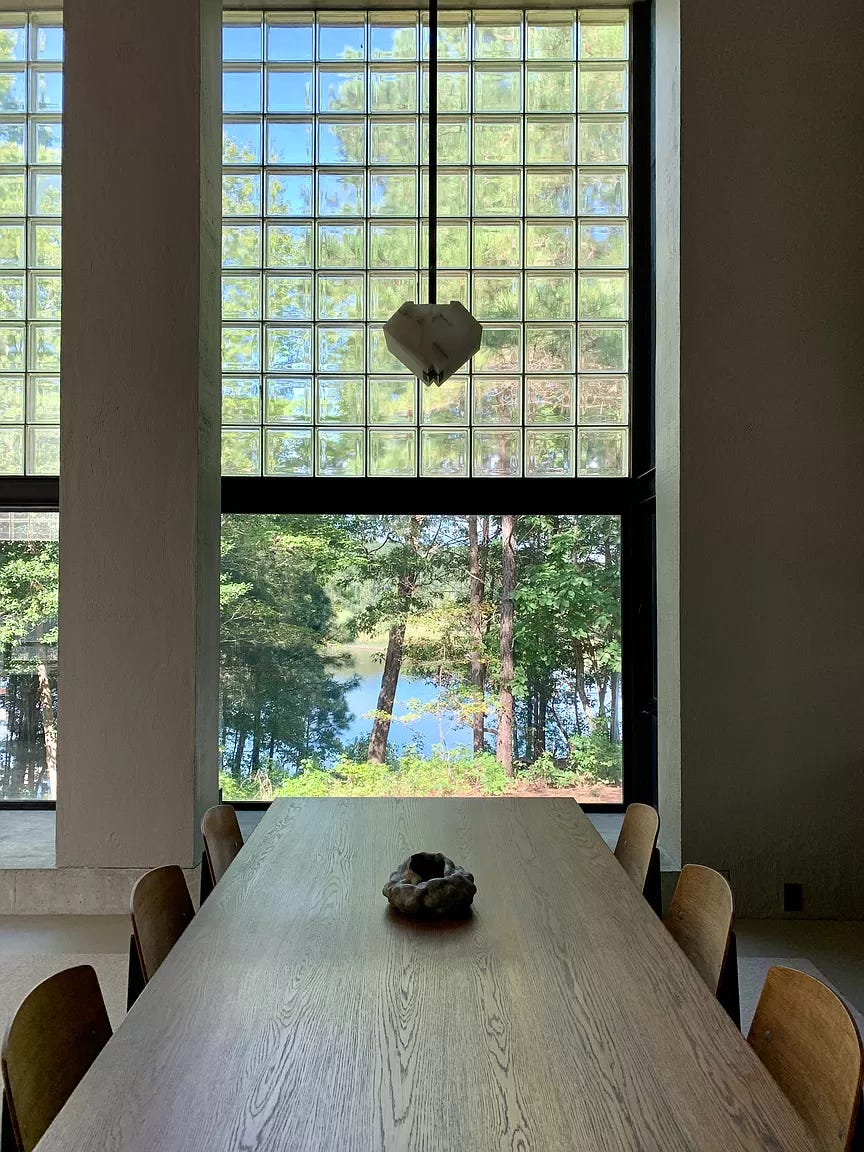 I just want to sit on the ledge and read, or take a long bath in this tub and look outside at the trees.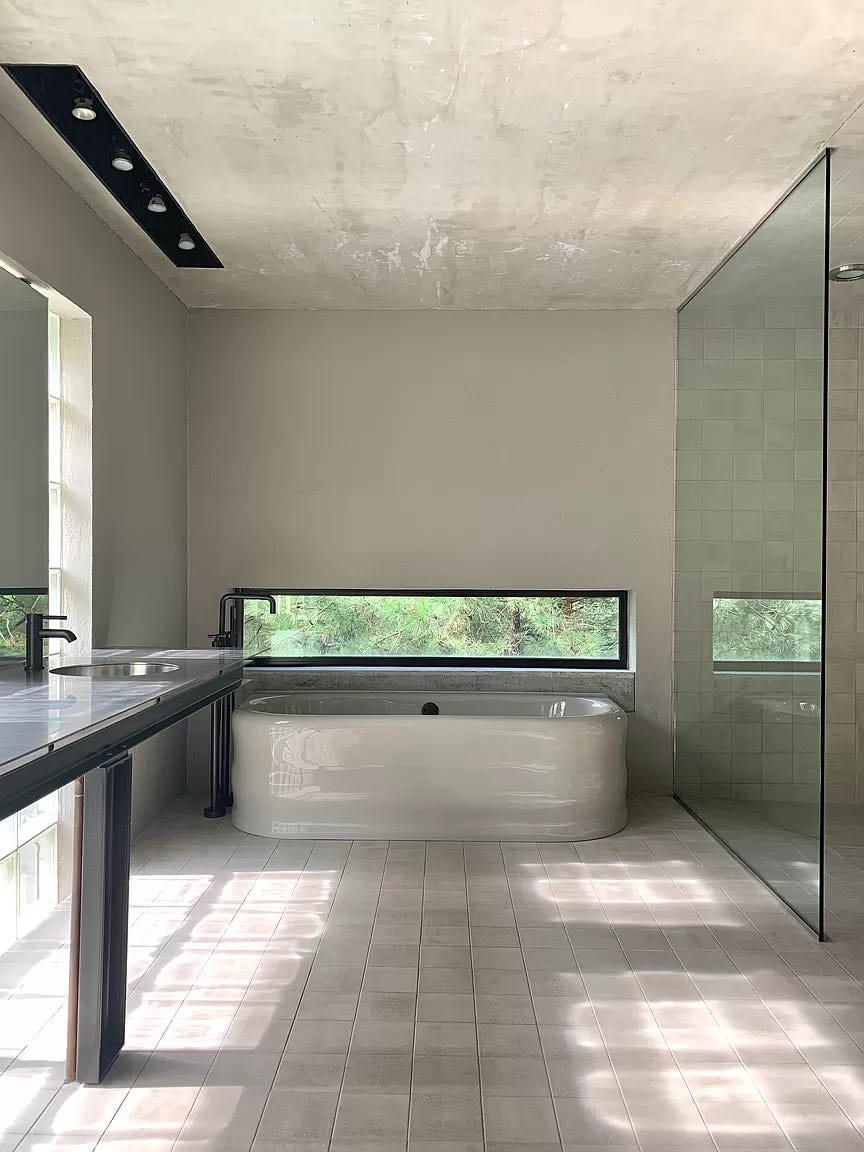 Just a heads up about a couple things though:
1. It's for sale by owner, and I think it is seriously overpriced. The last time this house sold was in 2018 for $1.05m. I think paying more than $1.2m for this house is a crime.
2. I might try to fight you if you put an offer on this house because I want it.
---
The Colorblock Croton-on-Hudson
Location: 19-21 Finney Farm, Croton On Hudson, NY 10520
List Price: $4,200,000
Listing: https://www.zillow.com/homedetails/19-21-Finney-Farm-Croton-On-Hudson-NY-10520/2078703632_zpid/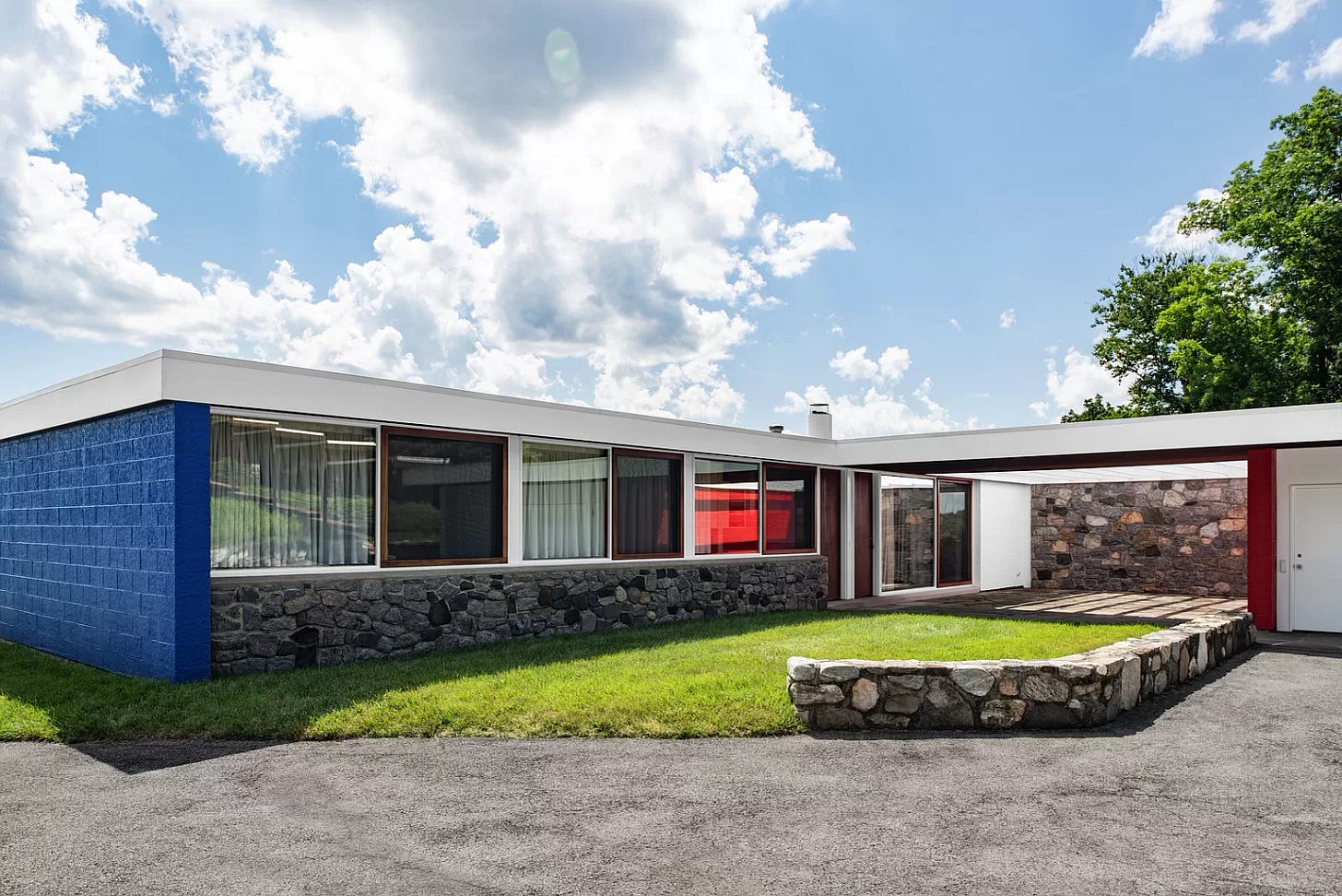 This mid-centruy modern home combines a lot of my favorite things: unexpected use of color, indoor-outdoor living, and skylights. This home is set on 3.4 acres overlooking the Hudson river in an incredibly beautiful part of Upstate New York. It's only an hour train ride into the city.
This house was designed by Marcel Breuer, who is probably most famous for designing the Wassily chair (the strappy leather chair that every Instagram interior design influencer has) and the Whitney Museum of American Art.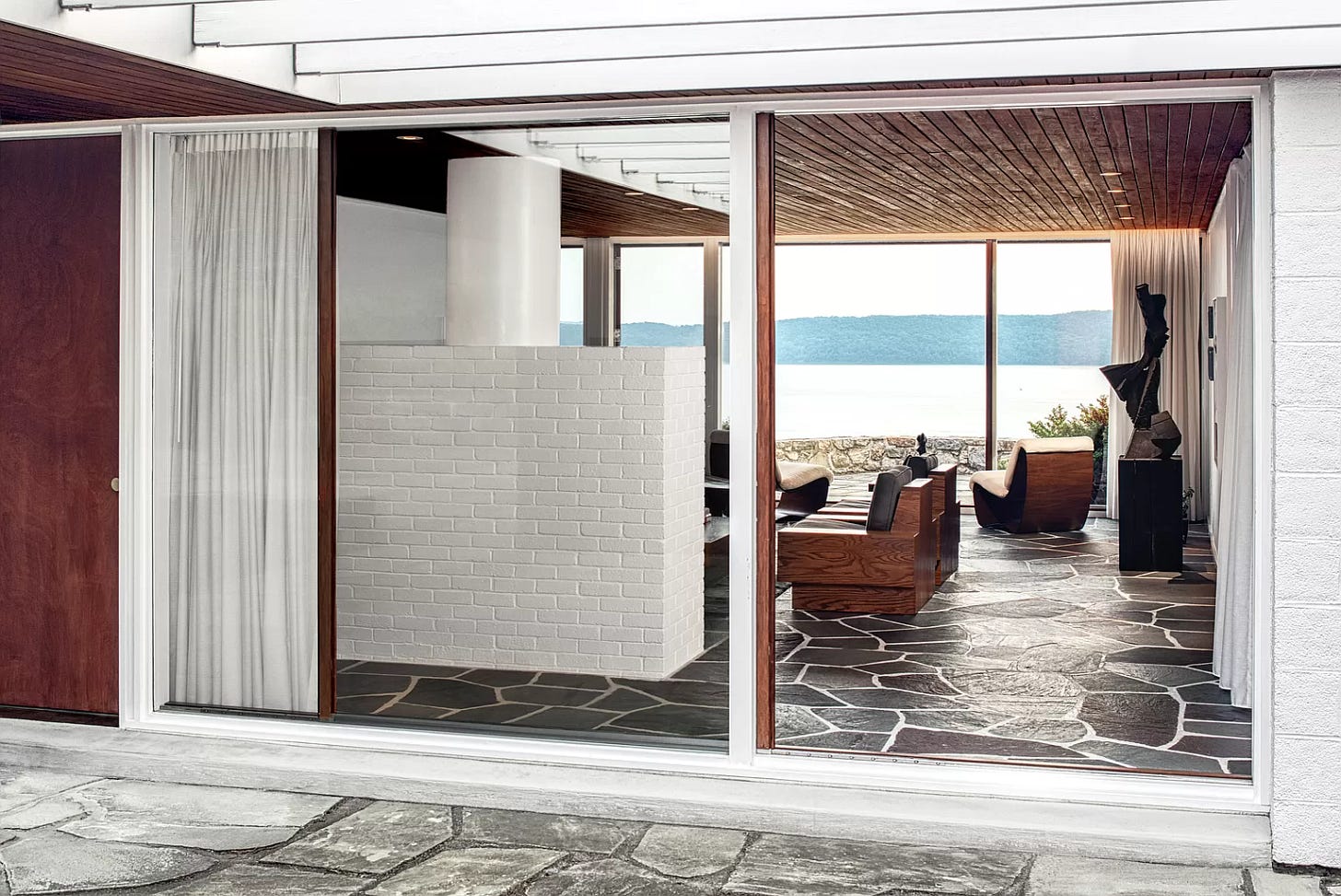 The main living volume has glass on both sides. Every room has these warm wood ceilings and a a vew of the outdoors, either to the water or the surrounding trees. I honestly don't know what else there is to say about this house. It speaks for itself. It's just everything one would want in a modern retreat.
The house also has a guest house on a lower level, and both an indoor and an outdoor pool.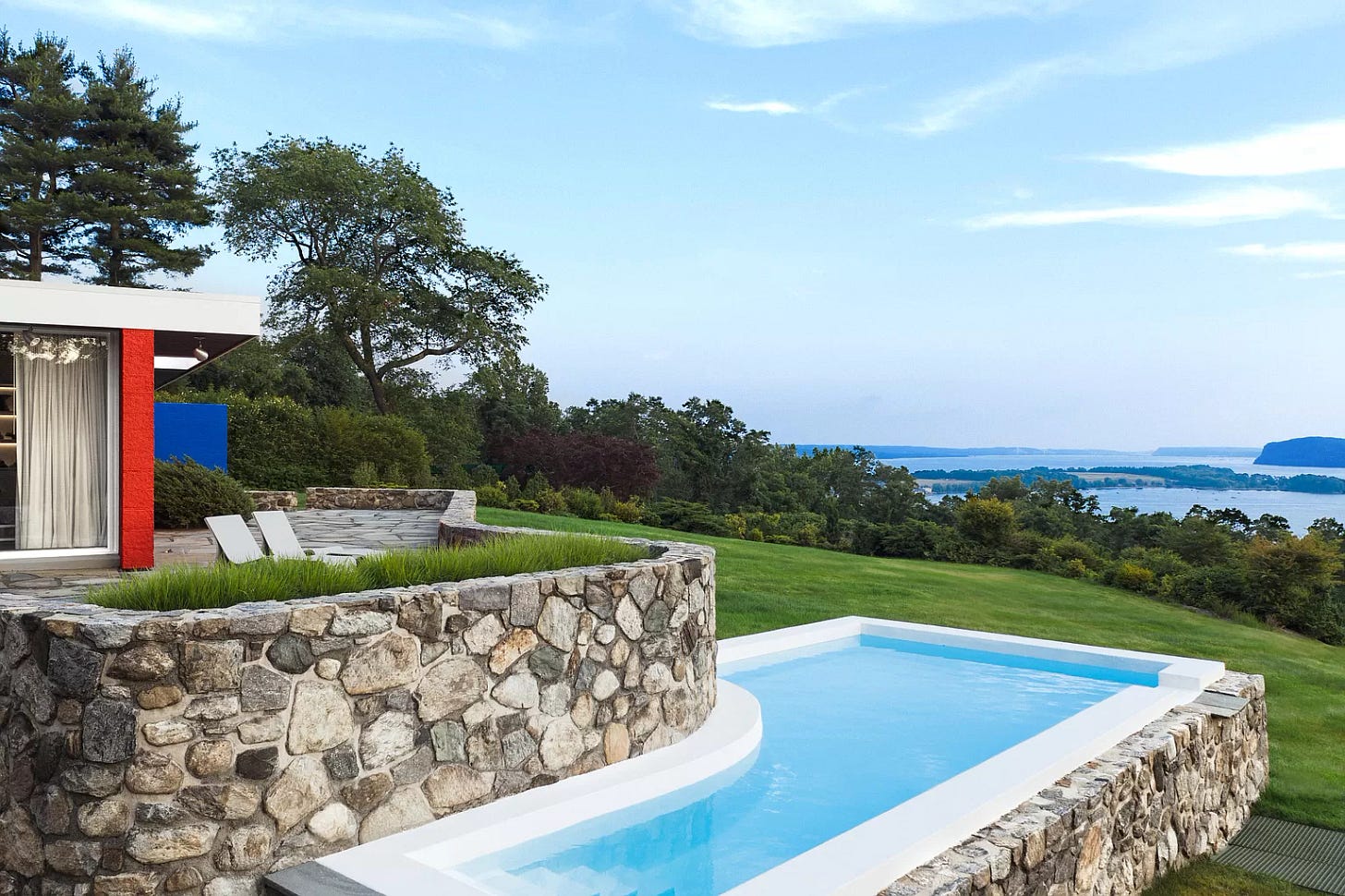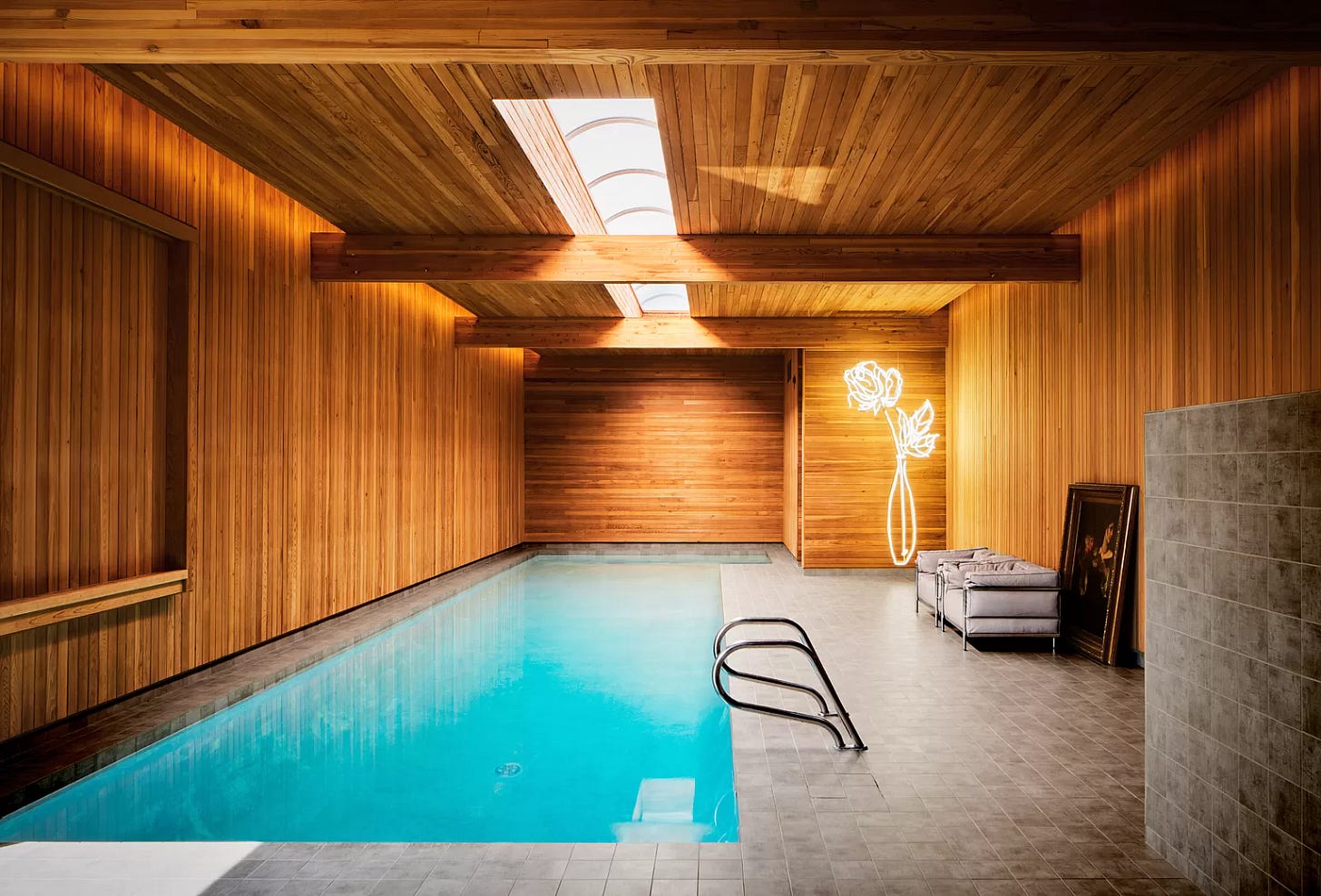 ---
The Colorful Family Compound
Location: 5 Rolling Ridge Rd, Northfield, IL 60093
List Price: $2,500,000
Listing: https://www.zillow.com/homedetails/5-Rolling-Ridge-Rd-Northfield-IL-60093/65538015_zpid/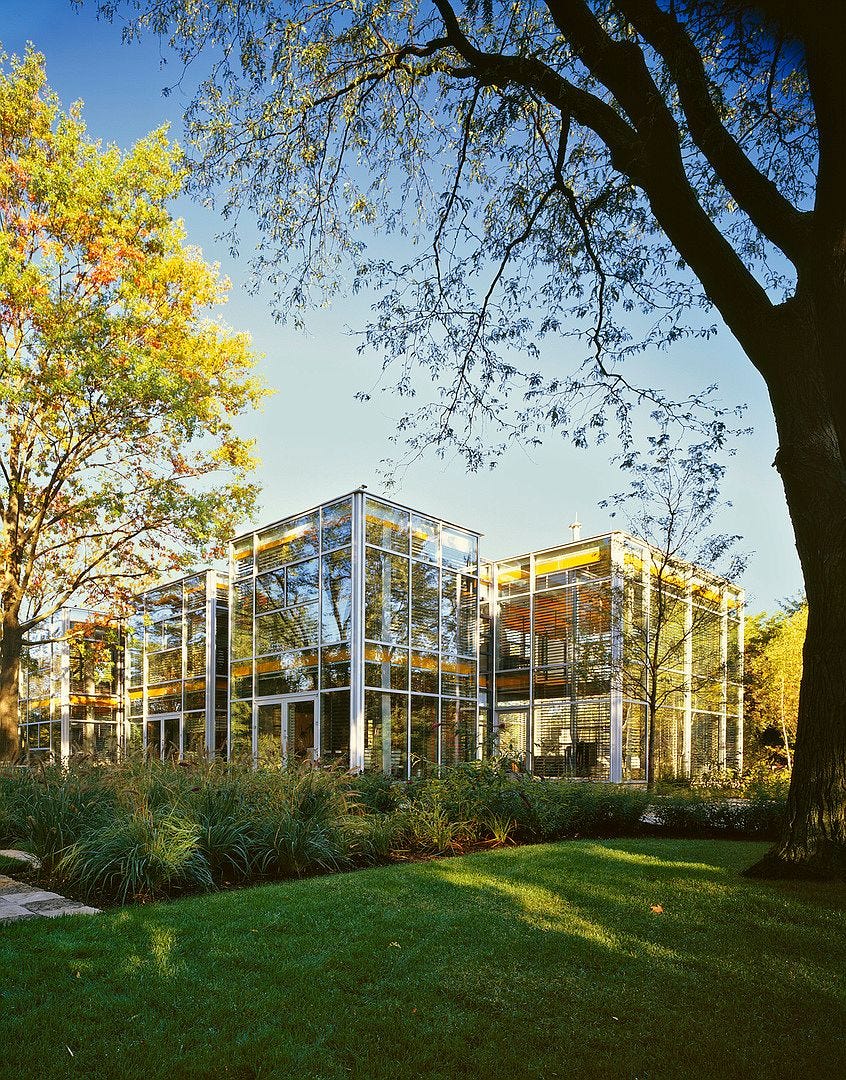 This bright, virtually all-glass house is about 90-minutes from downtown Chicago via the L. It sits on one acre and looks surprisingly remote for its proximity to the city.
What I love about this house is the lines of it. It's not just a concrete and glass box. There are details despite being mostly glass.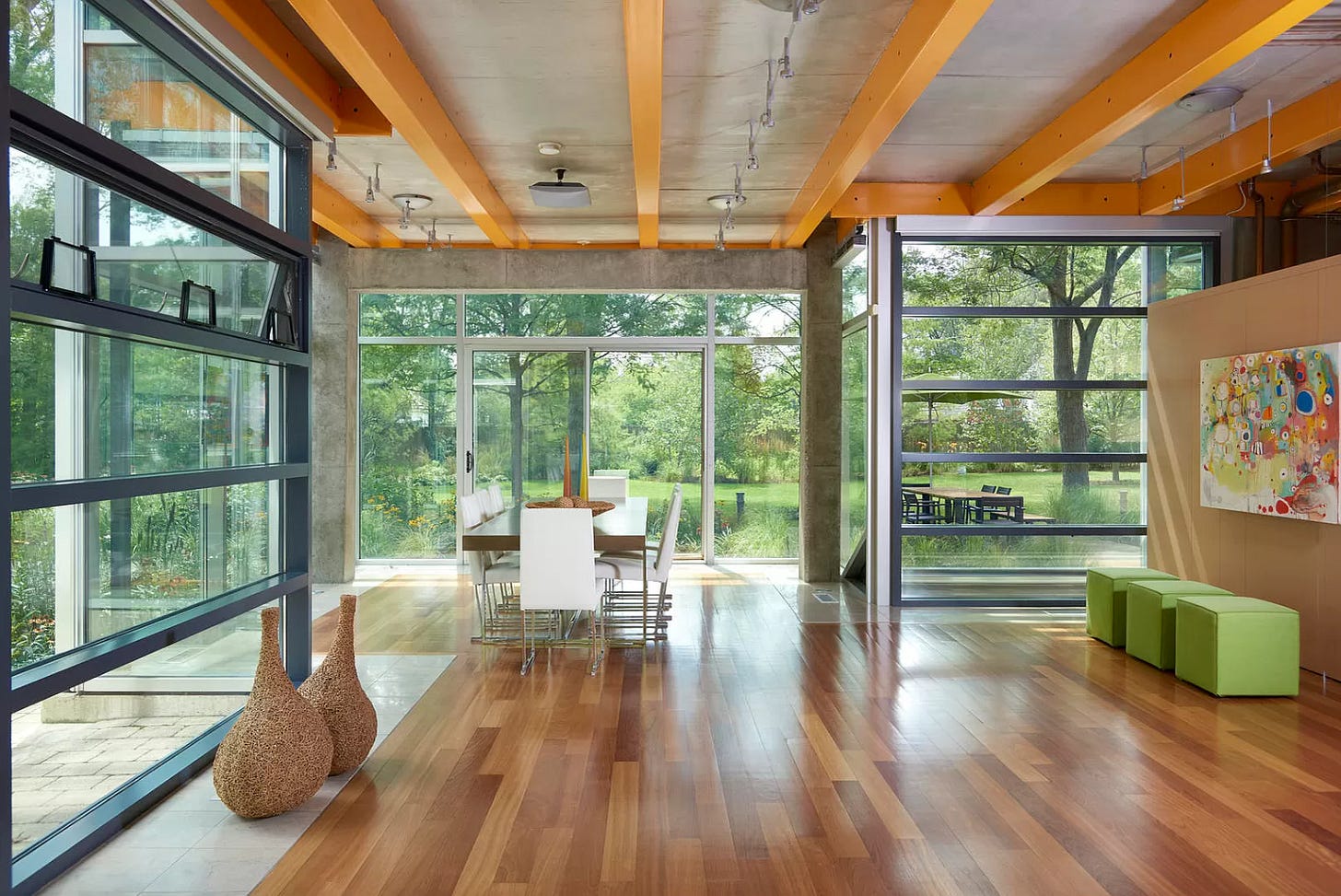 These details also allow bursts of color throughout. I'm so enamored with the color pairings of coral and yellow, and also how they tie into the flowers outside. It brings a different dimension to bringing the outdoors in. And these aren't muted Frank Lloyd Wright rust colors; they're bold and vivid. It's also easy to imagine how much warmer this place is going to feel when it's snowing outside and everything else is cold and grey. Impressive for a concrete and glass box.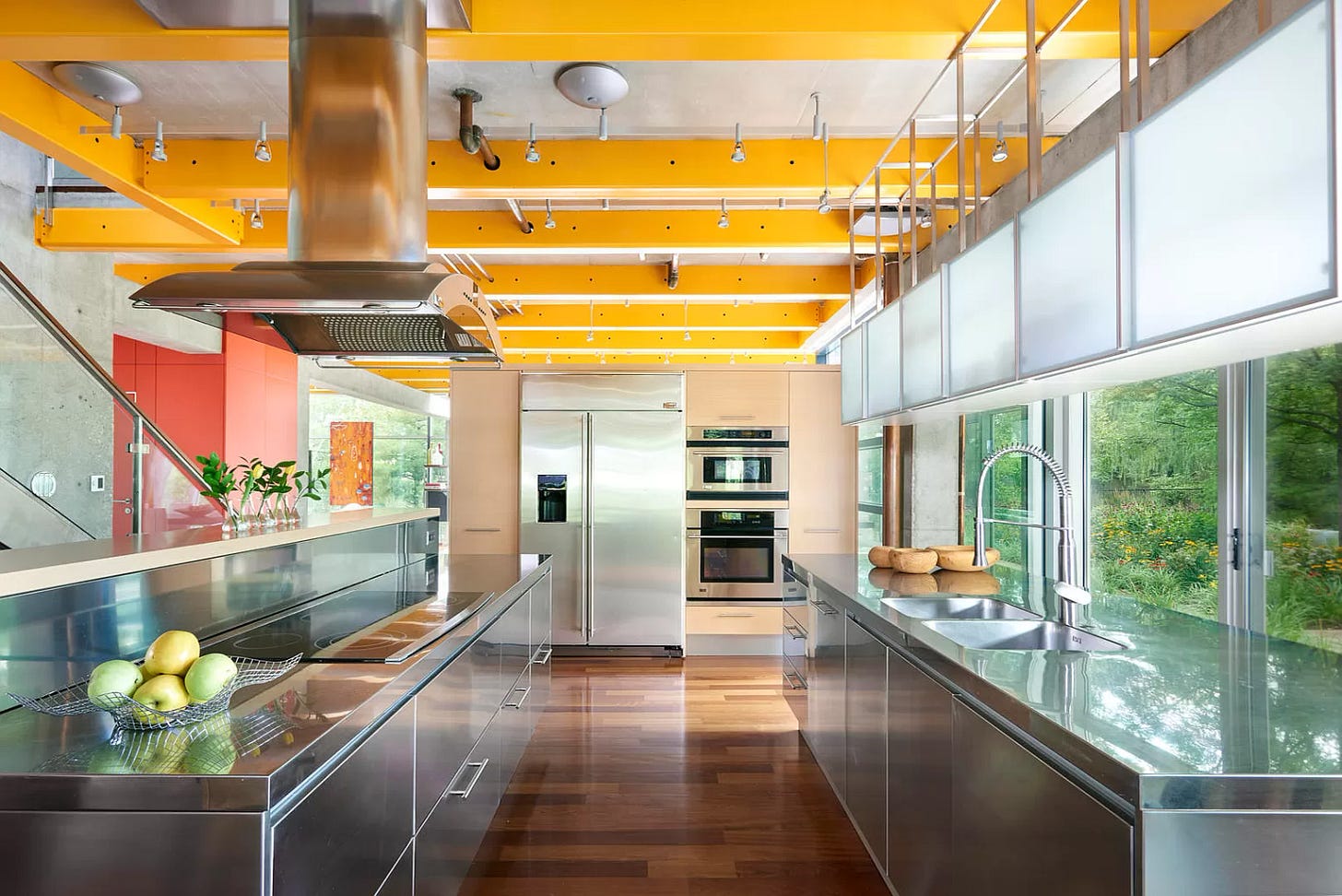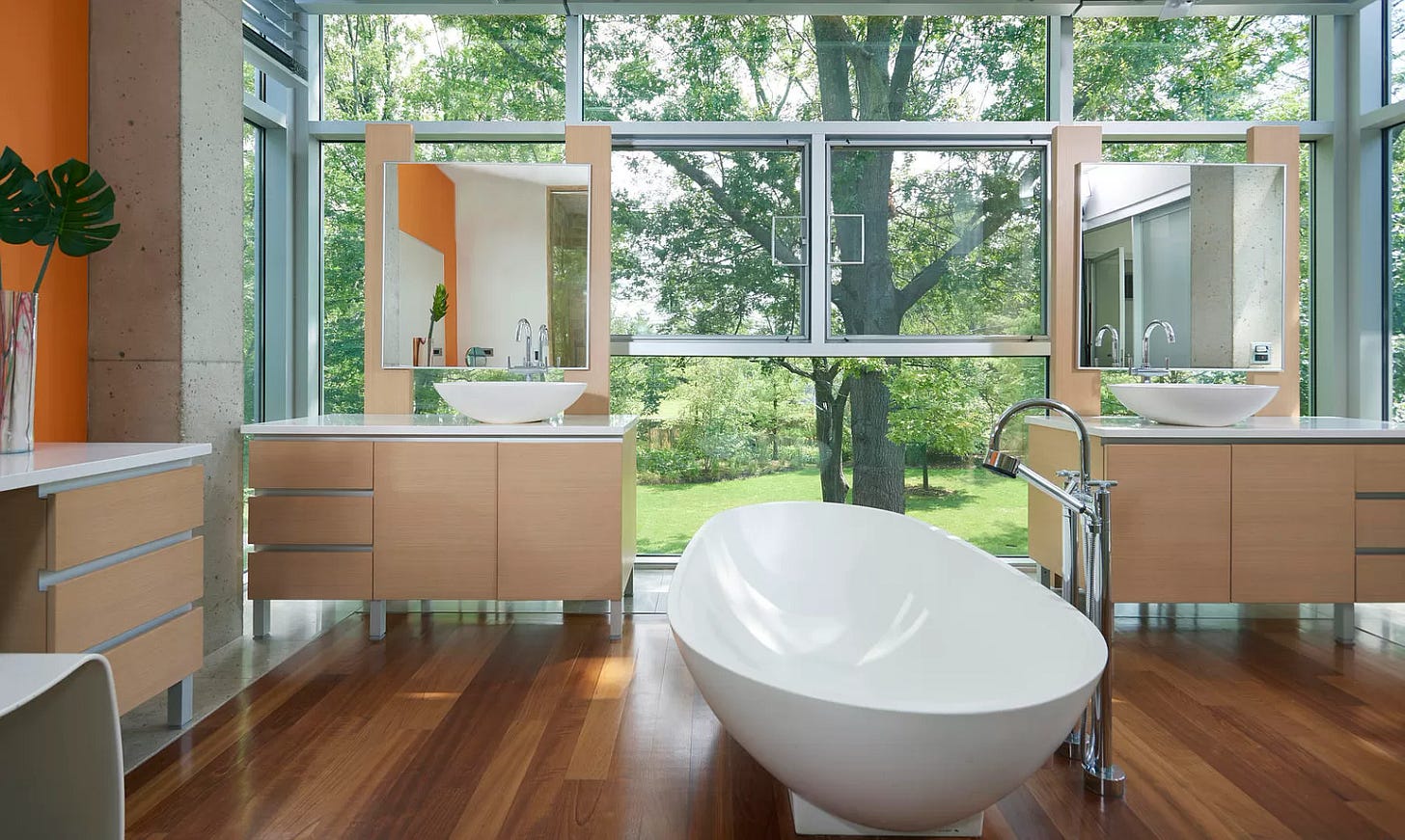 ---
The Mies Inspired
Location: 4918 Wallbank Ave, Downers Grove, IL
List Price: $825,000
Listing: https://www.zillow.com/homedetails/4918-Wallbank-Ave-Downers-Grove-IL-60515/4564591_zpid/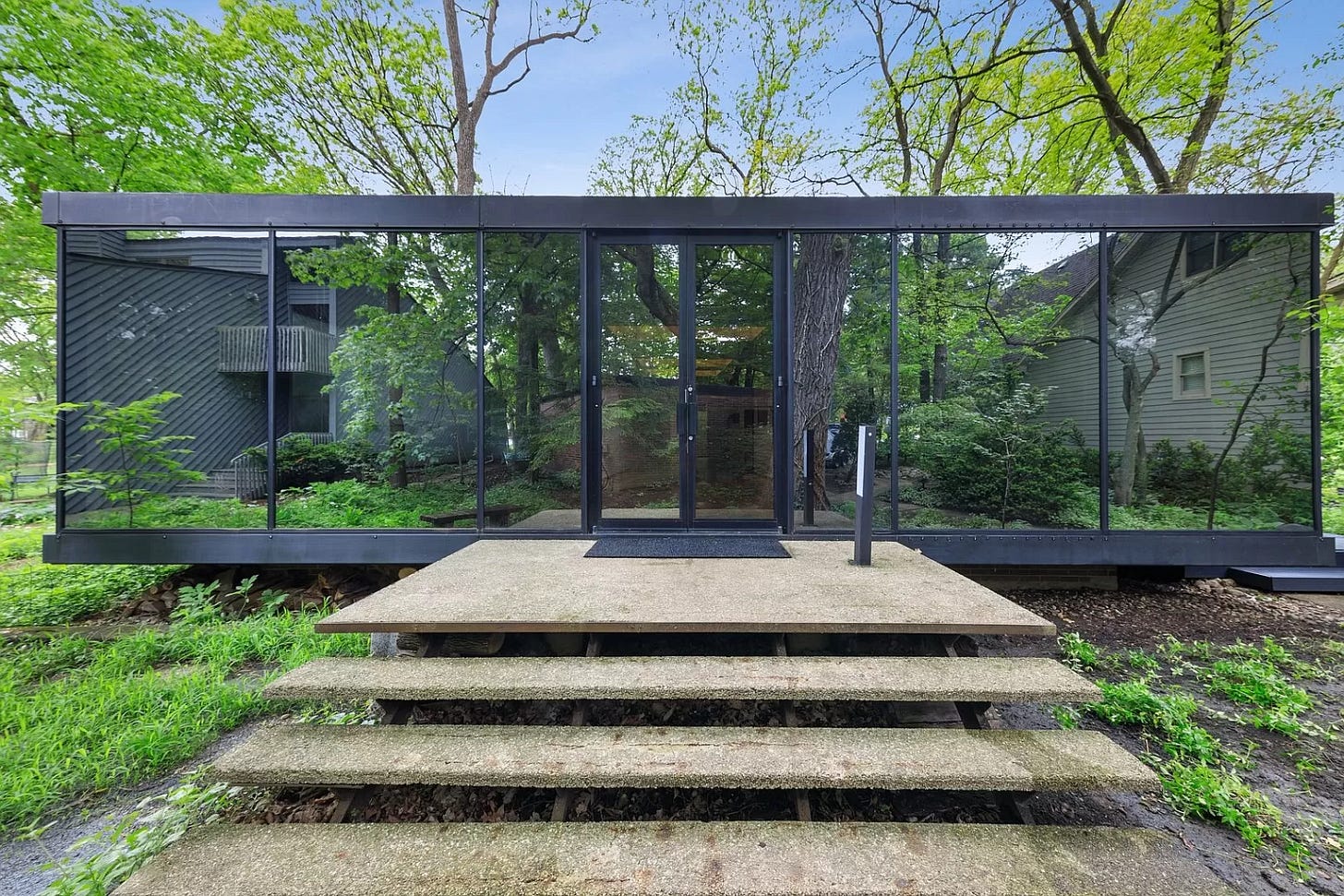 Not far from the last listing is this stunning minimalist dream. It's a bit closer to neighbors, as you can see from the reflection, but the back of this house makes it feel like it's own secluded oasis from the city. This house is walkable to lots of things in the local town and to the train station, which will take you about an hour via the Metra train to get to downtown Chicago.
Unsurprisingly, this house features floor to ceiling windows in virtually every room. It's made cozy by the wood flooring and ceiling. I can only imagine the serenity of sleeping in this master bedroom when it's Spring/Summer and the trees are lush and green.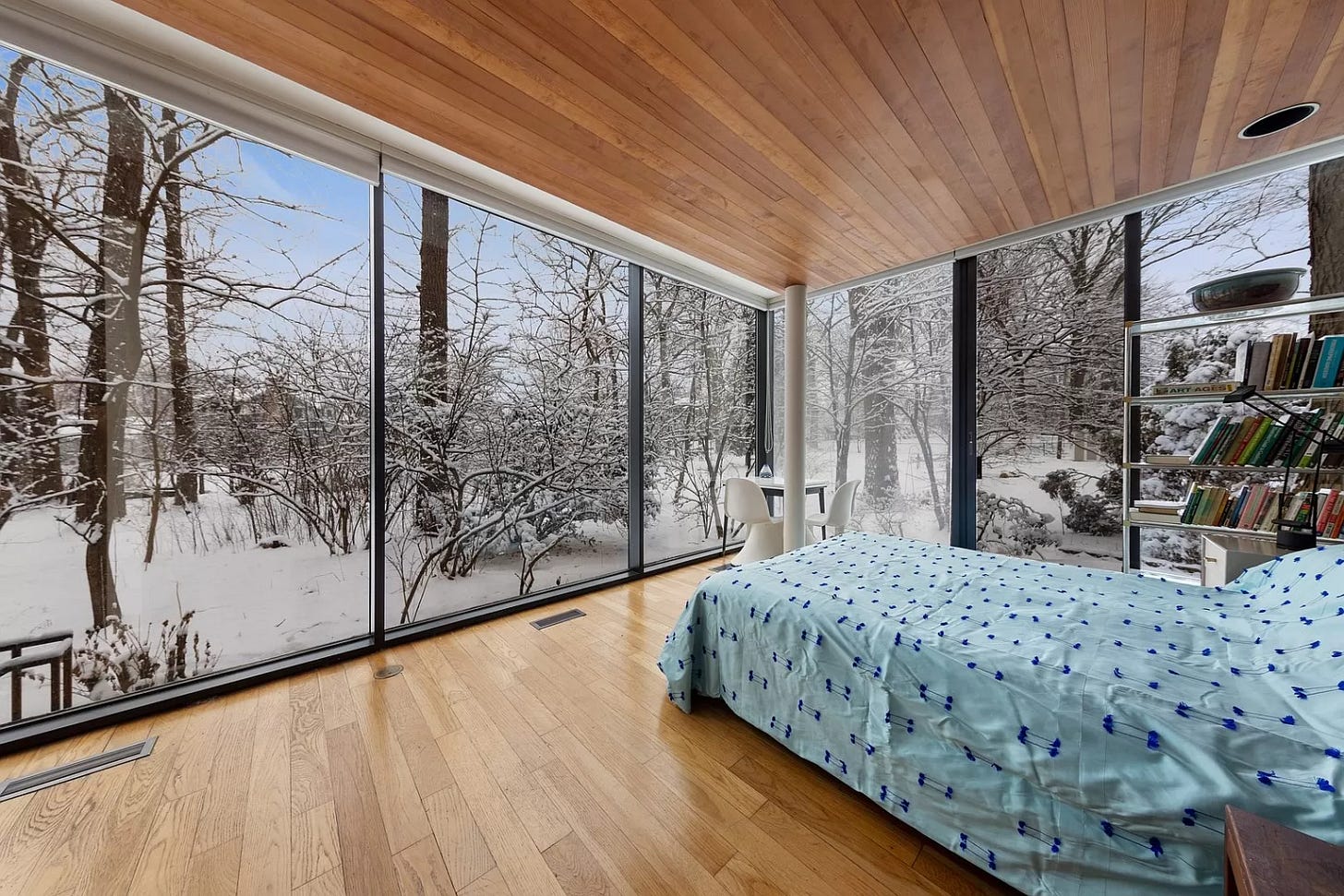 This home also has lovely touches in the few spaces where there are walls. I'm particularly enamored with the dining room, which has these deep, wood clad skylights.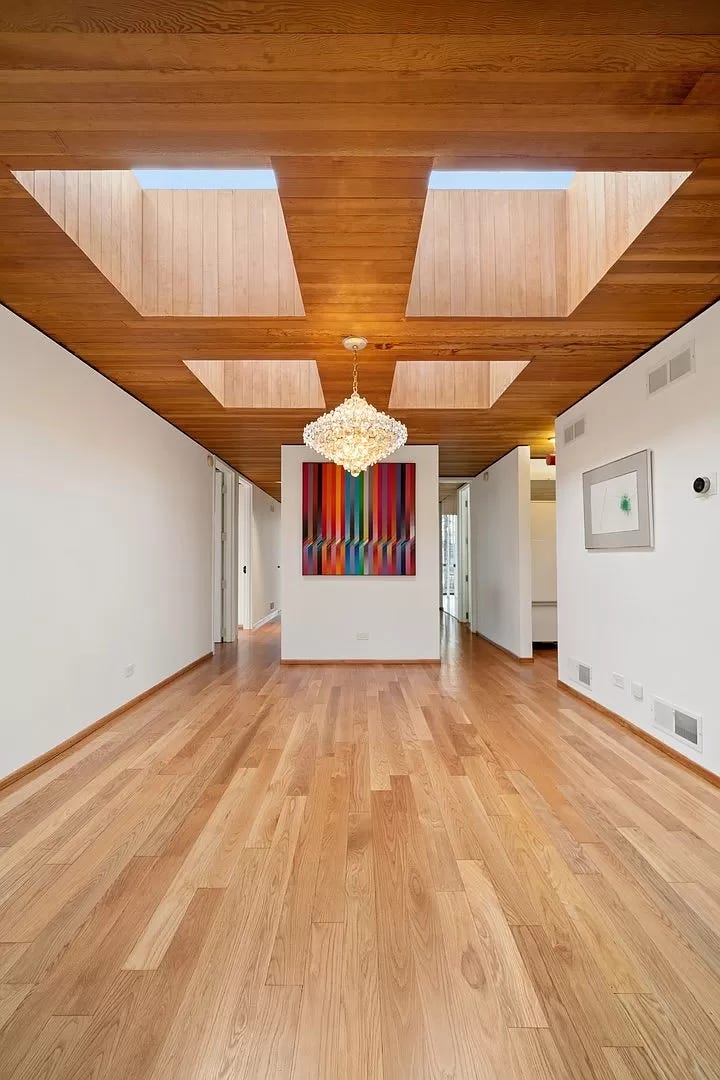 Plus this house has just what every retreat needs: a screened porch and a hot tub.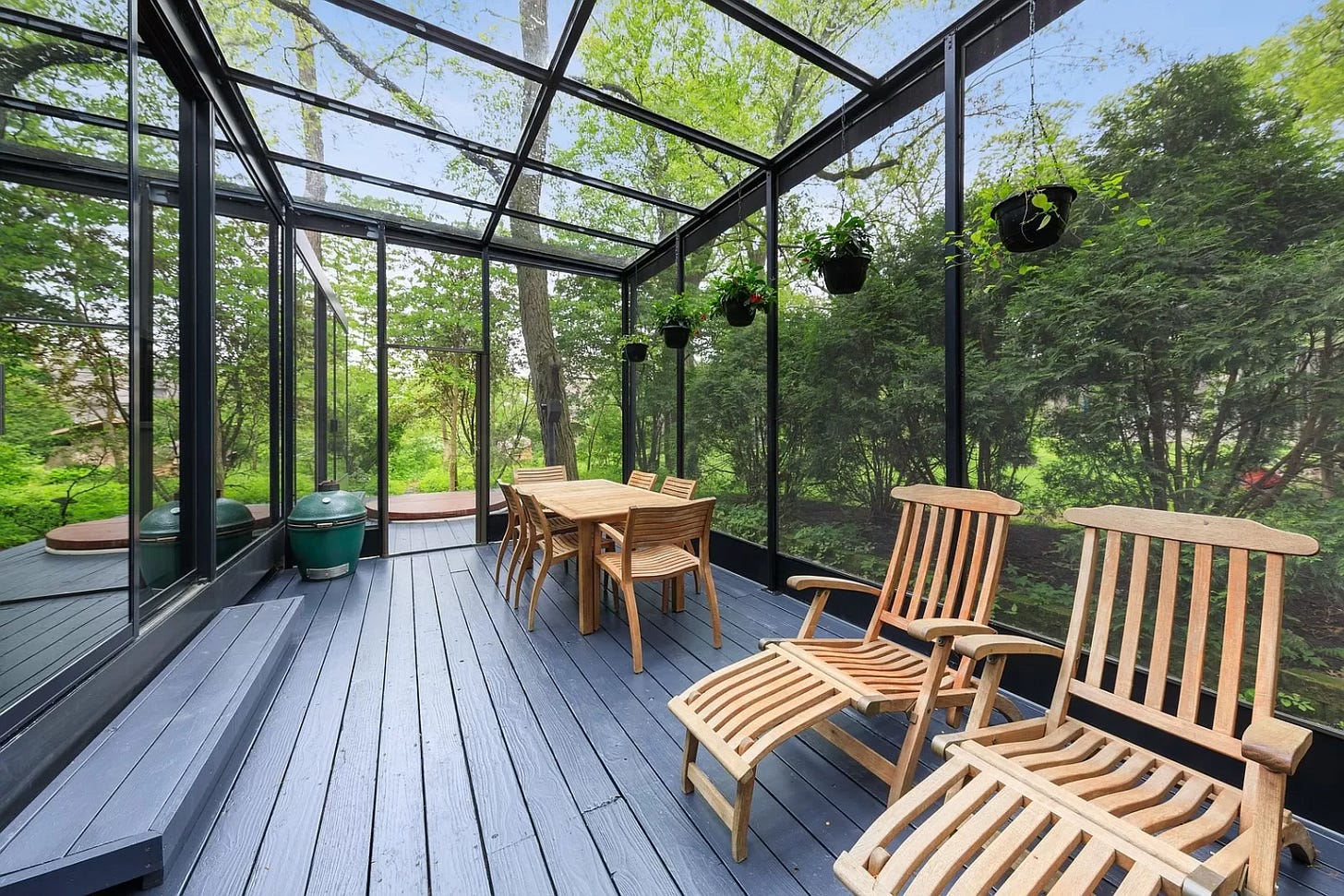 ---
Bonus
If a retreat near town just isn't far enough out for you, this round, modernist tower in Montana just might be the spot for you: https://www.zillow.com/homedetails/40-Elk-Haven-Ct-Townsend-MT-59644/116353861_zpid/