⬜️🕴Sweet dreams are made of this
Contemporary and 80's style: It's provocative. It gets the people going.
I've spent most of the year feeling pretty uninspired. It's not surprising given ~*everything*~, but one thing that did surprise me is how much of a difference seeking out weird, opinionated things has helped lately.
After sharing the witchy house from the Autumn issue, I saw some comments about not liking the round appearance or the glass blocks. And trust me, I get it. I know that it's not for everyone. It might not even be for me outside of the month of October. But for now, the most exciting is the roundness and the glass blocks because they're different! Someone like something and went for it and I love that.
This week, I'm going to continue the glass block love fest and showcase some contemporary style houses that are doing the most.
---
The Escher House
Location: 27 Enoch Dr, Woodbridge, CT 06525
List Price: $985,000
Listing: https://www.zillow.com/homedetails/27-Enoch-Dr-Woodbridge-CT-06525/59969853_zpid/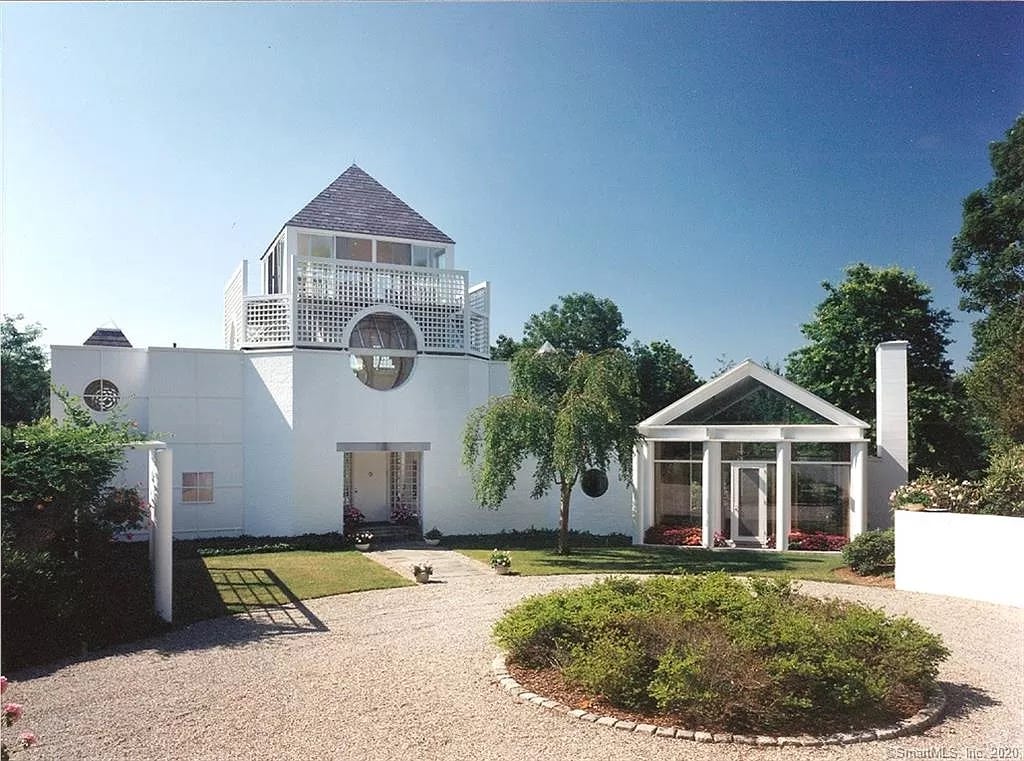 Just the outside of this house has me giggling with giddy anticipation. The circle at the base of the driveway. The little glass house-shaped wing off to the side. You just know you're in for a treat on the inside.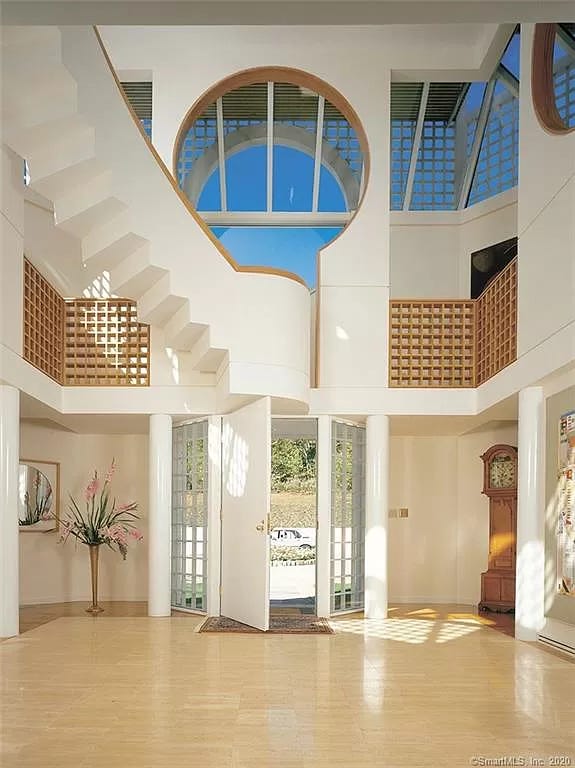 Inside the house is the most captivating light. Maybe it's the tinge of film developed from the 80's that gives this house a special glow (seriously, when were these listing photos taken???) but I want to bask in this lighting forever.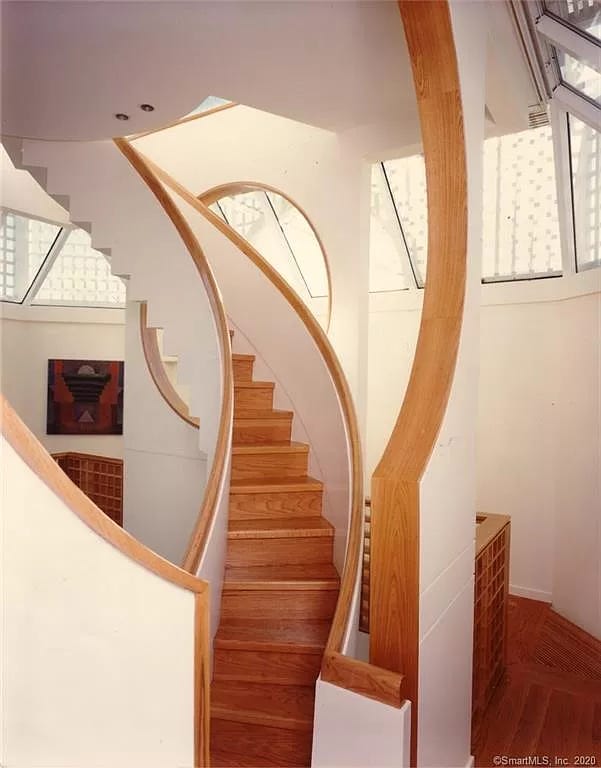 I love that this house is not just one thing. It's square but it's circular. It's lofty but it's cozy. This house is fairly minimal but it still does a lot.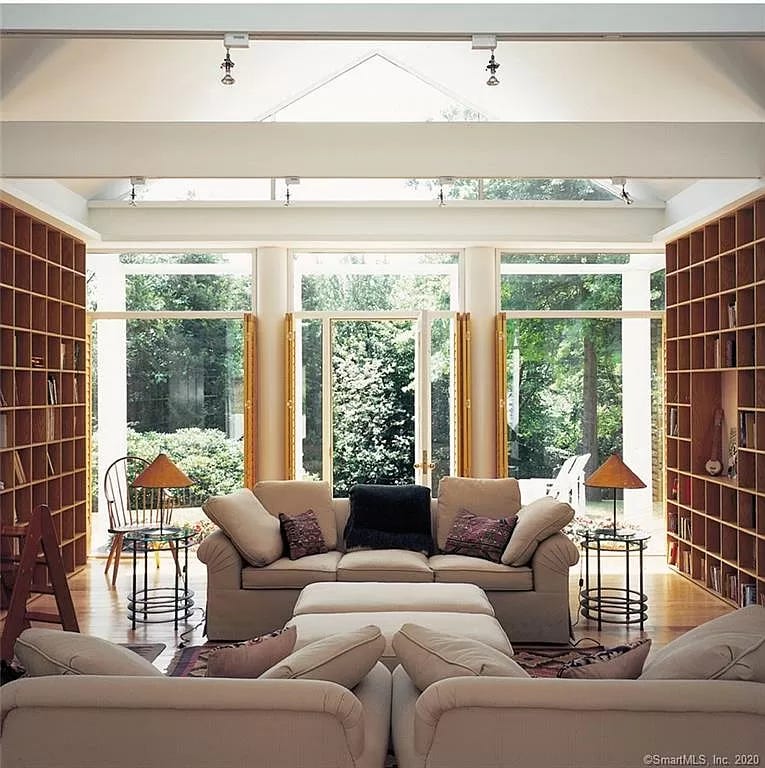 I could write a whole issue just about this one house. It's worth taking a look at the rest of the images in the listing.
---
The Tubular Sea Cottage
Location: 36901 County Road 526 Rd, Gualala, CA 95445
List Price: $2,088,000
Listing: https://www.zillow.com/homedetails/36901-County-Road-526-Rd-Gualala-CA-95445/2079017348_zpid/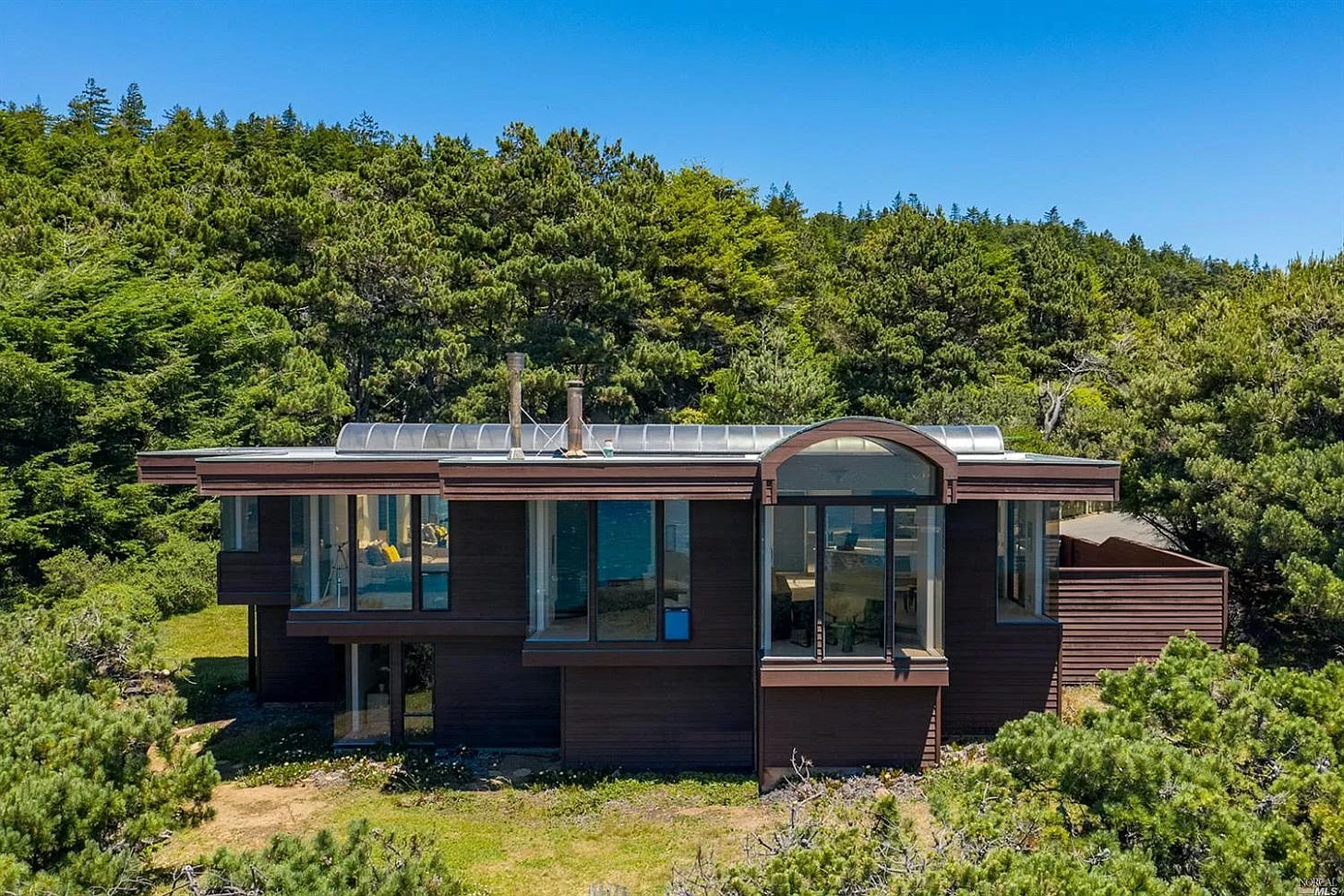 The first thing that you see when you step into this house is an absolutely incredible view (which you'll see in a moment). You also get the absolutely charming quadfecta (yes, it's a thing) of a built-in angular sofa, a planter box/zen garden, a built-in bench, and an oversized fireplace.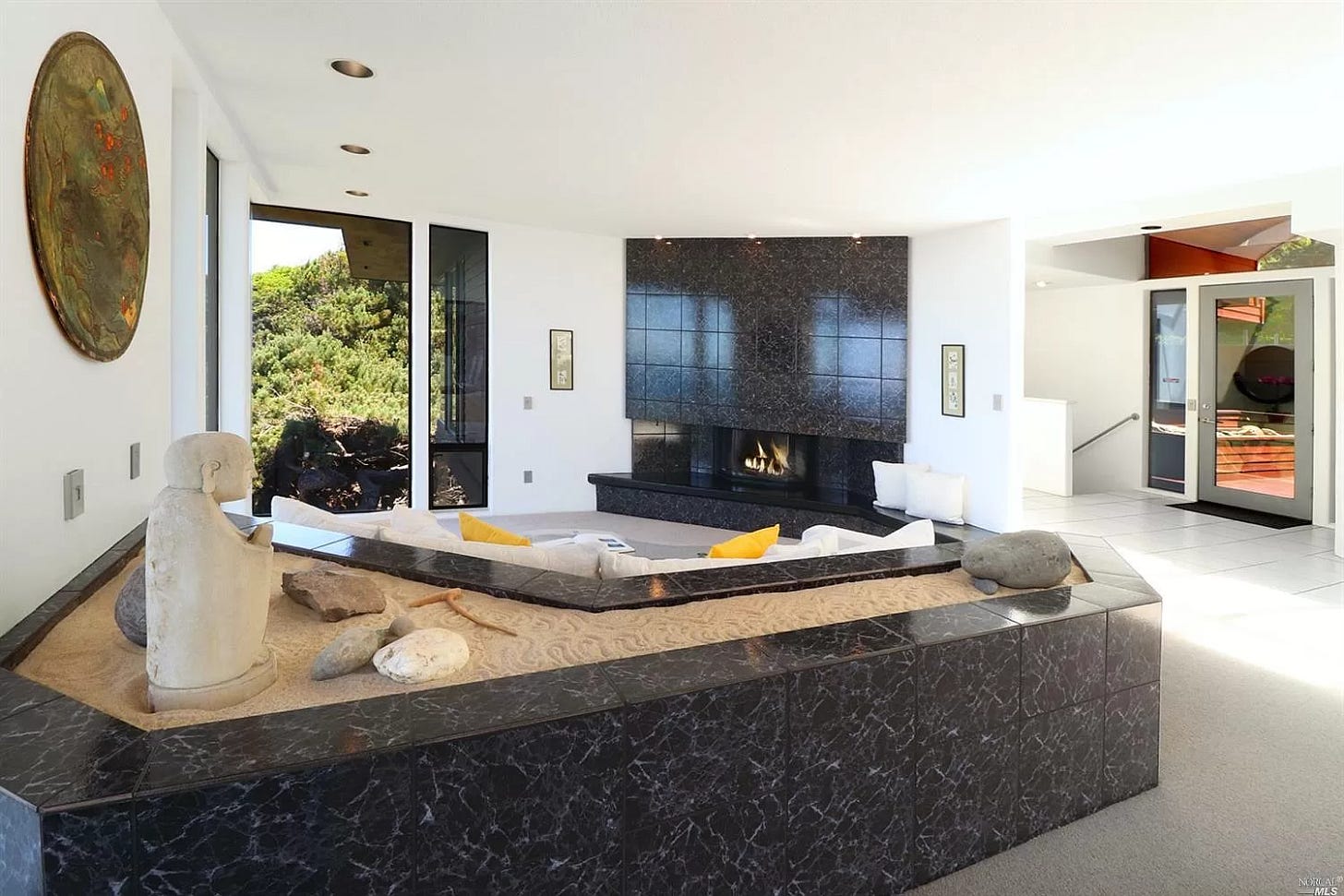 Just when I thought this house couldn't get better from a personality standpoint, I realized that each of the full bathrooms in the house has these glass brick semi-circular showers with colorful hardware. It's almost like having an outdoor shower, but still being sheltered from the elements.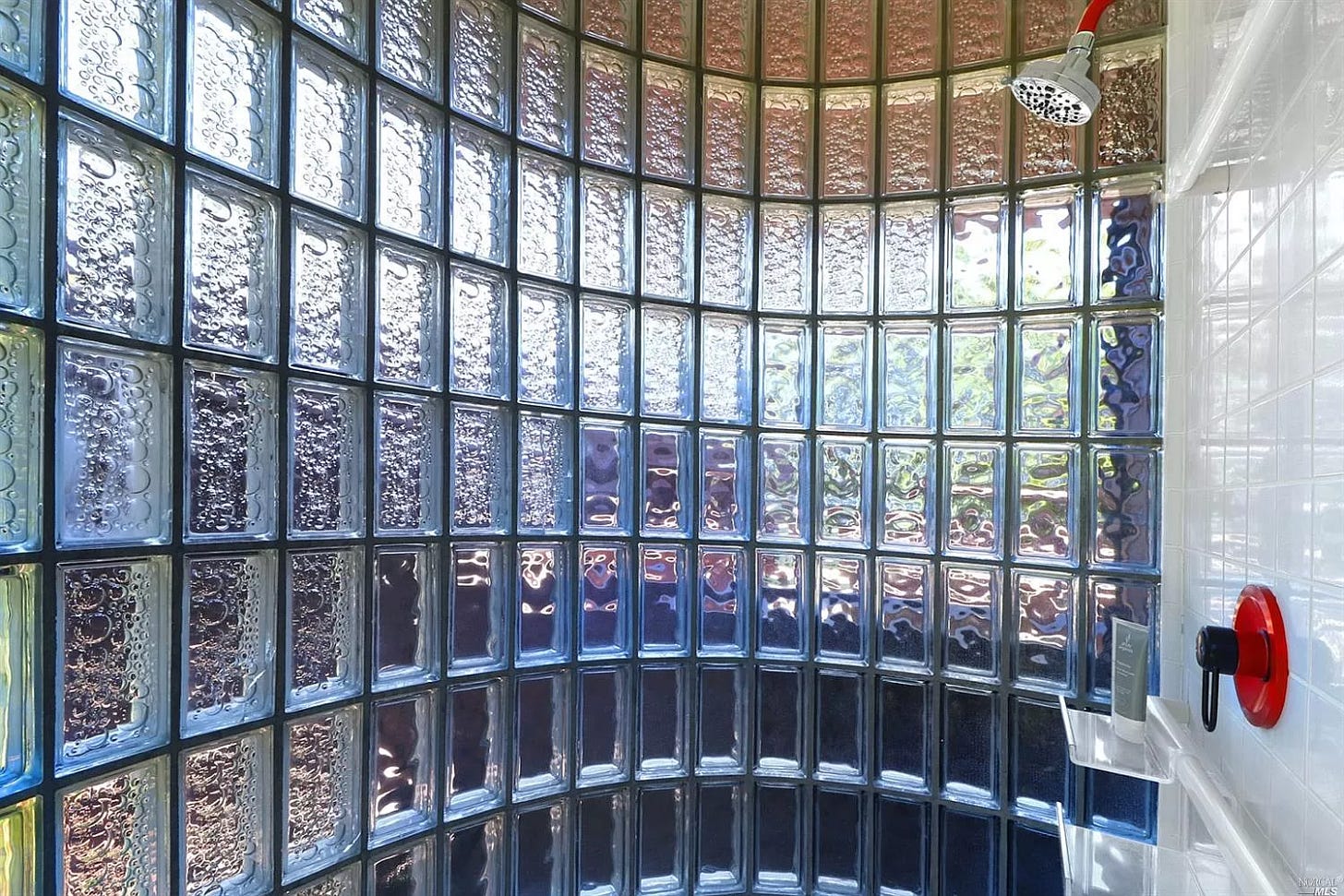 I thought there was no going up from there, but then I saw the master bedroom. I think I shouted "are you kidding me?!?" out loud.
In addition to having an incredible view of the ocean and a romantic fireplace tucked into the corner, the giant semi-circular skylight that runs the length of the house perfectly frames the bed. Just imagine laying in bed at night and looking up at the stars while listening to the sound of the ocean waves 😌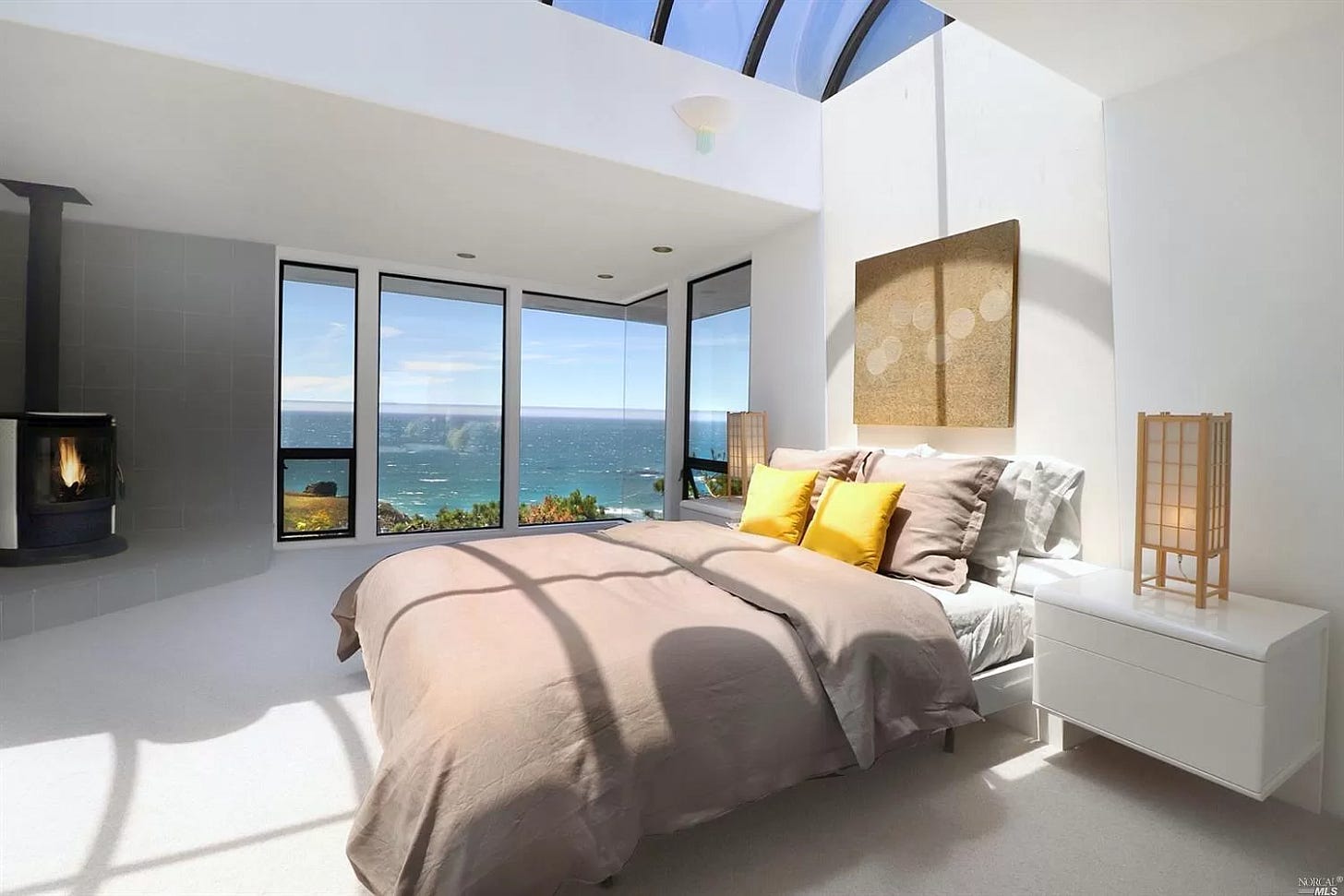 I'm not going to say $2m buys happiness, but it seems like it can get you pretty damn close.
---
The Office Park
Location: 19 W Isle Pl, Spring, TX 77381
List Price: $3,490,000
Listing: https://www.redfin.com/TX/Spring/19-W-Isle-Pl-77381/home/33228937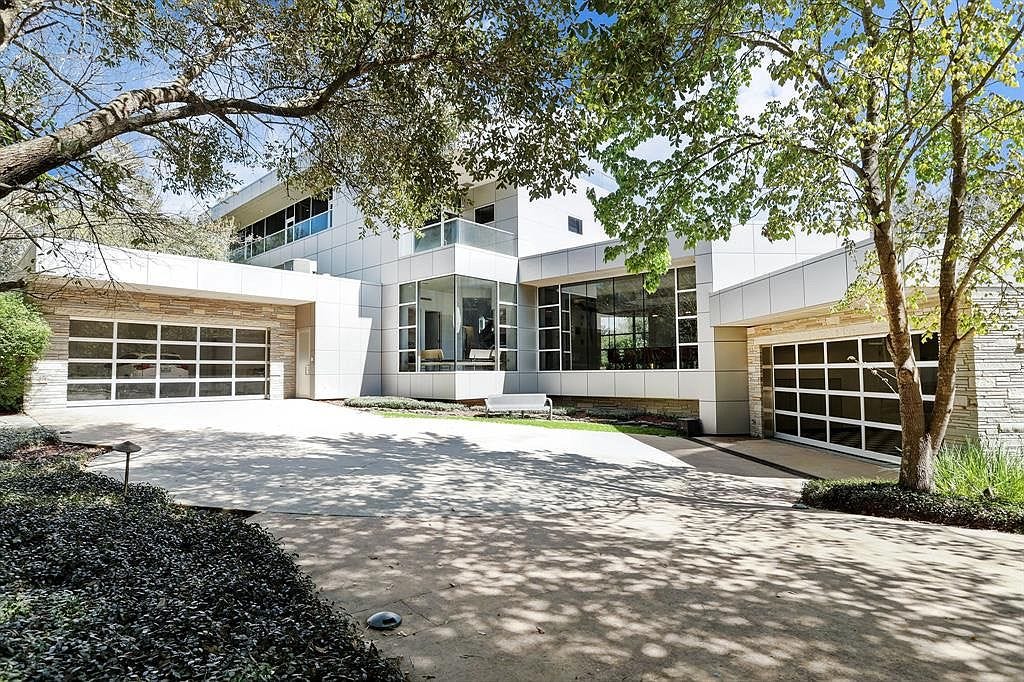 I'm not going to pretend to understand this house, so just come along for the ride with me.
As soon as you come through the front door, you're greeted with a bridge over a pond and an indoor garden. Is it a house or an office building? No one can tell from the finishes or the features.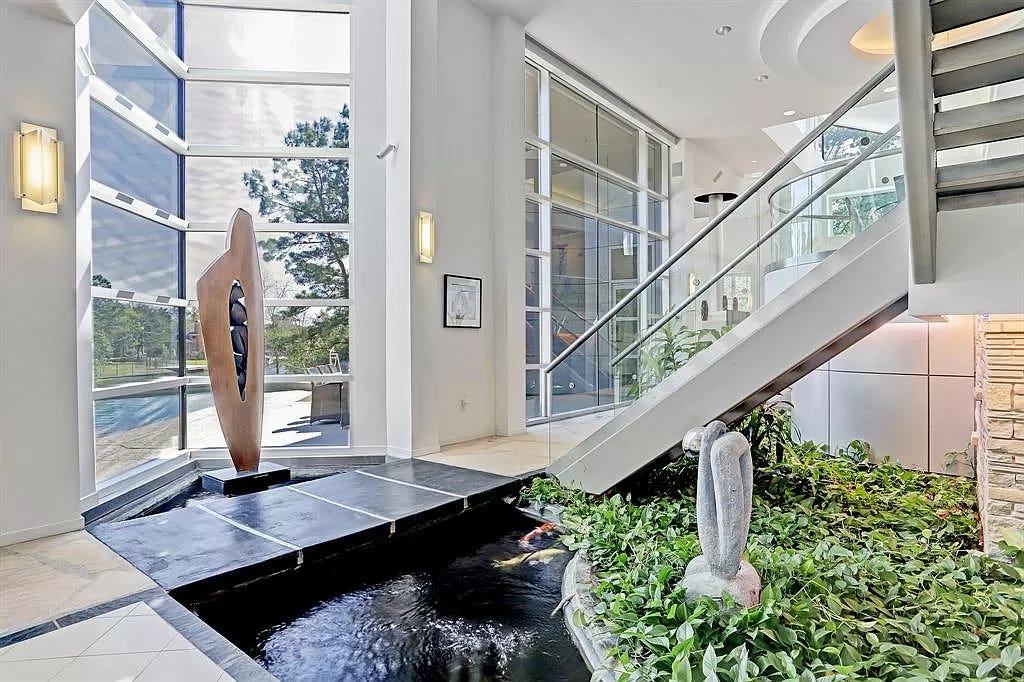 Each of the main living spaces are peppered across levels in this house. The dining room is up a level from the eat-in kitchen (which might be bigger than most houses I've lived in), which is up a level from the living room. It's chaotic, but it gives each space a different view of both the inside and the outside. Also, this house thankfully has an elevator.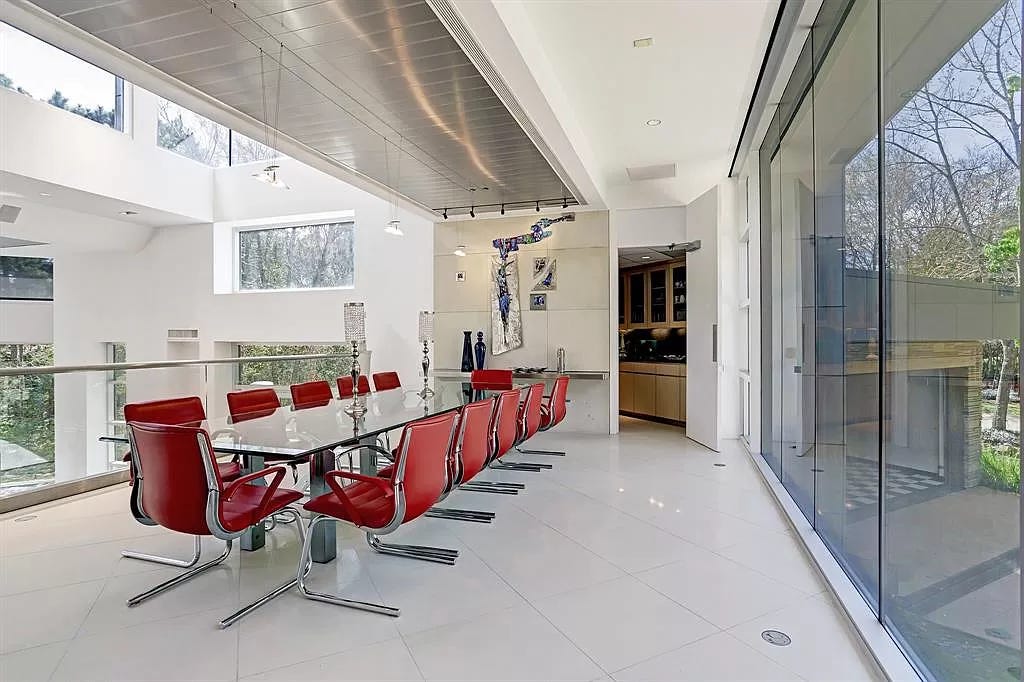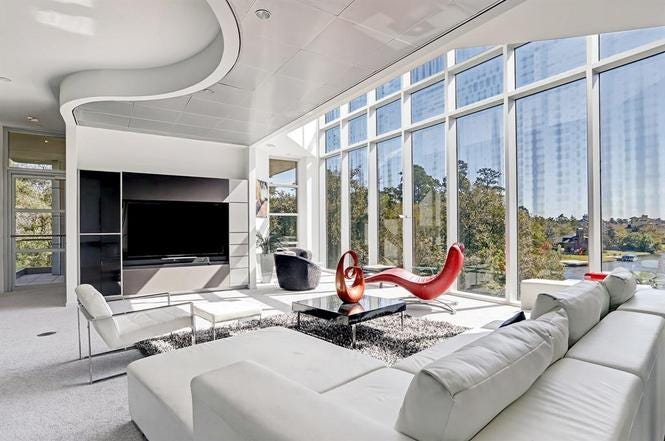 Frankly my only problem with this house is that it doesn't lean into the weird enough. With the right architect and interior designer, this space could go from buttoned-up office space to a stylish but quirky space. You just have to take the bones of what's already there and use a little imagination 🌈✨ (and probably quite a bit of 💰).
---
The Patrick Nagel House
Location: 5887 Batsford Dr, Dayton, OH 45459
List Price: $995,000
Listing: https://www.zillow.com/homedetails/5887-Batsford-Dr-Dayton-OH-45459/35048126_zpid/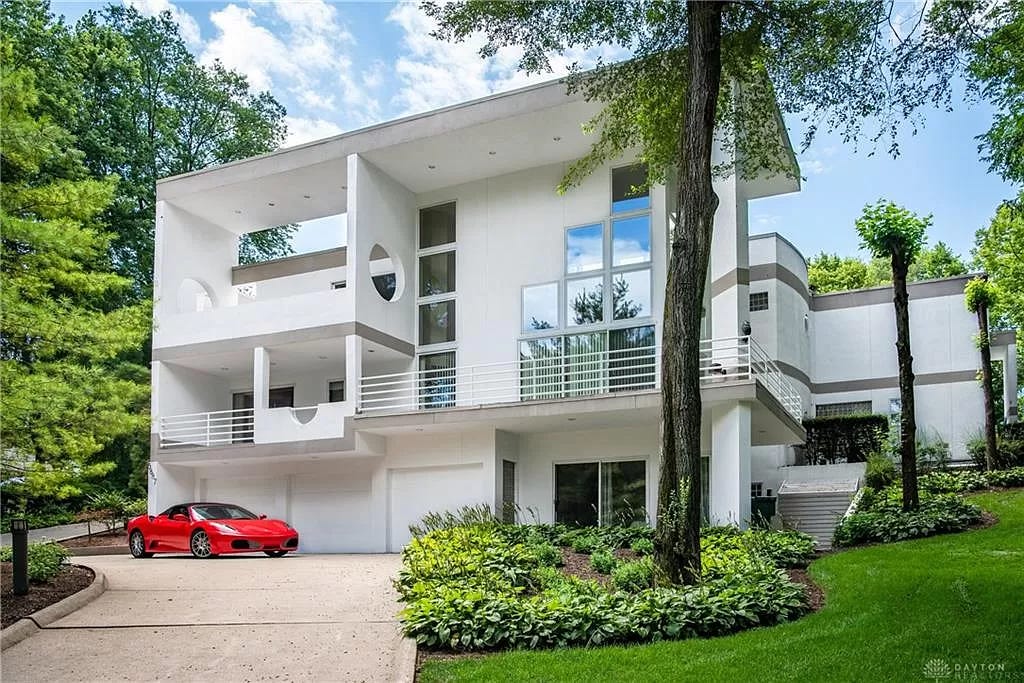 This is quite possibly the most 80s house in existence in North America. It conjures up imagery like 80's nail salon art.
My favorite feature of this home is the spiraling staircase that forms the center of the house. A round skylight over the staircase brings light throughout, and most of the house seems to twist around it like a plant growing towards the light. I also love that it ends in a round fountain. Because why not?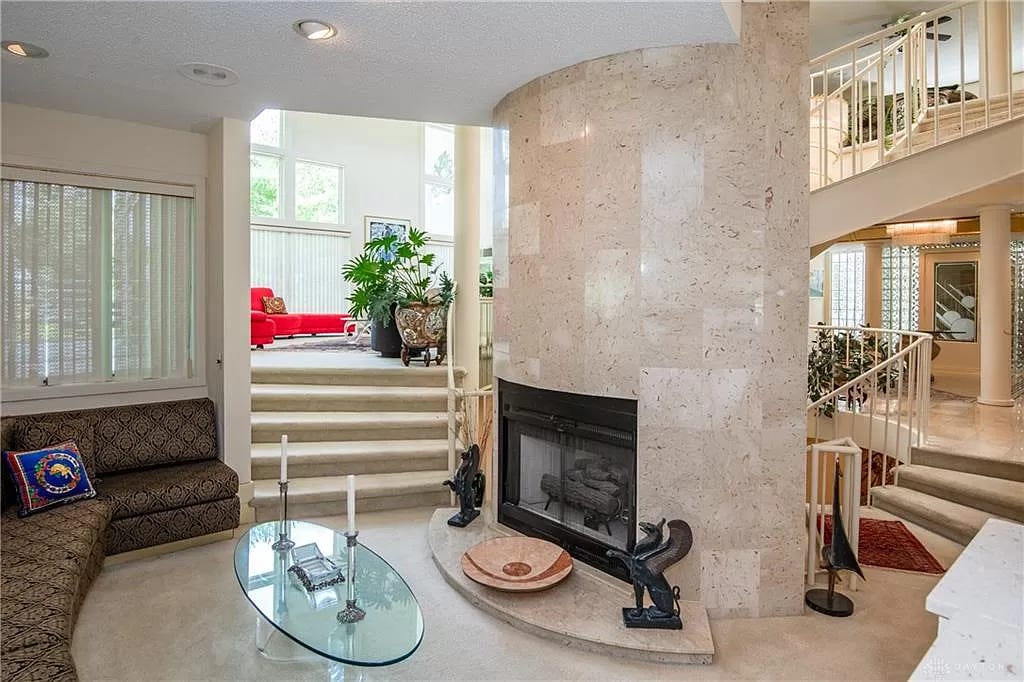 The house also has a dramatic two-story sunroom that envelops the balconies off of several of the bedrooms upstairs.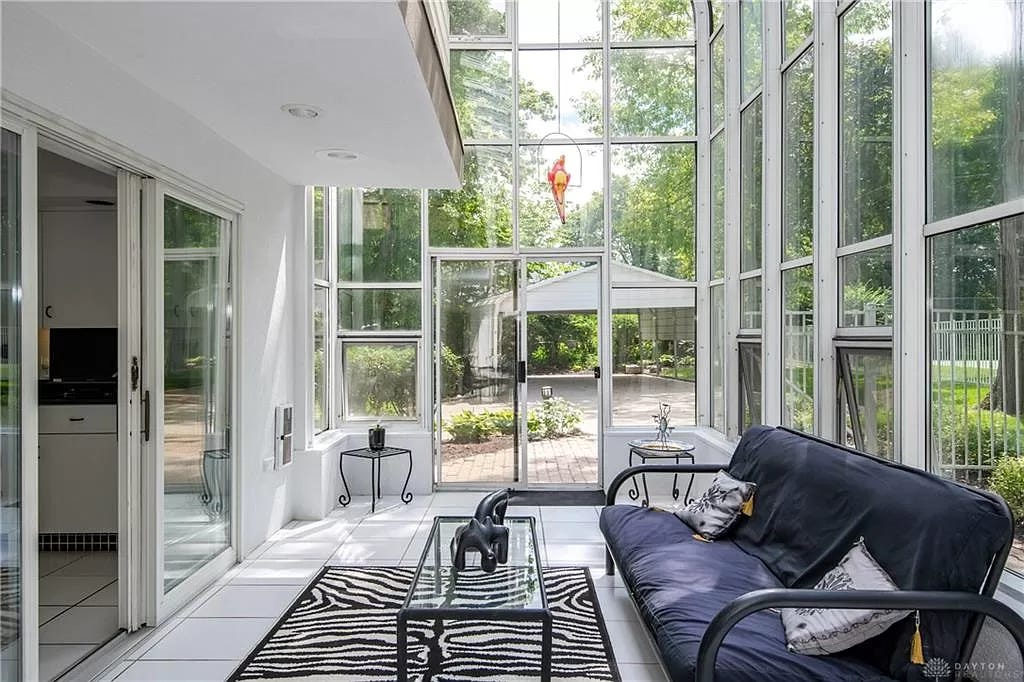 With the right renovations (like tearing out the carpet) and balancing the right 80's finishes, this place could be a really high style, modern home.
---
Bonus
This Miami house that's worth it for the outside alone: https://www.zillow.com/homedetails/5105-SW-82nd-St-Miami-FL-33143/44225947_zpid/
For more contemporary interiors with a lot of flair, check out: Cocaine Decor.