If there's anything that the last few weeks have shown me, it's how important having a group of close, supportive friends are. As quarantine has continued to stretch on, a lot of my friends have gone from casually considering making life changes to actually acting on those ideas… and moving far away from me. It doesn't make a difference now while we can't see one another, but when things re-open their absence is going to be striking.
I've always been the kind of person to joke about buying a bunch of homes in a remote Italian village with friends. Seriously, I've had a dinner party designed exclusively to try to coax friends into doing this with me. (Maybe another newsletter issue about that would convince them?) I've also been floating the idea of buying up a street in a neighborhood or just living in the same area again.
This week, I'm showcasing properties for sale that have more than one living structure on them so you can fantasize about living on the same street as your friends too.
---
The Adobe Abode
Location: 5600 N Camino Del Contento, Paradise Valley, AZ 85253
List Price: $4,695,000
Listing: https://www.zillow.com/homedetails/5600-N-Camino-Del-Contento-Paradise-Valley-AZ-85253/7832679_zpid/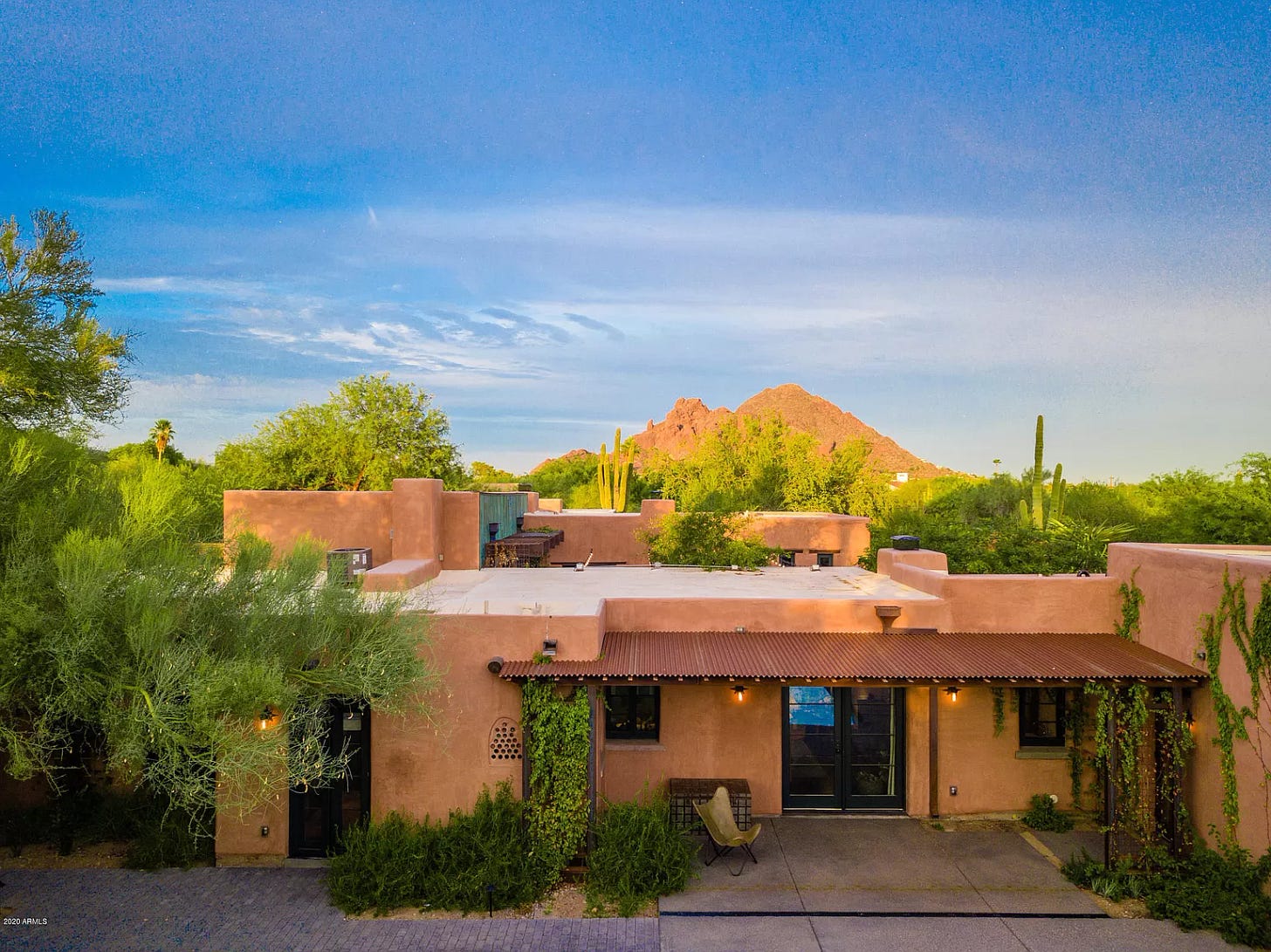 This property has a renovated 1920s adobe-style house and guest house with a lot of charm.
Both of the houses have exposed beams and lots of natural light. The spaces have a lot of their original charm while still being modern. There's a natural flow between the indoors and outdoors.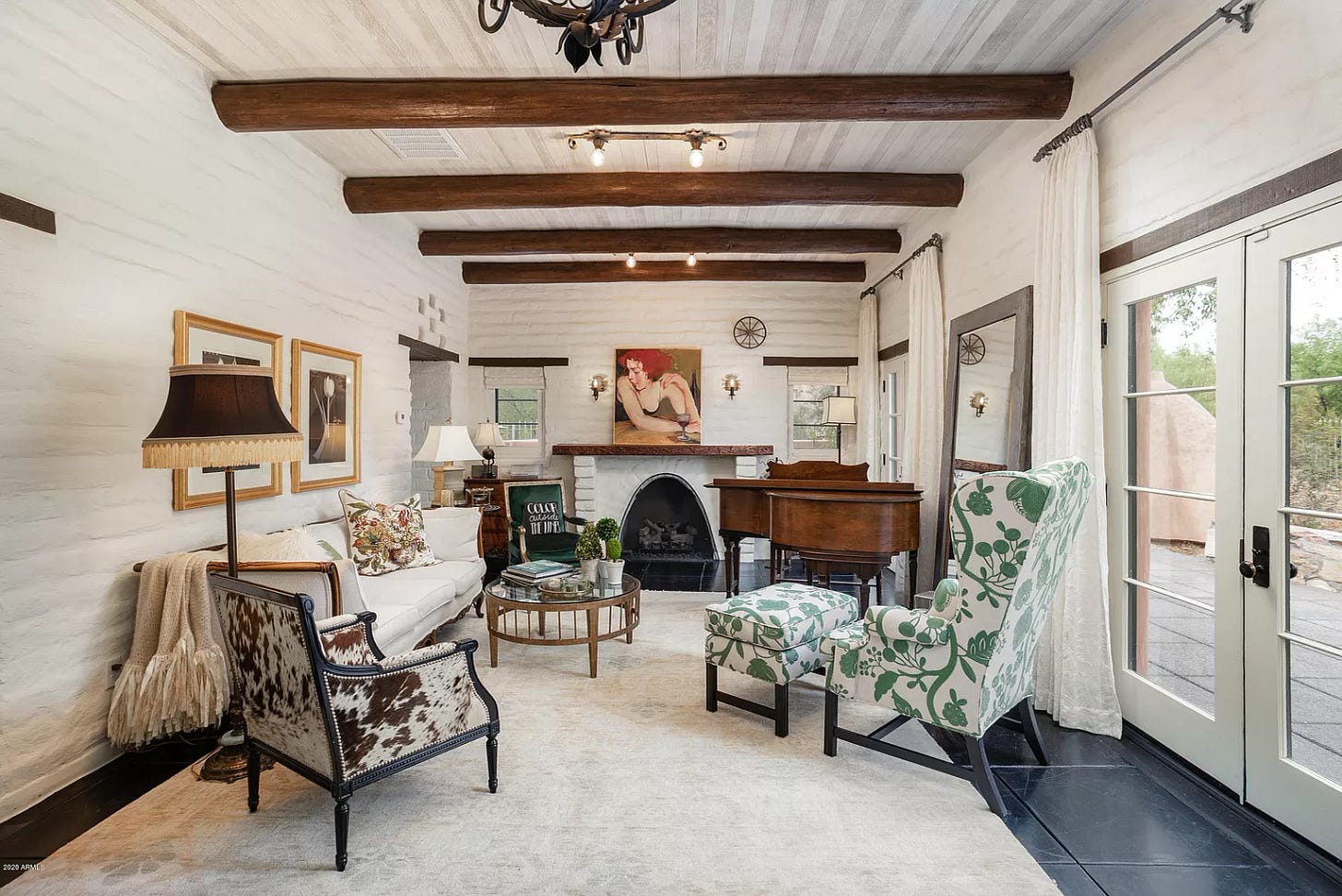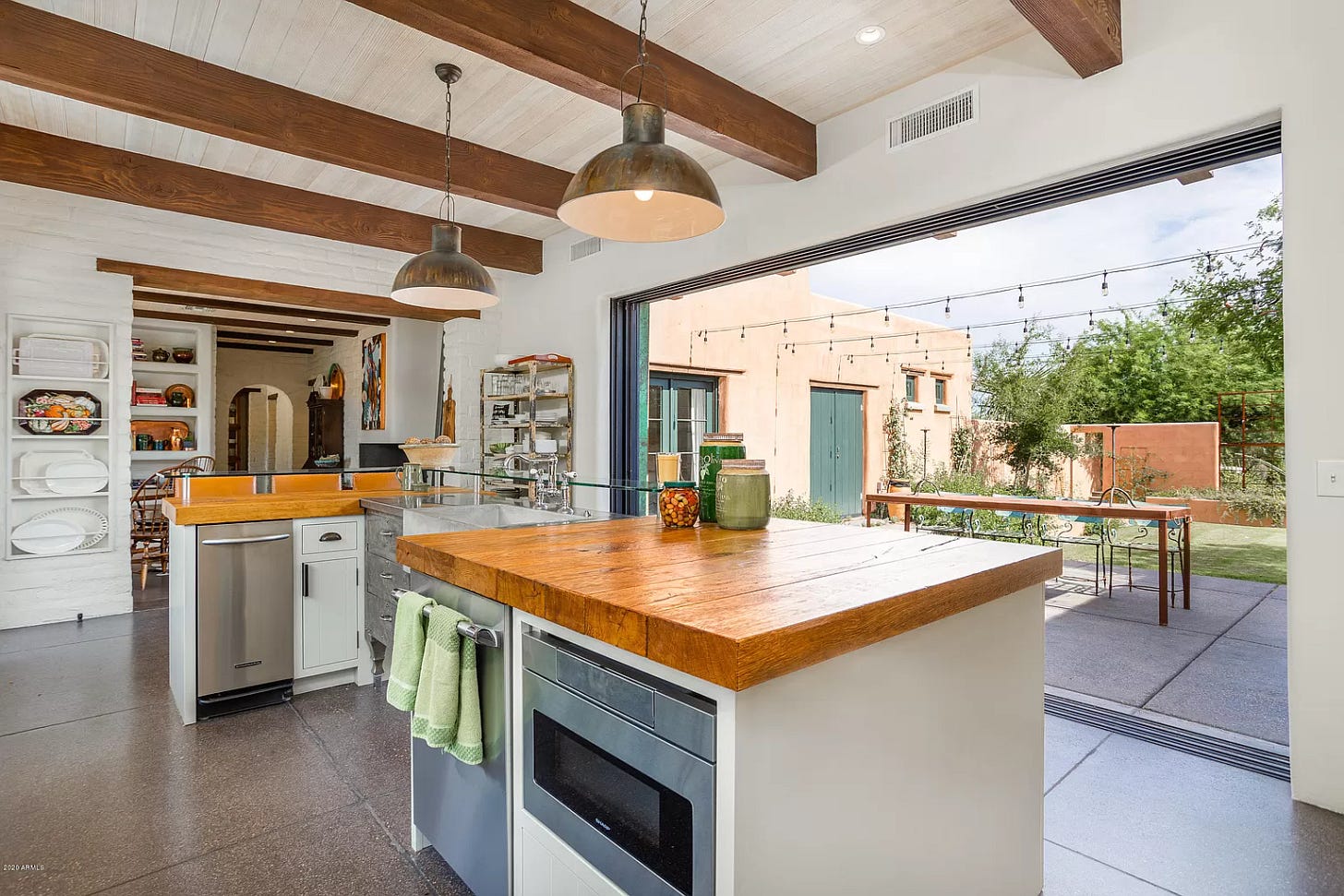 The heart of this property is definitely the outdoors though. The indoor outdoor kitchen features prominently, and it has a lot of amenities outdoors as well including a fire pit, a pool, and an outdoor kitchen.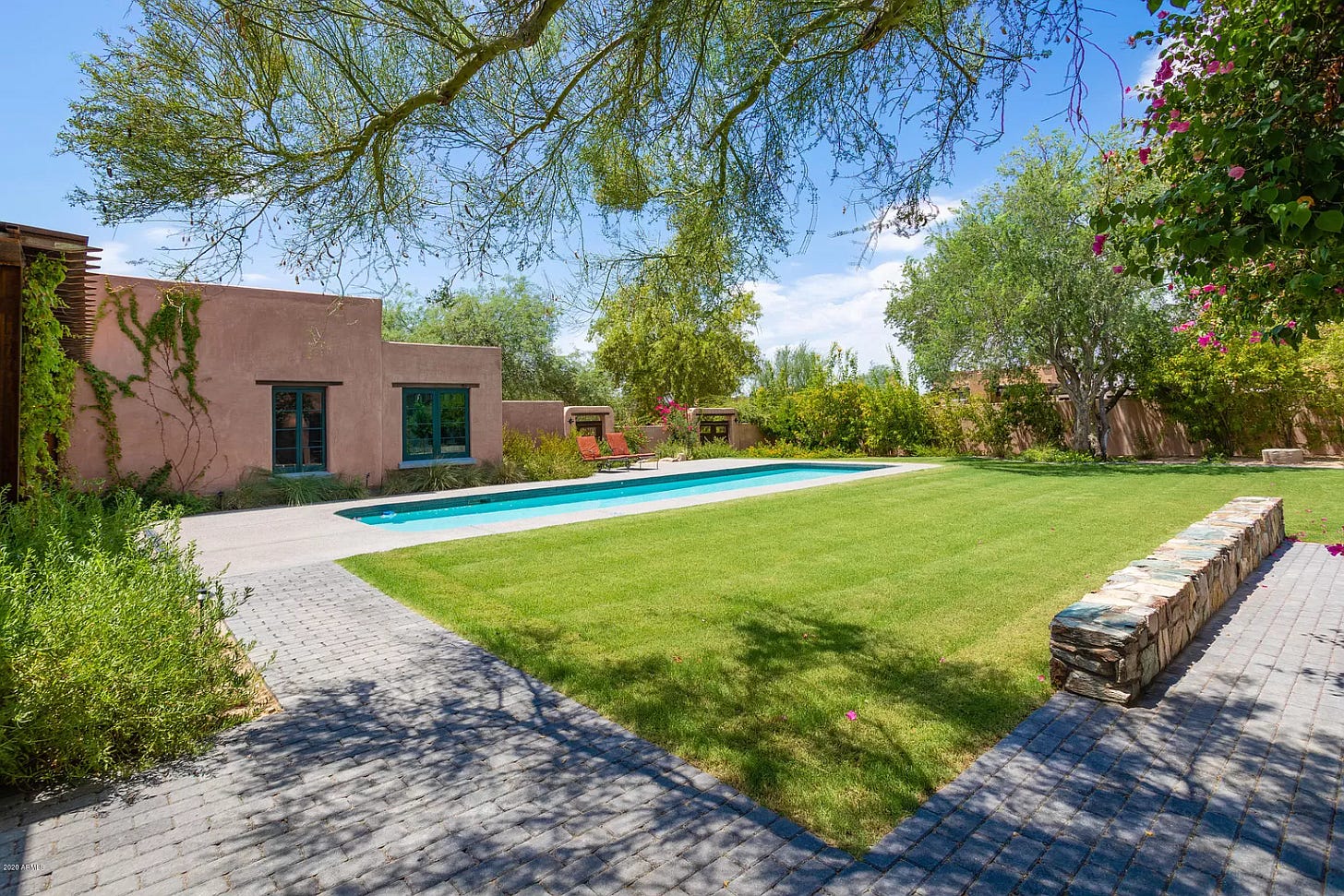 ---
The Eclectic Ranch Estate
Location: 2910 Highway 154, Los Olivos, CA 93441
List Price: $5,500,000
Listing: https://www.zillow.com/homedetails/2910-Highway-154-Los-Olivos-CA-93441/131086188_zpid/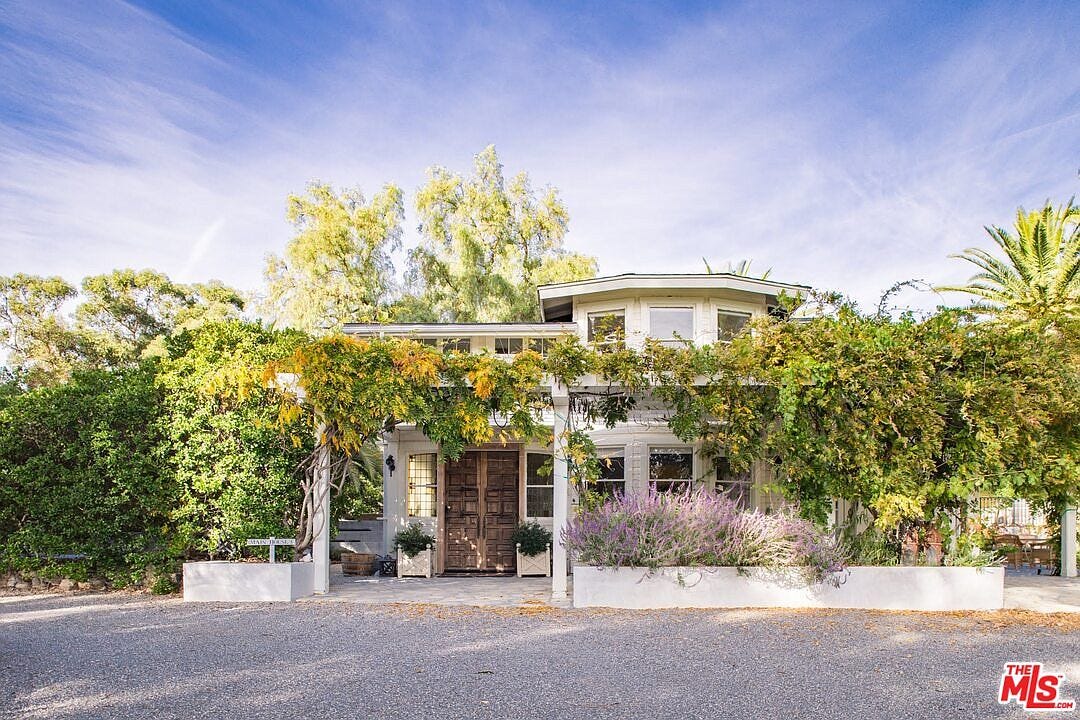 This property has seven residences on it. They were all built in the 1920s and have their own personality. Each of them has been renovated with modern touches but has been done in a way that emphasizes their individual charm. They all have an open plan lived-in aesthetic that's a bit "Joanne Gaines but make it California modern."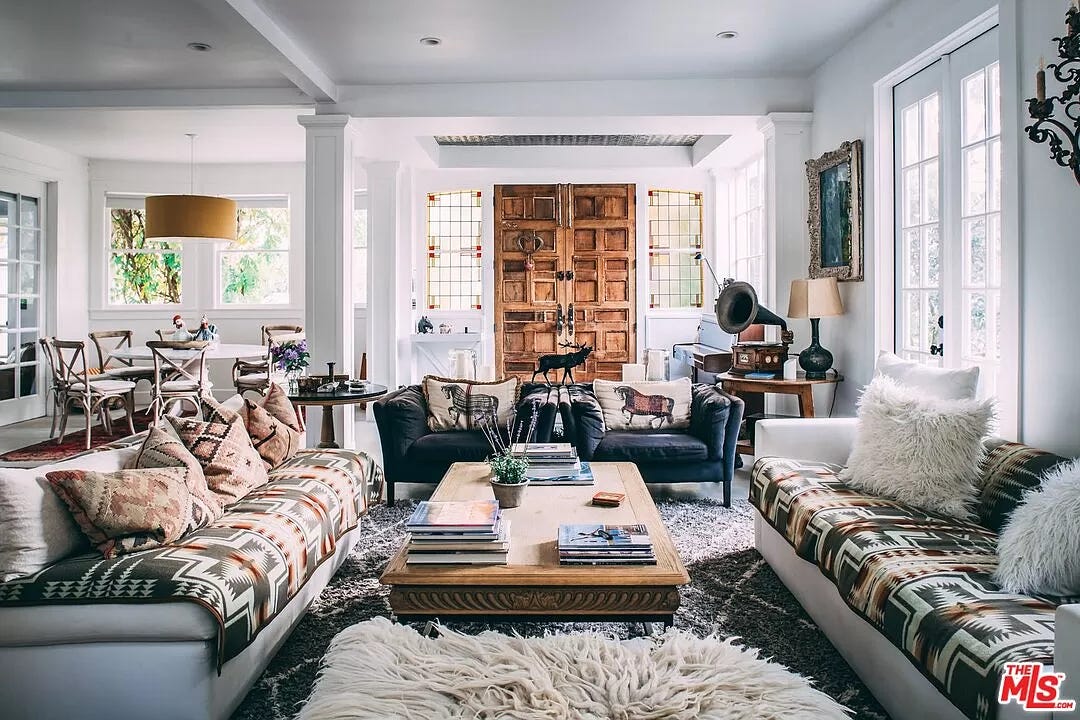 I honestly love each of these cottages and think it would make a perfect compound with friends. My personal favorite might be this gothic-looking building with huge windows, but they are truly all worth checking out.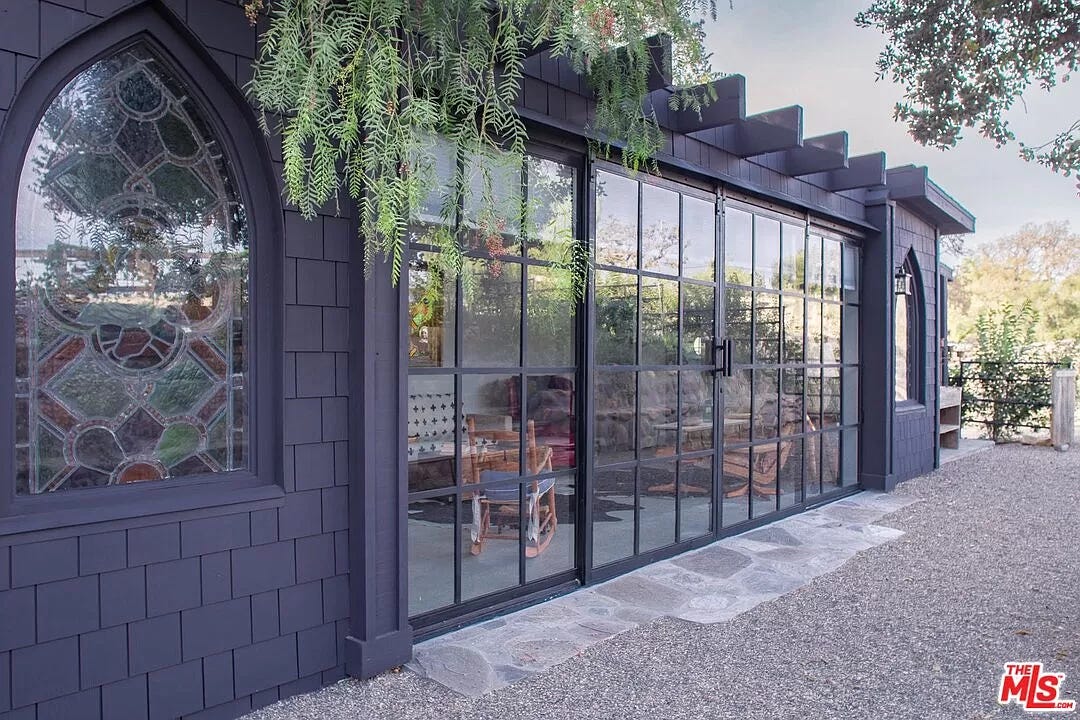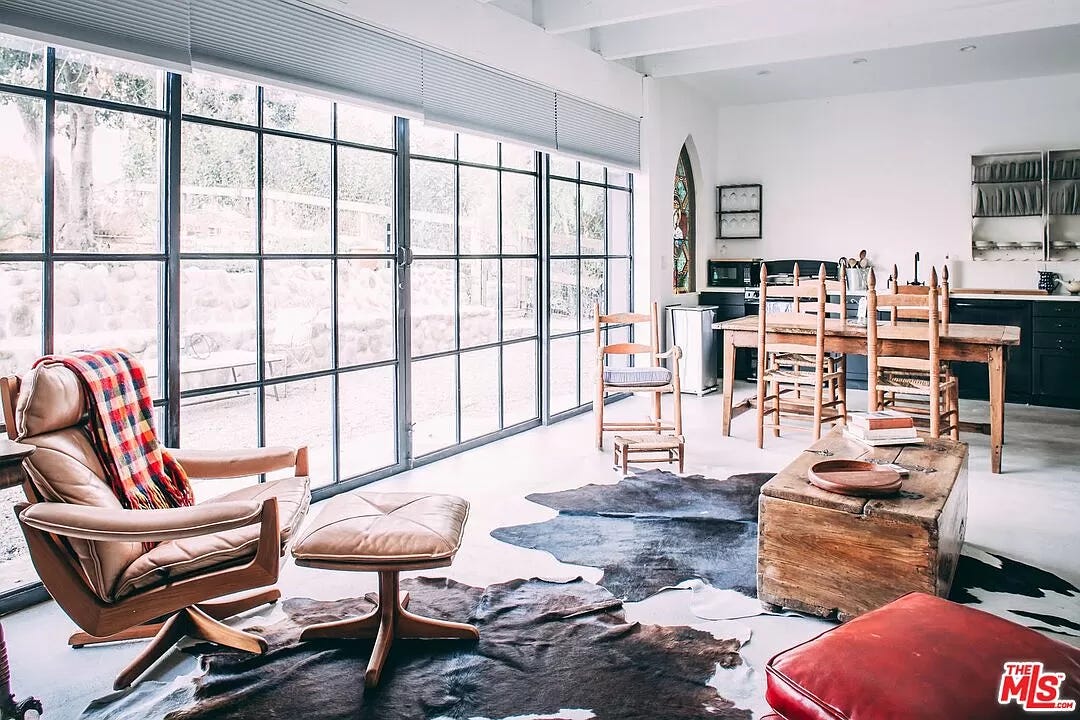 ---
The Retro Compound
Location: 1785 Cravens Ln, Carpinteria, CA 93013
List Price: $6,895,000
Listing: https://www.zillow.com/homedetails/1785-Cravens-Ln-Carpinteria-CA-93013/130994471_zpid/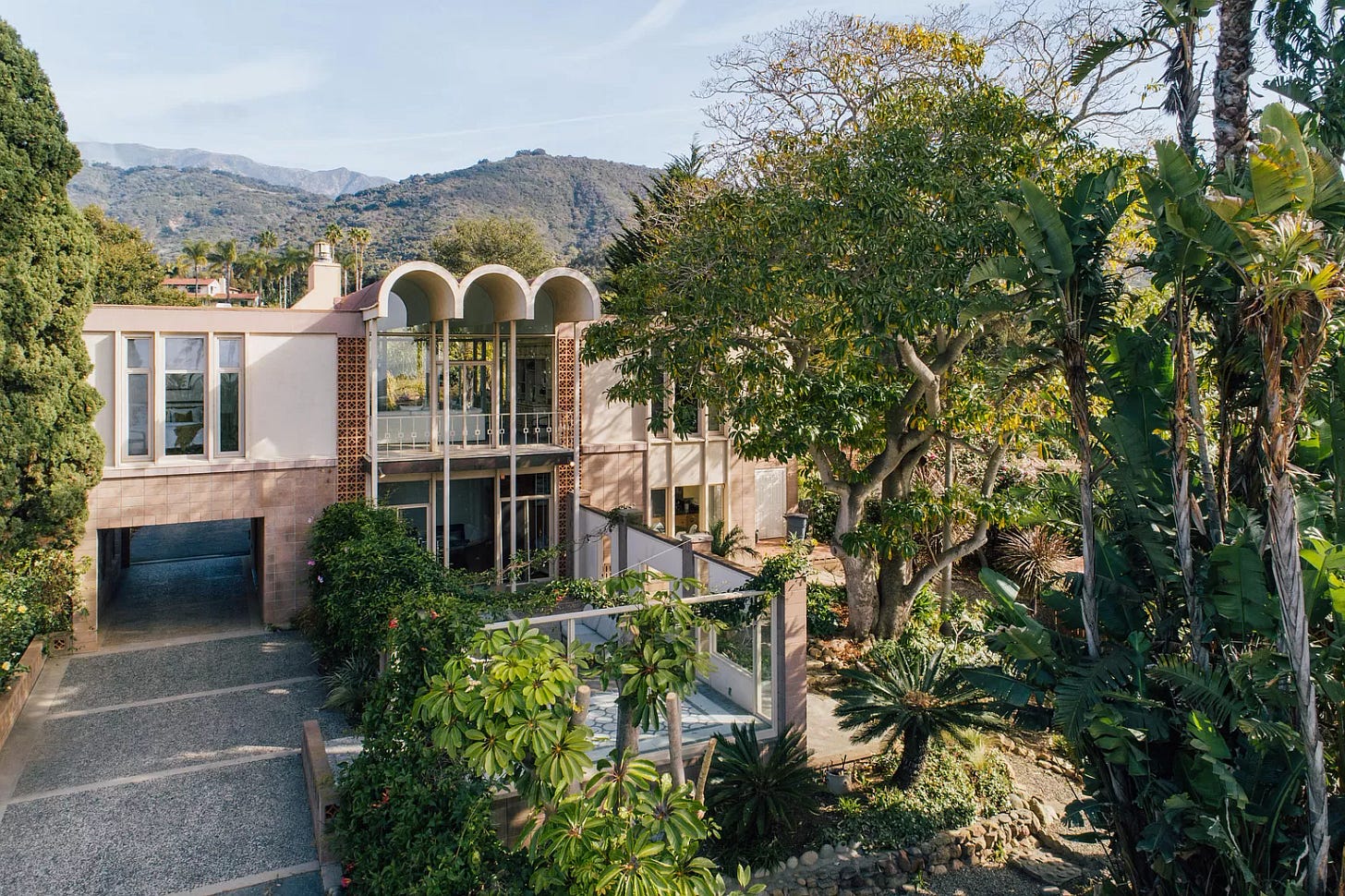 I'm going to be honest: there are going to be real winners and losers if you picked this estate as your compound. The main residence is a showstopper that was supposedly built as a retreat by a Finnish ambassador.
It's an interesting combination of Mid-Century, Art Deco, and Pueblo Revival architecture throughout the house.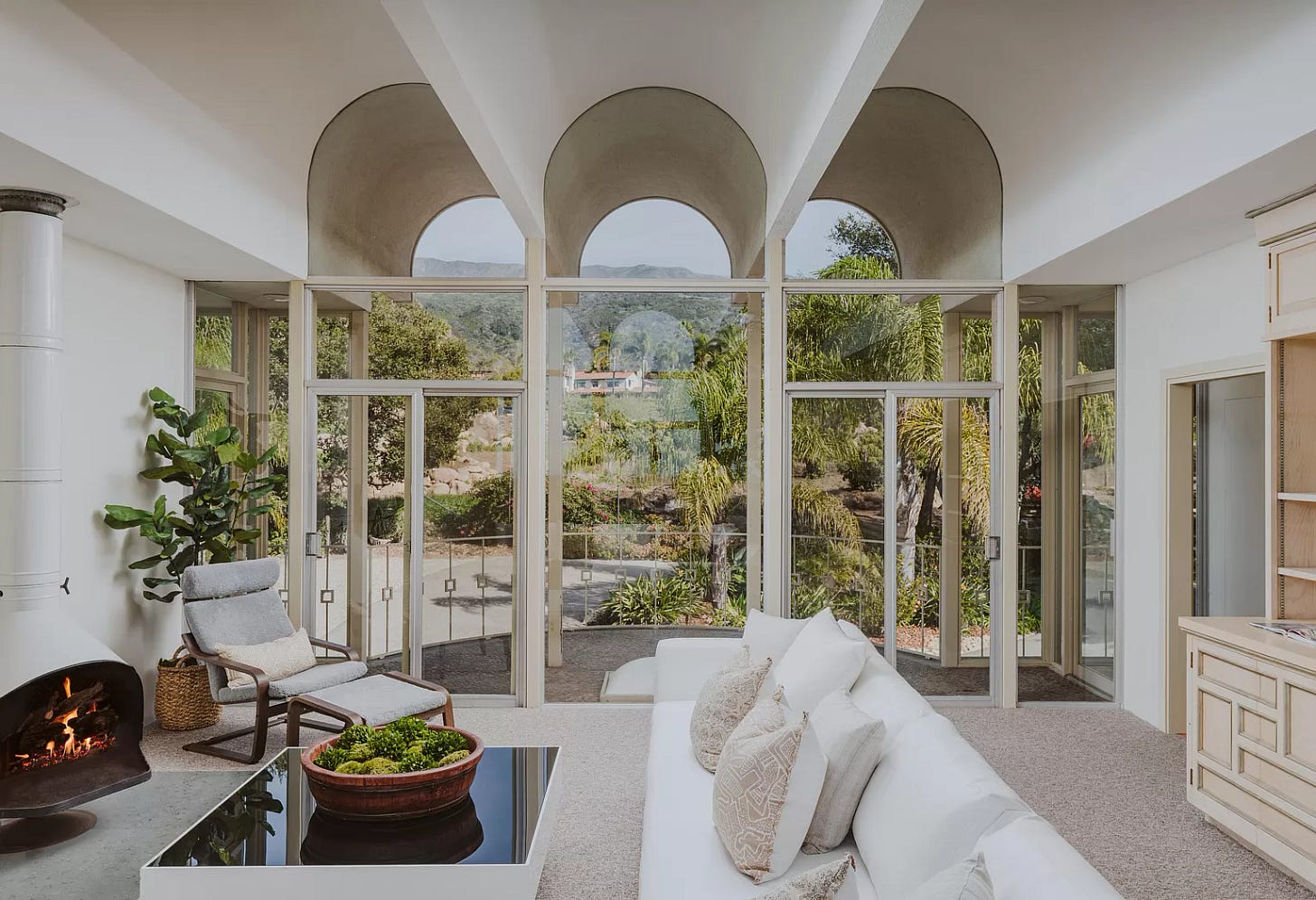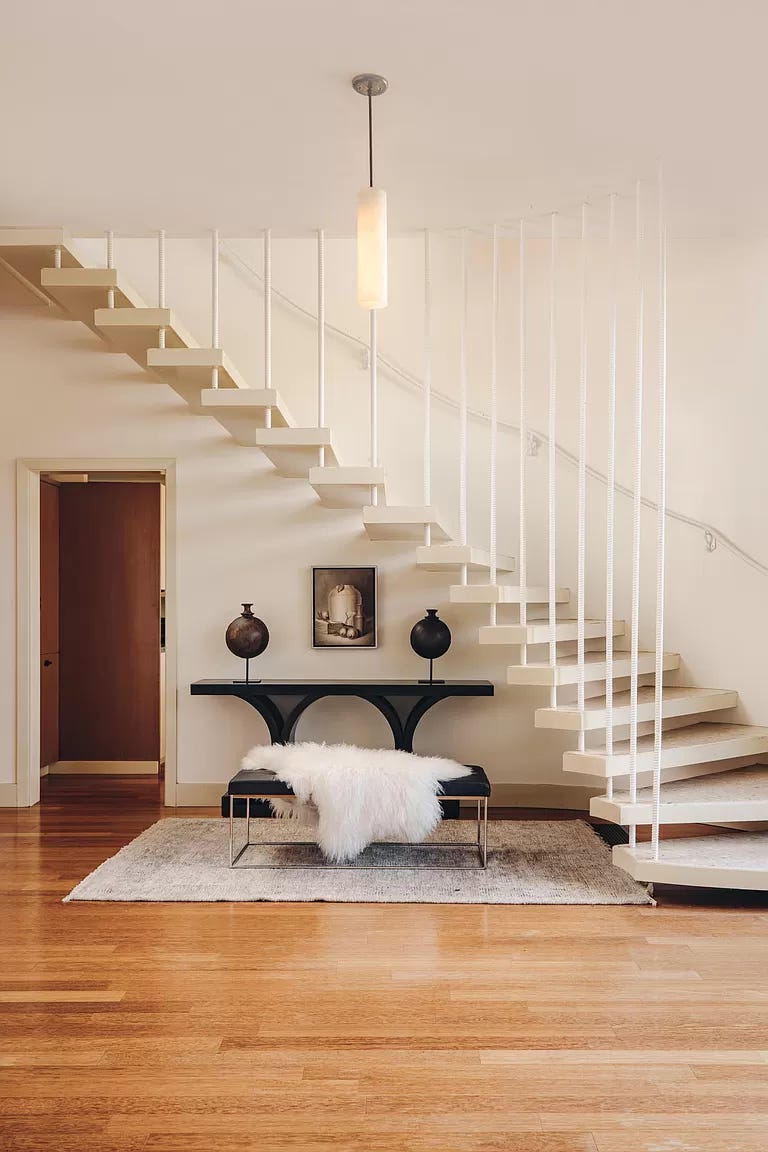 The Pueblo Revival mostly comes through in the accents such as the doors, but one room, in particular, is particularly Puebloan. This house has a kiva recreation. I can't explain why a Finnish ambassador would build one and there's not enough time or space to get into how weird and problematic it is to have one. It's only fair to know that it's there.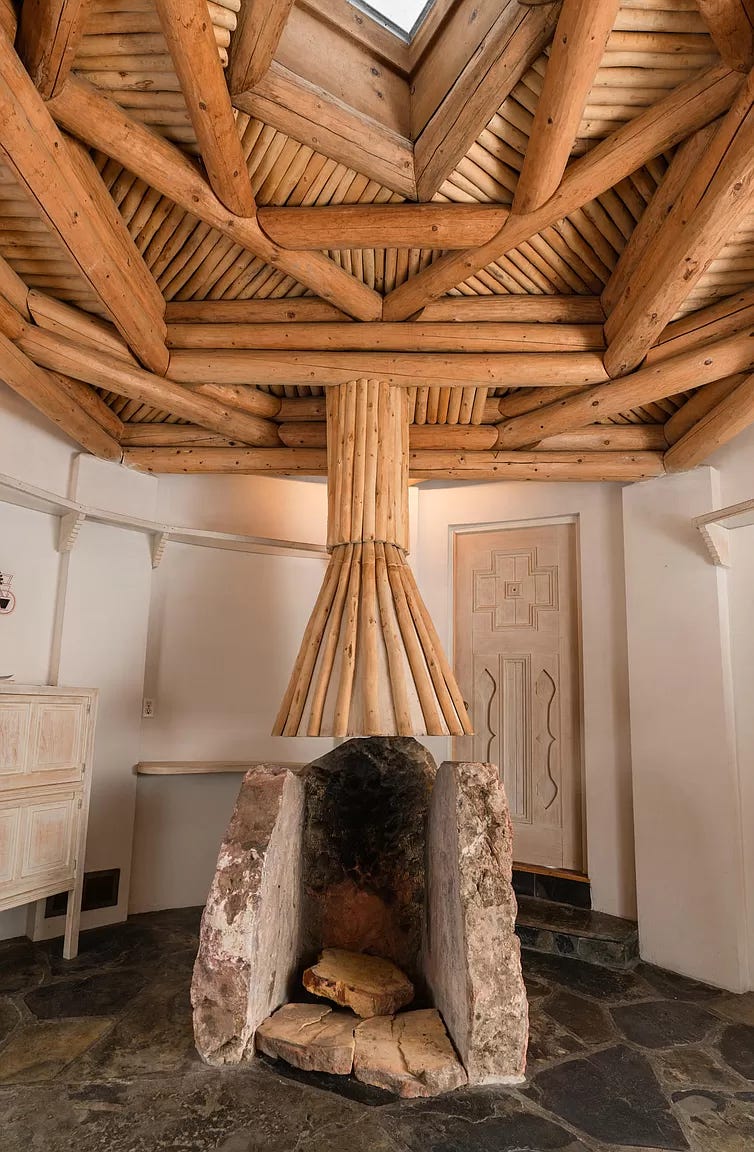 Fortunately/unfortunately, the rest of the homes on this estate are pretty normal.
Part of the property is currently leased to a commercial nursery, which makes turning these houses into a plant-filled oasis pretty easy. Maybe they'll give you a discount on plants.
---
The Japanese-Inspired
Location: 4010 Beechwood Dr. NW, Atlanta, GA 30327
List Price: $1,595,000
Listing: https://www.zillow.com/homedetails/4010-Beechwood-Dr-NW-Atlanta-GA-30327/35918247_zpid/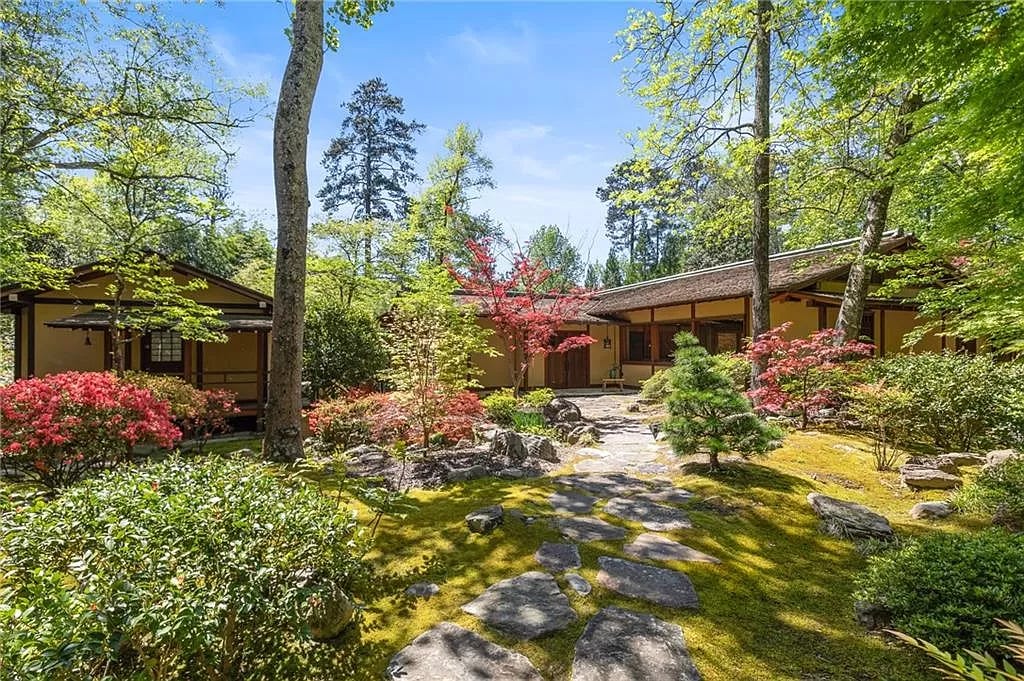 In other "this might be owned by a white person with a cultural fetish" home news, there's this property in Atlanta which has at least 2 residential structures on the property.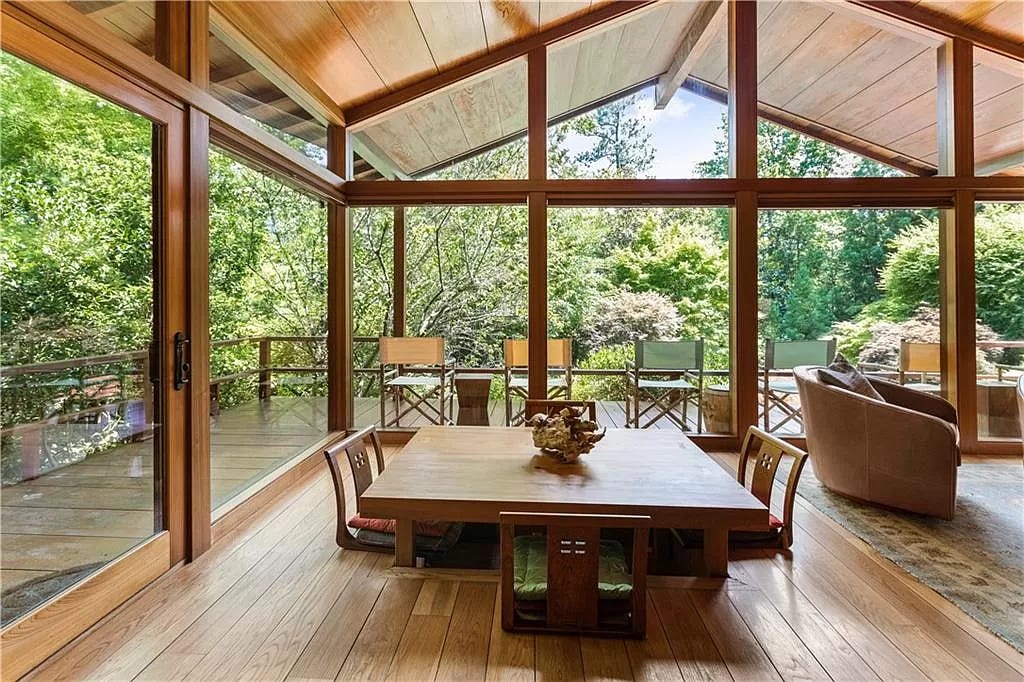 The main home has floor-to-ceiling windows and beautiful wood details throughout, including woven ceilings in parts of the house. The other structures also feature quintessentially Japanese touches such as According to the listing agent, craftsmen were brought in from Kyoto to achieve these results.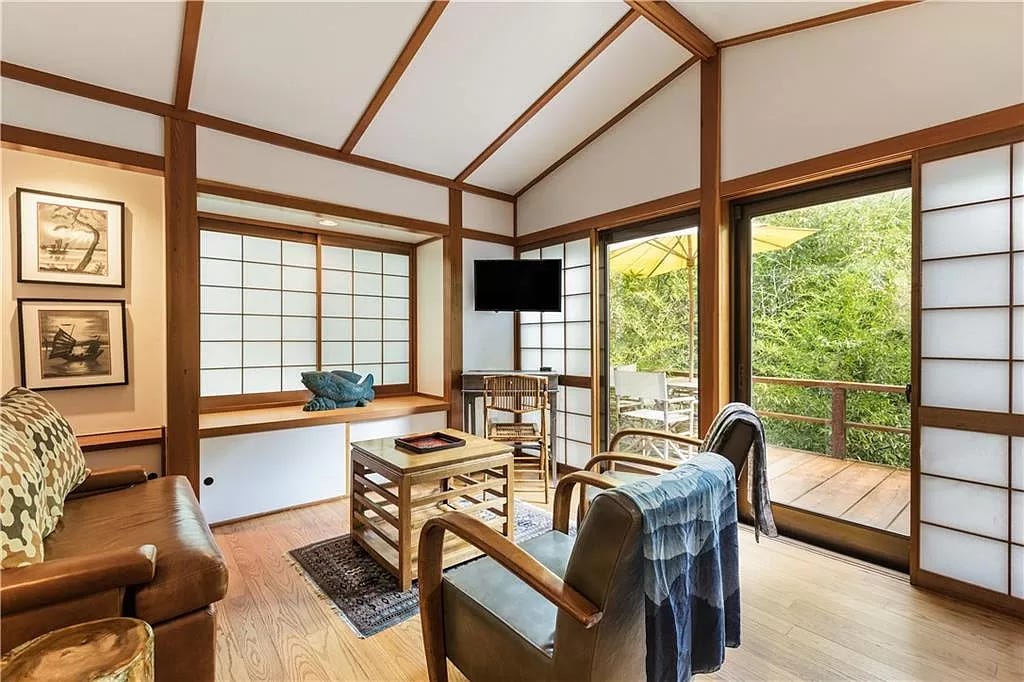 The best part of this property might be the grounds. There are over 2 acres of lush greenery and landscaping including a koi pond, naturally. Each of the structures is able to enjoy the scenery.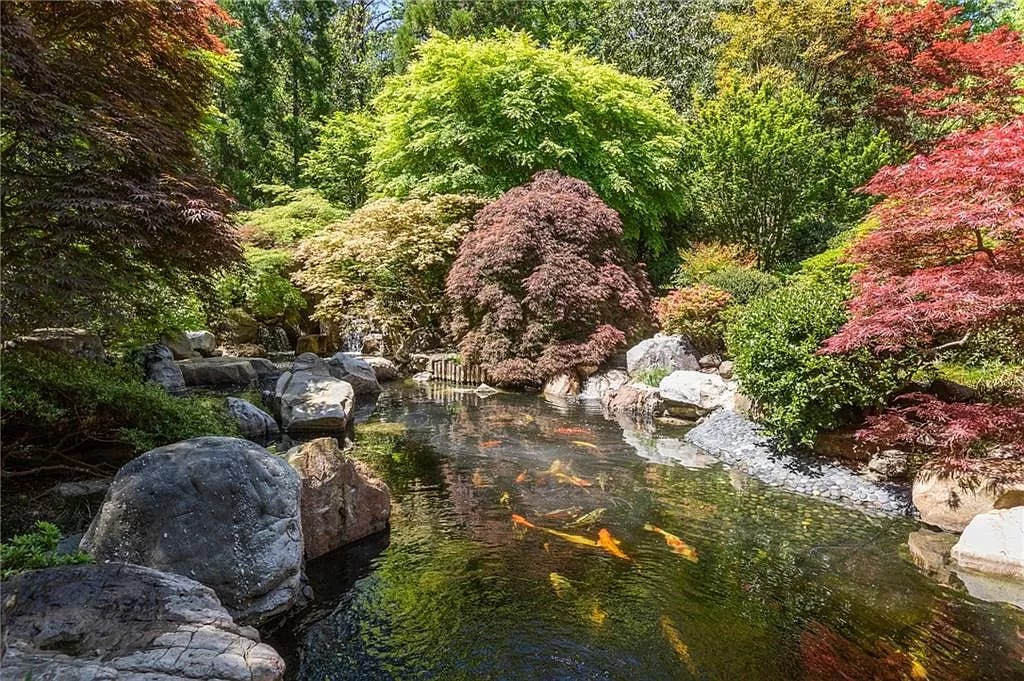 ---
Bonus:
A house so big, you don't even need to have multiple homes to be able to have personal space away from your friends. Plus a Harry Potter looking room: https://www.zillow.com/homedetails/1604-N-Winchester-Rd-Annapolis-MD-21409/36027773_zpid/
If you wanted to pretend you were living in the dorms at Yale with your friends: https://www.zillow.com/homedetails/935-East-Ave-Rochester-NY-14607/2078855516_zpid/
This property that is part Knives Out, part modernist masterpiece: https://www.zillow.com/homedetails/61-Crows-Nest-Rd-Tuxedo-Park-NY-10987/2099934507_zpid/
This cedar-shingled estate that has no pictures of the inside but you just know it has to be good: https://www.zillow.com/homedetails/27-30-31-Tower-Lane-34-Ebens-Ln-Chilmark-MA-02535/2078063692_zpid/